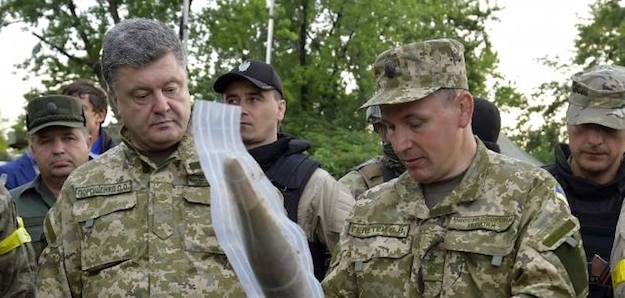 History textbooks claim that the deep primary reasons for war have always included the demographic and economic situation in a region, a surplus of unemployed population, a deficit of resources and new export markets. With the natural margin of error due to the particularities of the mentalities of certain nations.
Judging from the current situation in the Ukrainian east, the stable regressive state of the once 'main feeder' of the country, in combination with the presence of an aggressive neighbor with similar problems in the economy and demographics in nearby regions; you understand that history books are as relevant as ever.
However, on the other hand, one cannot say that the economy of 'developed' states, with its constant artificial stimulation of demand and very irrational tempo of resource consumption, it also developing in the right way. There is also China, with its unique value system, a surplus of human and technical resources and similar deficit in terms of food and territory.
The accumulated civilizational contradictions somehow unnoticeably gathered critical weight, and are ready to grow into full-fledged conflict. The threat of World War III is now being discussed on the highest level.
The question is whether civilized humanity will solve its conflicts 'the old way,' or will they finally manage to find a more human compromise? As there are so many weapons of mutual destruction that have been accumulated since the last analogous conflict, that humanity may not live to see 'World War IV,' in which, according to Einstein's famous quote, we will once again fight using stones and sticks.
Ukraine is faced with a special challenge in the current global conflict: to become its direct epicenter. It is good that the current government of the country views the situation more adequately and understands its personal responsibility for the possible consequences of developing 'relations' with our northern 'brother.'
Taking everything into account, the President's attempt to 'pause' the military conflict between the two countries, which is threatening to grow into a full-fledged global one any second, is absolutely logical.
However, to not make it easy, our country was given an additional 'test': the elections that society demanded immediately. The critique of the President's 'soft' peacekeeping position at the elections is too much of a convenient political technology, for political competitors not to take advantage of it. It is more convenient than the thesis of the split between the East and West, which has been exploited since 2003; for some reason nobody mentions now what this led to and where the 'exploiters' of this thesis are now.
What is worse, is that many politicians are constructing their electoral rhetoric based on the critique of the peace plan. Though this rhetoric is being constructed without offering any real alternative…
A major part of Ukrainian society, whose moods the politicians are trying to grasp and reflect in their public speeches, is sure of the necessity to demonstrate more and more propensity for sacrifice.
The paradox is that the same majority is convinced that it is not them personally who should make the sacrifice, but someone else. 
It is clear than not everyone knows how to shoot and build defense fortifications against the 'Grads.' But at least everyone who considers it necessary to continue combat until 'total and indisputable victory,' may give substantial material assistance to this victory, sacrificing their personal welfare. They may, but they don't want to.
Parking lots of luxurious Kyiv restaurants are still full of expensive cars with license plates from various regions. Around the tables, the people are reading the news on their new iPhones, loudly and confidently discussing 'how to beat the enemy.'
Some of them may have already used their iPhones to call the hotline and given 5-20 UAH to support the army this way, but few have ventured to sell their second-third car-apartment and give up their usual 'pre-war' lifestyle in the name of Victory, of which they talk so much. Which, however, does not stop them from condemning the Europeans who, for us, the suffering Ukrainians, 'could suffer a little cold in solidarity.'
Undoubtedly, in our country there are enough people with willpower, who are ready to fight for Ukraine's integrity and independence with weapons in their hands, at the cost of their own lives. Our future depends first and foremost on them: and it is very preferable that their number doesn't wane, even by means of honorable sacrifice.
If a polite young man returns home late at night and meets three well-known district bandits with knives, who 'politely' ask him to hand over his phone and wallet, naturally, it is prettier and more romantic to accept the uneven battle and receive permanent injuries. However, from the point of view of strategy, it is best to hand over the phone, win time, remember their faces and prepare well for the next time he meets them?…
Unfortunately, the 'northern brother' decided to attack us when we were least prepared.
Yes, for the first time, we are not ashamed of watching the government on TV: especially when representing Ukraine at the highest international level. But let's be objective: 'peaceful' specialists, with complete ruin of the inherited 'property,' find it difficult to achieve any real results in the short-term. Especially when society demands results 'here and now.'
The public service infrastructure is almost completely worn-out: and this is in the regions which have not seen battle. The bank system is balancing on the edge of total suspension. Exporters who don't know when war will end, stopped and refuse to return currency revenue. The judicial and law enforcement systems – no comments. The army as such needs to be created from scratch, and so forth…
Of course, structural reform is needed. But those who criticize the government for the lack of change and claims that war is no hindrance for reform, let them tell us how they would mend the roof if there's a fire in the house. 
Unfortunately, war obliges to change our priorities of thinking, organization of labor, financing etc. And we did not choose this war, this war chose us…
Significant efforts should be made to stop the war and get to the internal reforms. Unfortunately, not all steps on the way to peace are popular and find support in the society, which has been spurred on by combat. 
…Yes, the laws passed on September 16 are controversial. However, in reality these laws are a frame, and it will be practically impossible to use them alone. The President said these laws will help to draw a certain line between fighting for individual rights of separate Ukrainian regions and geopolitical infringement on part of a neighboring state. In the first case, they will continue to be executed and filled with judicial power; in the second, no laws can help.
The only bad thing is that he said it during his meeting with the members of the US Parliament, not the Ukrainian one.
It is clear that the Ukrainian President cannot say publicly to the entire country that the laws are a response to Putin's overt lies and an attempt to convince Russia to stop the war and remove the troops that 'sort of' aren't in our country using diplomatic cunning.
However, at least his direct subordinates should have been made aware of this: oblast governors, as well as the commands who participate in the ATO. Their public position (for example, that of Taruta) are evidence that they don't understand the President's position…
Unfortunately, there is communication problem not only with the governors. What the public really needs from the government at the moment is honest and open dialogue. 
Our society has fully proved its unity, sanity and readiness for any external challenges. There is no need to hide the truth, fearing panic. Panic more often arises from confusion and lack of information.
And panic in times of war is unacceptable.