A "Flag for Ukraine" flash mob  was held on Saturday, September 20, in Beijing at the Embassy of Ukraine in China, reports the Ukrinform news agency.
The event was attended by about 300 people from over 10 countries, including many Chinese. Participants, dressed in blue and yellow T-shirts, formed a Ukrainian flag. The well-known designer Anzhela Lysytsia created the original design for the T-shirts and was the manager of the event.
Sales of 450 T-shirts brought over 60,000 yuan (almost US $10,000), which will go to help wounded Ukrainian soldiers from the ATO zone. It was decided to donate the money to a military hospital in Irpin, Ukraine (Kyiv Oblast) for prosthetics.
"The Embassy of Ukraine in China supported our group. Our first task was to raise funds; the second was to gather Ukrainians," Lysytsia said, adding that both tasks succeeded very well and the "atmosphere was wonderful."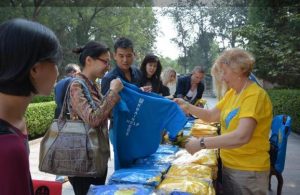 Ambassador of Ukraine to China Oleh Domin thanked all participants who came to support Ukraine. "Your presence here today shows that we are together, that Ukraine is not alone at this difficult time," he said.
This is the first such event in support of Ukraine in China.