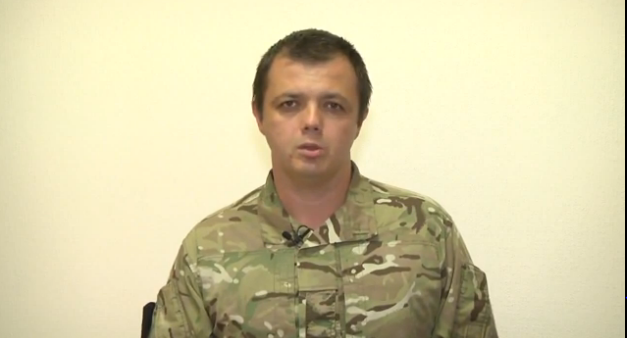 Following the ceasefire agreement reached between Ukrainian President Poroshenko and the leaders of the self-proclaimed "republics" in Donbas after negotiations in Minsk on September 5, many concerns were voiced in society: the last ceasefire was not observed from the side of the Russian-backed terrorists in Donbas, taking the lives of 27 Ukrainian servicemen. Commander of the Donbas battalion Semen Semenchenko addressed Ukrainians regarding the ceasefire, urging for them to take an active part in building a strong Ukraine.
I, along with you, have just found out about the ceasefire agreement.  And I am asking myself a lot of questions.  What will happen next?  Will the ceasefire be respected?  Will Putin stop at this point, or will Russian forces continue to advance.  What will happen in the autumn?  What about the winter?  Will there be an attempt to occupy more territory after the next round of economic difficulties?  Will we acquiesce with a defeat?  Will Ukraine be without the Donbas a strong and prosperous country?
In reality, these questions have no merit.  It's absolutely not important.
But it is very important to know what we want.  Our position is important.  Because how we decide so it will be.  If we decide that Ukraine will be a strong independent country, then we should now end the hysterics and looking for answers in coffee grounds.  We know what needs to be done.
Let's use this break.  If you want to be useful for the army, to be useful for a strong Ukraine, join a fitness centre, lift weights, learn to shoot, take a paramedic course.  Women should start to prepare clothing for the army for the autumn and winter period.  Our work is cut out for us.  Even just keep your fingers busy.
Just don't sit around waiting for something to happen, watching your TV nervously.  Don't be an observer, especially since we expect to see an entertaining political show in the next while, unfortunately.  Don't be observers, and then everything will depend on us.  We must be participants.  And then Ukraine will win.  Slava Ukraini!
Semen Semenchenko is the nom de guerre of a Ukrainian citizen and native of Donetsk. He is the founder of the Donbas Battalion, an autonomous volunteer battalion of the Ministry of Internal Affairs of Ukraine, based in Donetsk.
Translated by Myron Spolsky
Tags: Ceasefire, Donbas war (2014-present), Russia