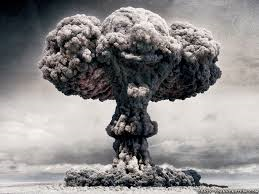 The new version of Russia's military doctrine may add the conditions for a "preemptive nuclear strike" on the United States, said Army General Yuri Yakubov, coordinator for the Inspector General's office of the Russian Ministry of Defense, reports Ukrainska Pravda, September 3, citing Interfax.
Yakubov announced that the new doctrine needs to determine the country's main enemy. "This strategic document for the country must first of all clearly designate the potential enemy of Russia. In my view, our main enemy is the USA and the North Atlantic bloc," he said.
The general noted that several years ago the leadership of the United States and NATO at all levels stated that they were not enemies of Russia. However, he believes they have now deployed a "real informational war against Russia" that  "purposefully presents" it as the enemy of the West with far-reaching goals.
Yakubov called for the development of "forms and methods of aerospace defense in close cooperation with the strategic nuclear deterrent forces. It is necessary to work out the conditions under which Russia may launch a preemptive strike using Russian strategic nuclear forces," he said.
As previously reported, Russia had decided to adjust its military doctrine to take account of new factors, including the events of the "Arab Spring" and the war in Ukraine. These "adjustments" are to be ready by the end of the year.
The Deputy Secretary of the Russian Security Council Mikhail Popov stated that "all evidence suggests" that the leadership of the US and NATO are continuing to escalate tensions with Russia by "using extremist groups, private military companies and demonstrators to achieve their goals."
According to Popov, Russia will continue to view the possible expansion of NATO as a threat.
At the same time, Russia's President Vladimir Putin in a conversations with the European Commission President Jose Manuel Barroso on Friday, August 29, warned that Russia could conquer Kyiv in a matter of two weeks.
Sources: pravda, pravda, translated by Anna Mostovych