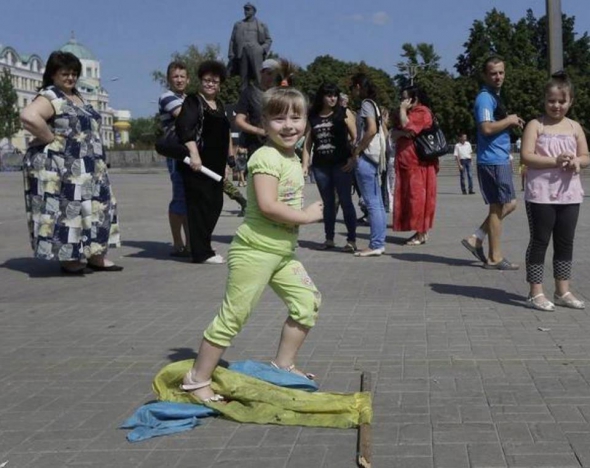 Images of the "parade" of prisoners on the central street of Donetsk, along with those of people trampling the Ukrainian flag, are helping Putin successfully divide Ukraine, Ministry of Internal Affairs advisor Anton Herashchenko  commented on Facebook,  August 25.
As reported by uanews.kharkiv, the Donetsk People's Republic (DNR) terrorists paraded Ukrainian prisoners through the center of Donetsk on Ukraine's Independence Day, August 24. Approximately fifty (according to other sources close to a 100 ) individuals, including several who were wounded, were forced to walk from the drama theater building to the Donbas Palace hotel. DNR supporters screamed obscenities and pelted the prisoners with eggs, tomatoes and plastic water bottles. Later, residents, including children, stomped on the Ukrainian flag. All this activity was recorded by a large number of Russian journalists.
Former Donetsk resident Anna Molchanov posted the photo of a little girl stomping the Ukrainian flag and commented on these incidents on her  Facebook.
"About Donetsk. How terrible. For us the 'parade' of prisoners today was a shock. How is this possible? And then, after the prisoners went by, they made a show of cleaning the street with street washing equipment. And the cries of the crowd that had gathered to watch this action, it's just shocking. No, this is not my city," she concluded.
Comments to her posting expressed similar outrage. "Unfortunately, more and more I'm reaching the conclusion that these people are trash," one person wrote. Another commented on the crowd who cursed and abused the prisoners, "And this came from the people, from the Donetsk residents!" he wrote.
For Herashchenko, the comments appearing on social media suggest that Putin is achieving his goal, reports Espreso.TV, August 25.
"By provoking even more hatred for the Donbas among Ukrainians, he appears to be saying. 'If you hate Donbas so much, then give it to me!" Herashchenko wrote, adding that Putin then tells Donbas residents, "All of Ukraine hates you! You are 3rd rate for them. Help me take back the Donbas from Ukraine!"
In his Facebook posting, Herashchenko compared Putin to Gollum in the well-known film "Lord of the Rings," who keeps telling Ukraine: "Why do you need a Donbas, where they trample your national symbols and parade supposedly captured Ukrainian soldiers? Give Donbas to me. It's my "baby."
However, Herashchenko also pointed out that that, while he considers the desecration of Ukrainian national symbols a crime, as do all Ukrainian patriots, the crimes have been committed by individuals.
"We will definitely find the parents of this little girl (stomping the Ukrainian flag) as well as the other criminals who trampled the Ukrainian flag. They will be held responsible by law. However, truth and justice demand that the responsibility remain personal" he said. "By no means should all the Donbas residents be blamed for hatred toward Ukraine. Anyone who committed a crime should answer for it, he concluded.
The following day, Herashchenko commented on yet another outrage — the assault on a woman forced to stand on a street in Donetsk, wrapped in the Ukrainian flag, holding a sign stating 'She is killing our children," and sobbing in terror, her knees buckling beneath her. As reported by Espreso.TV, people stopped their cars to get out and spit at her and slap her. One woman was photographed kicking her.
Herashchenko reported on Facebook, August 26,  that, according to information received from locals, the abusive woman in the photo is a local retailer of household chemicals and an "active DNR supporter." He encouraged citizens to provide confirmation and additional information.
Compiled and translated by Anna Mostovych
Sources: espreso.tv, espreso.tv, espreso.tv, kharkiv.ua, gazeta.ua
Tags: Donetsk, News, Putin, Russian military threat, Russo-Ukrainian War (2014-present), Ukraine