Leonid Kishatkin's grave. Photo by Novaya Gazeta
Pskov region saw several paratrooper burials since August 24. The exact losses are yet unknown. We can only be sure that several dozen of 76 Pskov paratrooper division servicemen (including both contract soldiers and draftees) stopped contacting their loved ones on August 15-16 and they haven't known anything of their fate since. The division's HQ does not answer questions from parents and wives. Colonel General Vladimir Shamanov, the commander of the Russian paratroopers, flew to Pskov on August 22 and claimed: "Everyone is alive and well in our paratrooper assault brigade". The day before Major General Igor Jonashenkov, head of the Russian Defense Ministry's press department, called Ukrainian media's claims of capturing a Russian paratrooper APC and death pf Russian servicemen "fake".
But on August 25 reporters from Novaya Gazeta and St. Petersburg's Fontanka.ru witnessed burials of paratroopers in Pskov region, the information of their death being hidden. Today the relatives of Pskov paratrooper division's soldiers ask us to help find out if they are alive, where they are and when they will come back.
A tragic message of the death of Sergeant Major Leonid Kichatking from the 76th Pskov paratrooper division appeared on August 22 in a Russian social network "Vkontakte", on the page of his wife Oksana: "Dear friends!!!!!!!! Lenya was killed, burial service on Monday at 10 am at Vybuty. Come if you want to say your farewells". The wife's mobile phone was given as a contact. On August 23 Kichatkon's Vkontakte page was deleted (Novaya Gazeta has a screenshot of the page — N.P.).
On August 24 Novaya Gazeta's reporters called Oksana (we have a recording of the talk —N.P.):
"Are you Leonid Kichatkin's wife?"
-"Yes. What's the problem?"
"There is information that Lenya was killed."
"No! My husband is standing next to me. Should I give him the phone?"
"What's with the information then? Where is it coming from?"
"I can't tell. My husband is standing next to me. May God grant him health and everything. More and better. I don't sound like a crying widow, I think"
"There is information on the Internet…"
"Well, firstly, our Vkontakte page was hacked. The information came from there. We deleted the page. It is not ours. I'm not going to refute it. Bullshit is bullshit. Lenya is right next to me. Thank God, he is safe and sound"
"May we talk to him?"
"Yes, no problem"
A man took the phone:
"Hello"
"Hello. Did you go anywhere? Has anything bad happened to you?"
"No. I'm talking to you, safe and sound. How can I go anywhere when I have a pregnant wife and three children? How can I leave? I'm standing next to you, talking to you, alive and well. Let them hack my page and write what they like. Here I am, talking to you. I can even, I dunno, sing a song to you or dance on camera…"

August 25.
Leonid Kishatkin's burial. Photo: Nina Petlyanova/Novaya Gazeta
Having heard these claims by "the Kichatkins", on Monday, Agust 25, we went to Vybuty village (17 km from Pskov) to the graveyard of the church of Prophet Elijah. We went through all the graveyard and saw a tented military vehicle on the outskirts. Ten meters from it stood a major in a field uniform (we determined the rank by his shoulder straps — N.P.) and a soldier in a paratrooper uniform. Two other were filling up a grave. There was not a soul more. We came up to the grave?
"Where are you going?" – asked the major.
"To pay our respects…"
The plate read: "Leonid Yurievich Kichatkin 30.09.1984 — 19.08.2014". A black-framed photo showed Leonid (we can determine it by lots of Leonid's photos on the page of Oksana Kichatkina, his wife — N.P.). We came up to the major. He probably should have shooed as away or at least found out who we were. But he really didn't care. He gave us a drunken, grave look. We asked:
"How long ago did you bury Lenya?"
"Like 15 minutes ago… Today it was Lenya, yesterday Sanya…"
We are standing next to another fresh grave. The plate reads: "Alexander Sergeevich Osipov 15.12.1993 — 20.08.2014».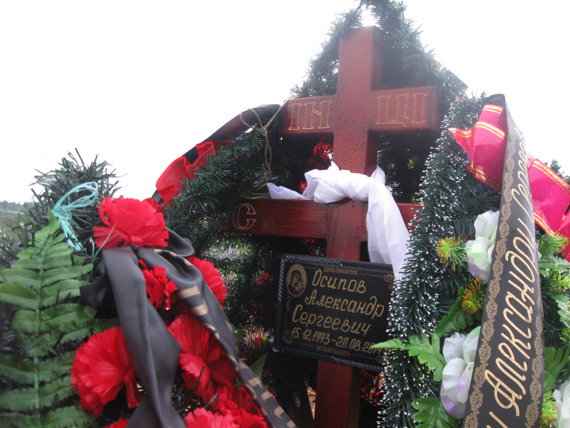 Alexander Osipov' grave. Photo by Novaya Gazeta
"These are mere boys…" – I utter, looking at the graves.
"This is my only son, he served in my regiment, I sent him there", the major says suddenly.
I held out my hand:
"I'm Nina"
He shook it:
"I'm Sergey"
"His father?"
He nodded.
"Shall we commemorate him?"
On a table nearby there were two open bottles of vodka, bread and tomatoes. We drank in his memory.
Sergey Osipov turned to a soldier standing nearby;
"Sanya, was it I who killed him?"
The soldier replied:
"Well, you do remember, we went both to Kaliningrad and Novorossyisk. He went there as well. Do you think he wouldn't go if you didn't let him?"
Osipov:
"He wanted to become a hero… This is soldiers' work. Someone has to do his duty to the Motherland"
I blurted out:
"With one's life?"
The major stayed silent for several minutes. Then he turned to Sanya:
"If any ape signs you up anywhere, call me! Like hell you will go anywhere! Because if you die as well, I won't survive it. I will commit suicide. Right in the church I've built"
"Did they have a chance to survive?", we asked the mayor.
"Honestly? They had no chance. Mortars were firing from one side, Grads from the other…"
"How long had they been there?
"A week?"
"How many died?"
He shrugged:
"We will bury more tomorrow…"
Near Kichatkin's and Osipov's graves at the Vybuty graveyard we saw another one: The paratrooper, Sergey Mihailovich Volkov, was born on 30.11.1986 and killed on 11.07.2014.
When we came back from the graveyard, we couldn't reach Oksana Kichatkina: the phone was turned off. But we did speak to Leonid's relative, Daniil Kichatkin. He said Lenya's father and uncled were at the ceremony but not for a long time.
"We don't know anything of his death", says Daniil. "They just said he was killed near Luhansk while doing his duty. That's all we know.
***
Roman Bochkala, a reporter working with Ukrainian "Inter" TV channel, told about a battle near Georgievka, Lutugino district, Luhansk region. He also posted several photos: They showed: a paratrooper APC and a PKT machine gun from it with a gunner's name – N.D, Surchanov, a passport page and medical policy of Nikolay Krygin, several bank cards belonging to different people, a paratrooper battle manual, the soldiers' belongings. But the main thing were pages from an evening check journal with ranks, surnames and initials of 60 soldiers from a unit of the 76th Pskov paratrooper division (one of them a major, other sergeants, privates first class and privates. The last record in the journal was made on August 12.
"At night on August 20, after the battle, my friends from the 24th Lviv brigade sent me these photos", Roman Bochkala told Novaya Gazeta. "They said there's been quite a fight at Georgievka. A Ukrainian Internal Ministry Special Forces unit "Storm" took part in it. They told me one of the Russian vehicles got lost. And this is a photo of the crew of the vehicle that got lost. But, unfortunately, I don't know anything of the crew's fate. I don't know whether they are alive. It's quite hard to ask the Ukrainian soldiers. It's hard to find out the details. The connection is bad. It keeps breaking.
On August 21-22, After Bochkala published these photos, lists of soldiers allegedly killed at Luhansk went viral on the Internet. We still don't know the origin of these lists. But they also contained names of soldiers of the 76th paratrooper division absent from the evening check journal.
"I don't know where those lists came from", Bochkala commented to Novaya Gazeta. "I saw no such lists. I published a photo of a journal page they sent to me. But this isn't a list of those killed! It is just a list of the unit's personnel. We don't know what the details were".
This list, circling around the Internet, made the Pskov paratroopers' relatives, who have recently been worried as it is, finally loose all calm and sleep. The boys, who used to call home or leave messages on social networks (at least once every 3-4 days), stopped contacting them. The 76th paratrooper HQ has still not clarified anything to the relatives and friends.
"I've been taking pills for two days", says Snezhanna Semakina, the mother of a contract soldier Pavel Semakin. "They keep calling me, asking what happed to my son. But I don't know what happened to him! I gave him to the Motherland but I don't know where the Motherland sent him and what's happening there. Yesterday someone, he said he was my son's superior, called my daughter-in-law and said they were ok, just had no connection. Where did they send him? What on earth is happening in that Ukraine? I don't even know where he is. I'm coming back from a church, I've paid for a service for his health…"
"I know our guys were sent to Rostov", says Olga Urazova, wife of an officer from the division. "But it was so urgent they didn't even let them gather things. They were at an exercise near Pskov, and on 15-16 they were sent away – they didn't even let them come home for a meal and a goodbye. The politicians do it in secret, we don't know why. Now we don't know anything"
"I haven't slept for 10 days", Elena Baranova, the mother of a Pskov paratrooper, sobs. "My son is a draftee, he was to come home on October 29… On August 15 Andrei called me for the last time. He said: "Mom, we are going for an exercise, we don't know where". But I realized it was the border because they'd been sent there twice before and I cried. And he said to me: "Don't cry, mom, we aren't going to the Ukraine after all…" My son used to call me every day during exercises and tell me: "Mom, I'm ok" or "Mom, I'll be on duty tomorrow". I wasn't expecting a call these days. But it's been nothing for so long! I've been calling his unit since August 19. But no one answers the phones! I've called 16 phones! When I couldn't reach anyone, I recalled: When we went to see the soldiers say their vows, there was a meeting and the commander gave us a number to call at any time of night or day. I called it and there was silence again. And then the news started spreading on the Internet… I get it when they have exercises. But why isn't there a phone for a son to call his mother?!"
"Last time my son called me on August 14, he hasn't been in touch since August 15. but I talked to his colleagues and they said that if something happened they'd know and everyone was at the exercises", Ekaterina, wife of paratrooper Andrey Babin, told Novaya Gazeta. "They say they'd captured an APC and the first company was destroyed, but my husband and his comrades do not serve in the first company. I know other guys that aren't in touch but they aren't in those awful lists…"
Novaya Gazeta will publish official comments from the 76th paratrooper division HQ as soon as we get them.
Novaya Gazeta expresses condolences to the loved ones of those killed.
[hr]Source:
Novaya Gazeta
Translated by Kirill Mikhailov