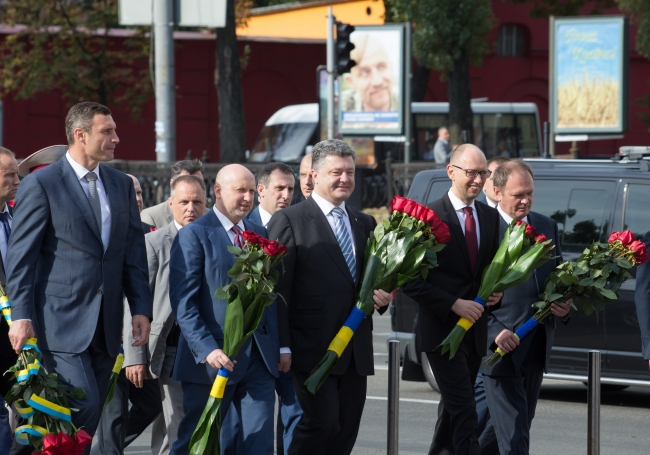 Russia's aggression against Ukraine has moved beyond the bilateral relationship; it violates international law and threatens global security, said President Petro Poroshenko during a military parade in Kyiv for the 23rd anniversary of the Independence of Ukraine, reports Ukrainska Pravda.
"Our enemy has trained long and hard to attack Ukraine. And then (after Maidan and the change of government) we were not ready for such cunning treachery," he said.
"Twice in a century Ukraine's political elite, influenced by pacifist illusions, underestimated the importance of strengthening defense. In the years 1917-20 of the last century, neglect of the military threat led to aggression from the east and the loss of Ukrainian independence," he said.
"At the turn of the century, we again fell into the same trap. We again believed that the world had supposedly become vegetarian and we even willingly gave up our nuclear weapons. But war came to us again from that side of the horizon where, out of habit, we did not expect it," he said.
Poroshenko reminded his listeners of the ancient Roman adage: "Si vis pacem, para bellum — If you want peace, prepare for war."
"The destruction of the Malaysian airliner. The murder of the honorary consul of Lithuania. The arrival of international mercenaries in the service of terrorists — all this once again demonstrates that aggression against Ukraine has moved beyond bilateral relations," he said. "It is destroying the foundations of world order. It is violating international law. It threatens European and global security."
The president pointed out that in the center of Europe, in the XXI century, " a blatant attempt was made to violate the borders of a sovereign state without declaring war."
"It is as if the world has returned to the 1930s of the past century, on the eve of World War II. In a week, by the way, it will be 75 years since the beginning of that war. The centennial of the First World War was marked less than a month ago. We must not allow the third one," he said.
"We did not start the war. It was imposed on us from outside. Our choice is peace — the realization of the peace plan for the Donbas, which I developed and proposed still in June, he said.
But "steps to peace cannot be one-sided," Poroshenko said. "They must not come at the expense of the sovereignty, the territorial integrity and the independence of Ukraine."
"Our country's diplomacy is doing everything possible, even impossible, to find a political solution for a settlement," the president said.
Translated by Anna Mostovych
Source: Pravda
Tags: News, Petro Poroshenko