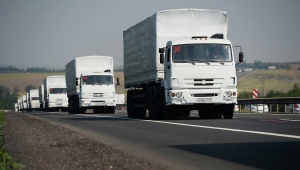 "The humanitarian convoy" begins moving towards Luhansk. 
This decision was made by the Russian side, reports the press service of the Russian Ministry of Foreign Affairs.
The MFA warned they would not tolerate attempts to disrupt the solely humanitarian mission to the east of Ukraine and made the decision to let the column of trucks through the Ukraine-Russia border.
Russia thinks that all the excuses were aimed to delay the delivery of the "humanitarian assistance," and now they have run dry. This is why the Russian side made the decision to act and depart for Luhansk already.
The MFA claims that if provocations occur during the movement, all the responsibility for the consequences will lie on those who are still prepared to make human sacrifices.
As of 9:30, representative of the International Red Cross Committee in Ukraine Andre Lersch stated that the issue of the cargo's security is being discussed still. He noted that the Russian "humanitarian aid" had not crossed the border yet. Lersch said that there are 40 representatives of the Red Cross at the border, who will escort the cargo. Later the Russian MFA made a statement that the column was moving towards Luhansk.
---
Source: FaceNews
Translated by Mariya Shcherbinina