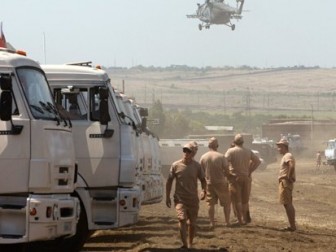 The so-called "humanitarian convoy" entering Ukraine from Russia is a direct invasion of Ukraine, said the head of the Security Service of Ukraine Valentyn Nalyvaichenko during a press conference on Friday, August 22, reports UNN.
"We declare that this is an invasion. We are witnessing a risky provocation against Ukraine that is cynically using the International Red Cross — a provocation with the so-called humanitarian cargo. The trucks have entered Ukraine without permission," he said.
Nalyvaichenko emphasized that the vehicles have nothing to do with civilian vehicles. "The same is true of the staff. The so-called drivers have nothing in common with  (civilian drivers). These drivers who suddenly received Russian passports for traveling abroad provide the first indication  that a group of people is arriving to operate the military equipment that is entering Ukraine illegally through Izvaryno every day. Among them are people who will perform the tasks of escorting, interrogating and torturing prisoners."
According to Nalyvaichenko, the convoy has entered Ukraine for three purposes: to replenish transportation equipment, to transport weapons and to remove bodies.
"The Kozitsyna and Bezler terrorist groups and others are waiting for these deliveries (to replenish) their basements and warehouses with cereal and other products. The trucks will be used first to transport equipment and weapons. After the successful operations of our military, the terrorists have a serious lack of transportation. The trucks will be used for that purpose," he said.
"Second, since these are military trucks, they will be used to transport artillery: mortars and other heavy weapons. Third, these tractors, together with the convoy, will be used to remove the hidden dead from our territory. We will keep track of where exactly, " Nalyvaichenko said.
As reported earlier, the Russian Federation today stated that it has made a unilateral decision to begin moving the Russian "humanitarian" convoy to Luhansk.
Translated by Anna Mostovych
Tags: News, Russian invasion, SBU