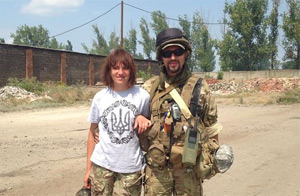 "Yesterday everything in my world turned upside down. But this is my world. Eternal Glory to the Heroes!" Tania wrote in her Facebook, adding the photo of her husband, Vadym.
Later, Yuriy Biriukov, founder of the volunteer group Wings of the Phoenix that helps equip Ukraine's army,  added to her message, explaining that Tania's husband had in fact been killed at the front.
Dnipropetrovsk blogger  Evgeny Genden wrote in his Facebook: "Vadym Rychkov was killed. A wonderful man from Dnipropetrovsk, one of my first friends on FB. A bright, intelligent, handsome, courageous man. Absolutely one of us. From the very beginning he volunteered for the 25th Brigade. Simply a man. Simply a Hero. The husband of the legendary Tetiana Rychkov. I can say nothing more. Nothing. Tania, hold on. Eternal glory. Glory to Ukraine."
As reported by Ukrainska Pravda earlier this month, Tania Rychkov is a fearless volunteer who is able to penetrate into the most dangerous areas of the ATO zone in order to deliver medicine, food, clothing and ammunition. The entire 25th Military Airborne Brigade, which her husband joined as a volunteer in March, is under her care.
As Tania explained, it was precisely because of her husband that she became involved in her volunteer work.
"My husband called me and said to bring his belongings because he was already in the unit. I drove out there and saw that they were taking these guys as they were, dressed in their own clothes, and I rushed out to help. First, everything was funded by our family, then from the savings of our parents, then I understood that, in addition to the 3rd battalion where my husband served, there were thousands of other soldiers. They also needed help," she said.
Previously, 35-year-old Tania Rychkov from Dnipropetrovsk had her own little bakery and led the peaceful life of a married woman who did not even need an account in social media.
Today Tania spends five days a week in the most remote areas of the ATO (anti-terrorist operation) zone, where other volunteers do not go, and equips close to 3,000 soldiers of the 25th Brigade, raising funds through social networks, businesses and other volunteers.
A friend registered her on Facebook and Tania began to raise funds through business people. She also joined up with Wings of the Phoenix, becoming the charity's  Dnipropetrovsk branch. Everything developed so quickly that Tania cannot even remember how many times she has gone to the ATO zone and how many items she has delivered there. It all started with boots, camping pads, sleeping bags and power generators. Now she delivers practically everything, starting with ready-to-eat meals, clothing, and medicine and ending with heat imaging equipment, gun reflector sights, even tank parts.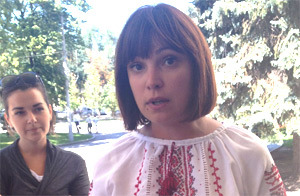 Tania does not shield herself either physically or psychologically. She drives alone into dangerous territory to avoid risking the lives of others. When asked how she survives the war psychologically, she explains simply: "I switch off, that's all," she says.
"During the storming of Chervonyi Lyman, the guys called me directly from the battlefield. Then the surgeon called and said he was out of everything. I knew that I had brought a great deal of medicine, and I realized what kind of nightmare was taking place," she adds.
"Then there was the downed plane. Mothers were calling me all night asking if their children were there. I made all the flags used on the coffins and I organized the funerals… Another time, a checkpoint was completely shot up. We were picking up the guys, covering them with our clothes. Even the officers were unable to come up close. A woman volunteer, a doctor, vomited. I don't react that way . . . Once when Yuriy (Biriukov) and I were going to Lviv to pick up helmets a car crashed into our truck at full speed . We had a first aid kit, and Yuriy and I administered first aid, waited for the ambulance, and then left."
"You simply understand that you must go on. There are other men, and they really need us," she concluded.
Compiled and translated by Anna Mostovych
Tags: News, Volunteers, Wings of Phoenix