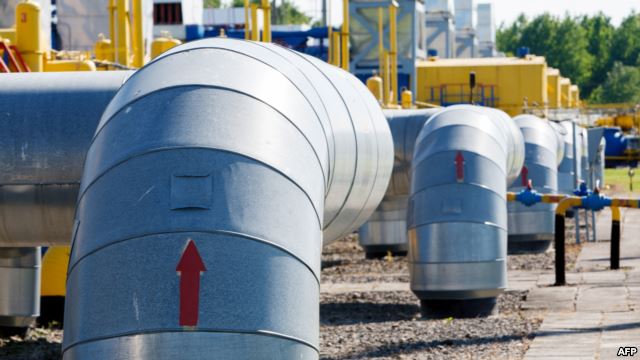 Kyiv – Slovakia started testing the gas pipeline which is to start supplying Ukraine with gas from the EU. The government and parliament think this will allow to carry out the heating season if all consumers save on gas. Experts are convinced that the Slovakian reversal will increase the odds of the heating season, however it will still be colder in the apartments than last year, if they do not have additional insulation or use alternative heat sources.
Reverse natural gas supplies from Slovakia to Ukraine are to start on September 1, as technical preparation of the gas pipeline Voyany–Uzhgorod has come to an end, and testing begins. This is reported by Slovakian gas transportation operator Eustream. However, head of national joint-stock company "Naftogaz Ukrayini" Andriy Kobolev said that there were agreements to begin commercial gas reversal from Slovakia back at the end of July.
At first, the gas flow will constitute 3 billion cubic meters, starting March 2015 it will reach 10 billion, stated representatives of Slovakian company Eustream Vagram Chuguryan.
"Naftogaz" officially reports that they have ended preparation work to begin reversal on the part of the gas pipeline under their jurisdiction. According to expert calculations, on average Ukraine consumes about 50 billion cubic meters each year, more than half of this was bought from Russia until recently, the rest was extracted. Starting June, Russian "Gazprom" stopped supplying gas to Ukraine after the refusal of the government to pay a higher price than during Viktor Yanukovych's presidency.
The government order to provide the population and businesses with gas by the end of the next heating season determines, that in case of economy in all spheres, Ukraine should managed with 30,23 billion cubic meters of gas between October and April. Half of this amount can be found in underground gas reservoirs, part of it can be extracted, however Ukraine will still lack between 1,5 and 7 billion cubic meters of gas, Razumkov Center director of energy programs Volodymyr Omelchenko told Radio Svoboda. According to him, Ukraine already receives reverse gas from Poland and Ukraine, however this volume does not currently surpass 2 billion a year, therefore Slovakian reversal plays a deciding part.
The Parliament committee for fuel and energy consider the news about the beginning of the testing of the Slovakian-Ukrainian gas pipeline good. However, deputy head of the committee, "Svoboda" member Olexanr Myrnyy told Radio Svoboda that only gas reversal will not be sufficient to maintain heat in residential areas.
"Slovakian gas reversal won't be enough if we don't consume it economically. If public utility services don't start insulating the houses immediately to prevent heat from escaping, nothing will work. There is a Russian lobby in Slovakia, however currently the lobbyists won't interfere with reversal, they will sit quietly, as their actions are obviously contradictory to the general position of the EU."
According to Myrnyy, Ukraine continues to fill up gas reservoirs, thanks to current reversals and its own extraction. Currently there are 15,5 billion cubic meters of gas in Ukrainian underground gas reservoirs, while at the end of July it was one billion cubic meters less, "Naftogaz" statistics show.
The government, the Parliament and the expert community consider it unlikely that gas supplies from Russia will start again by next summer. Even former "regional" Mykola Rudkovskiy, who is a supporter of the return to Russian gas, stated from the Parliament booth that Ukraine would not get a single cubic meter of gas from Russia after the approval of the law regarding gas transportation system governance with western companies on August 14.
The pro-Russian politician, head of the project 'Ukrainian Choice' Viktor Medvedchuk is also convinced that gas reversals from the EU will help Ukraine.
Experts: the EU, saving on gas, and the weather may help Ukraine
The heating season in Ukraine depends on a number of factors, ranging between the volume of reversal and the weather, stated energy expert, president of Strategy XXI globalist center Mykhaylo Honchar to Radio Liberty.
"We can currently count on small reversal from Slovakia, which is up to 8 billion cubic meters per year (approximately 3 billion by April), while big reversal, up to 20 billion cubic meters per year, is only possible next year, in case the Slovakian gas pipeline is reconstructed. Small reversal will increase Ukraine's energy resilience, however it will not rid us from wintertime problems completely. There will be a deficit of gas. However small reversal is better than nothing."
Mykhailo Honchar emphasizes that the lobby of Russian "Gazprom" will try to prevent Ukraine from receiving reversed gas by various means, including threats to European operators. According to him, in case of long-term cold gas expenditures will go up, and reverse fuel will increase in price. If the winter is mild, heating in big cities will be relatively stable, however the Ukrainians' apartments will still be colder than last year, the expert predicts. He thinks that both the state and the regular citizens have to take care of alternative heating to the max by the winter – using local resources: coal in the east, firewood in the north and west, electricity – in other regions. Mykhailo Honchar considers heat insulation to be paramount in the winter.
In order to accumulate gas for the winter, big Ukrainian cities temporarily gave up hot water. Meanwhile Kyiv city head Vitali Klitschko promises that Kyivans will get hot water in September.
Meanwhile the Ukrainian government calculated the costs of reconstructing electricity networks and re-equipping boilers. This was stated by Minister of the Cabinet of Ministers Ostap Semerak after the government session on August 13. According to him, a separate government orders prescribes spending 500 million UAH to replace gas boilers with boilers that use other kinds of fuel. The same order presumes compensation of credit loans to citizens that set up alternative heat sources to replace gas boilers.
---
Source: Radio Liberty
Translated by Mariya Shcherbinina