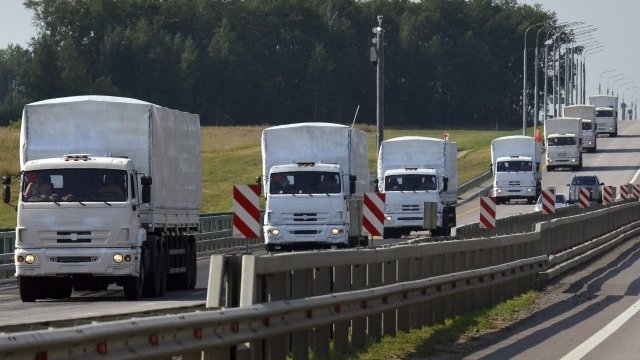 The first convoy heading towards Ukrainian border in Rostov Oblast. Source: Twitter/courtney_ft 
The Russian "humanitarian convoy" is moving towards the Ukrainian border crossing at Izvaryne, which is under the control of pro-Russian separatists.
Slon.ru reports that this information was tweeted by Guardian correspondent Shaun Walker, who is currently in Kamensk-Shakhtinsk (Rostov Oblast, Russia).
According to Walker, the vanguard of the convoy was directed to Kamensk-Shakhtinsky, which is on the road leading to Krasnodon and Luhansk.
Meanwhile, Financial Times journalist, Courtney Weaver tweeted that the convoy is escorted by military helicopters and auxiliary military equipment. According to Weaver, the convoy stopped in the area of Kamensk-Shakhtynsk.
Photo from Weaver's Twitter
At about 14:00 Kyiv time, one column stopped and the journalists were allowed to take a look inside some of the trucks.
A New York Times correspondent wrote that some trucks carried sleeping bags. But, the man who showed the goods had an obvious military tattoo.
The Guardian journalist wrote that he was also shown buckwheat and sleeping bags.
The BBC correspondent later reported that the "convoy" stopped in a field 20 km from the Russian city of Donetsk.
Translated by Christine Chraibi
Source: www.pravda.com.ua