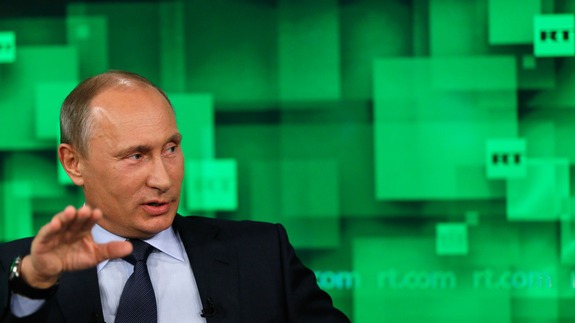 Prepared by Steve Komarnyckyj for Euromaidan Press
1) Aim
The aim of this strategy is to provide a coordinated plan which will facilitate the destruction of Russia's propaganda machine.
2) Background
President Vladimir Putin is implementing a strategy to achieve both the subjugation of Ukraine and Russia's geopolitical dominance. The use of what Joseph Nye termed "soft power" is crucial to eroding support for Ukraine among European countries. However, Putin's machine builds on a long Russian tradition of trying to annihilate Ukrainian identity. As Bogomolov and Lytvynenko note in a 2012 Chatham House briefing, for many Russians, including Putin, Ukraine simply does not exist.
The Russian Empire, whether in its Tsarist, Soviet, or current form has strived to destroy Ukraine as a nation. However, we have to distinguish between:
The state's formal institutions and organisations sponsored by them, such as Russia Today;
Formally independent human rights and media organisations and journalists which may be subjugated and influenced by Russia;
Individual Russians who share these views, (historical examples are Brodsky and Solzhenitsyn) academics who promote a Russo centric agenda to their Western colleagues, such as Kondrashyn.
Putin's plan for subjugating Ukraine is linked to a wider strategy for reconfiguring the world order. He intended to play on a traditional anti-American culture in both France and Germany to splinter the transatlantic alliance with the US. The USA's support for Israel is one of the tools he intends to use both for eroding the faith of US citizens in their government and alienating the Islamic world from the US. The social conservatism at the core of his orthodox Fascism shapes his strategy for Europe. He intends to dismember the EU into easily dominated fascist statelets and has made progress with regard to Hungary. His programme appeals to large sectors of both the Russian and non-Russian population who are disorientated by globalisation and tempted by an autocratic protectionist culture. In Russian terms, he articulates a narrative of resentment similar to that utilised by Hitler.  However he believes that he can create an economy that is both hermetically sealed by massive localisation of production, and globally powerful, due to horizontal economic ties between corporations. A crucial element in his strategy is controlling the climate of popular and political opinion in the West.
Ukrainian society has been gripped by a wave of activism and an array of groups and individuals are challenging Putin's propaganda machine via public protests and social network campaigns. However, the vast resources available to the Russian state allow it to hire public relations and social network activity on a vast scale. The uncoordinated approach of the Ukrainian community will not be sufficient to defeat such a well organised and resourced campaign.
There are however three weak spots in the machine which cannot be cured by Russian and which can be used to bring about its destruction:
Putin's aggressive expansionism depends on large scale violence executed by deniable military proxies and conventional troops. The atrocities committed by his forces, both regular and irregular, will alienate public opinion across the world. Similarly, his wider cultivation of the right depends on alliances with an array of parties whose programmes would alienate much public opinion. Here again he uses deniable assets whose instability (e.g. Dugin) can be exploited to undermine Putin;
His Western proxies, whether they be journalists/media organisations/ or PR Agencies, will be compelled to lie, distort, misinform in order to construct arguments in his support. This will leave them vulnerable to having their brands or public image damaged in the simplest way, by exposing their fabrications. Portland Communications, an agency linked with Russia, promotes its opposition to slavery but acts as an advocate for a man whose terrorists murder and torture civilians. The Guardian in particular has acted as a conduit for FSB disinformation and is vulnerable to having its brand damaged;
Putin's machine relies on the disconnect between English and Russian language media which allows his proxies to craft an "acceptable" image for his policies. These often consist of simplistic portrayals of a "reasonable" Putin, which can easily be dispelled by reference to primary sources.
3) Putin's Western propaganda machine
Putin was able to build on the work of his predecessors who had already established a Russo-centric tradition in the West. There is an array of left wing parties, groups, and individuals who are cheering on Russia's war effort. Similarly, there is a Russo-centric culture in the academic and literary communities. The fetishisation of Russian culture has obscured the ability of many Westerners to see the prejudice outlined by Bogomolyov and Litvinenko. The adulation of Russian literature means that the voices of Brodsky and Solzhenitsyn, their imperial perspective, drowns out that of their Ukrainian contemporaries. The Holodomor is a relatively marginalised area of study and academics who study the European right often give disproportionate weight to its contemporary and historical role in Ukraine. The specialists who subsequently work in the West's foreign policy ministry's share these views and this in part, accounts for the terrible misreading of Russian Ukrainian relations by the West.
Putin has extended his influence to encompass the right who are attracted by his social conservatism and his "nationalism" (which they have, in fact, misread). Similarly, he has broadened Russia's support beyond the liberal artistic left and into the large number of individuals disengaged with the West's flawed democratic mechanisms and foreign policy.
The mechanisms which Putin has deployed for his attack include:
Agents of influence including politicians, businessmen, corporations with a stake in Russia's localization program, energy sector etc.;
Networks of journalists who may be sectarian Communists (such as Seumas Milne), or social conservatives attracted by Putin's superficially Christian agenda (such as Peter Hitchens);
Sectarian left wing sites (such as Counterpunch and Global Research) which exploit a linguistic disconnect to create a sanitised Russia and a conversely stigmatised Ukraine;
Political proxies (such as Stop the War and numerous politicians);
PR Agencies and consultancies;
The Troll army of paid internet commentators, all working to a script.
The centrepiece of Putin's propaganda is the Russia Today channel. An analysis of its content suggests that Russia Today:
Disseminates conspiracy theories tinged with anti-Semitism to erode public trust in Western governments, and also to use support for Israel to inflame anti-Western sentiments. The core of the conspiracy theory is a narrative which suggests the USA is controlled by Zionists who in turn organised 09/11;
Influences politicians, often marginal figures, by granting them air time to gain support for Russia's hostile actions towards other countries. However, this simultaneously boosts the image of extremist politicians promoting anti-Western views and political disengagement;
Promotes a narrative for the war in Syria favorable to the Assad regime. In turn, Assad, in exchange for the support of Oboronservis and Russian specialists, blocks the establishment of a pipeline from the Qatar gas deposits to the EU;
Incentivizes journalists who spread misinformation according to a centrally produced agenda. There are journalists who are directly employed by Russia Today and receive a script, and others who work as freelancers but produce material which conforms to the channel's agenda;
Forms a climate of  opinion in the West to allow an invasion of Ukraine to take place and boost tolerance for subsequent genocide/ethnic cleansing by stigmatising Ukrainian national identity.
4) Action Plan
The actions described below are intended as a starting point for discussion. The main principles on which they are based are:
a shift away from uncoordinated initiatives towards pooling resources and coordinating actions;
a move away from reacting to the material produced by the propaganda apparatus to a focus on coordinated action to destroy the apparatus itself;
a focus on undermining Putin's virtual world and its hired creators by exposing its – and their – dishonesty;
an emphasis on non-violent action. The strategy must adhere to best practice in terms of being anti-discriminatory. It is likely that the traditional ploy of depicting Ukrainians as Nazis will be utilised against any organised campaign. It is also possible that attempts will be made to discredit the campaign by planting agents who will make provocative, inflammatory statements. Indeed, Ukrainian politics has been affected by a number of right wing parties who may have been sponsored by Russia.
Draft Action Plan
Establish a mechanism for coordinating action globally and draft a plan which relies on the combined knowledge, experience, resources of the Ukrainian community and its allies. The plan will include, but not be limited to the actions that follow from point 2) onwards;
A campaign to ensure that legislation is passed barring politicians from receiving payments from foreign firms and lobbyists;
Campaigns to damage the brands of companies/ countries which insist on doing business with Russia must be damaged by negative campaigning to highlight their ties to this unpleasant regime;
A campaign must be launched to curtail and where possible remove Russia Today. An outright call for the channel to be banned would be targeted as illiberal so it is important that the campaign focuses on the content of the channel which is intended to foment national/ethnic hatred. The campaign could be linked to and packaged as an anti-racism/xenophobia campaign (which indeed would be the case). The campaign would stress that RT's content is structurally xenophobic because of the channel's aims:
Fomenting opposition to the US by exploiting opposition for the state of Israel has led it to fuel conspiracy theory tinged with anti-Semitism;
In order to promote the annexation of other states by Russia the channel systematically produces material which inflames hostility towards other nationalities.
The campaign would also emphasise that RT corrupts journalism and be presented as concerned with maintaining honest, objective reporting standards. It would emphasise that Russia Today is incapable of not pressuring its reporters to engage in fabricating news because:
The channel's reports are based on a centrally issued news agenda stipulating how topics should be reported;
The agenda of necessity involves promoting blatant lies for many reasons. The most obvious is that Russia's allies and proxies (Assad/Strelkov) are guilty of ethnic cleansing. However, it is clear that Putin's assault on Ukraine is unsupported by the indigenous population. Thus, again, fabrications must be perpetrated.  The resignation of Russia Today columnist Sara Firth and her subsequent comments will be used to illustrate how this works. The campaign will ensure that every story produced by RT journalists working through other media is accompanied by information on social networks about how the channel operates. The media outlets issuing such stories will be challenged to clarify whether they consider it appropriate to work with employees of a channel which requires its staff to lie. The campaign will not be libellous it will merely point out the extent to which a given journalist's stories conform to the Russian government agenda.
5. The Guardian has employed/worked with journalists linked to FSB proxies, the Communist Party, and Russia Today. The press overall will be lobbied to adopt a code of practice which will require:
that it does not use journalists funded /linked to bodies hostile to Ukraine to report on Ukraine;
that journalists who work for publications known to engage in unethical behaviour such as asking their staff to lie/ create bogus social network profiles are not employed by British media outlets. The campaign will look to engage editors and media professionals in a dialogue presenting itself as a participatory project to address issues of accuracy and integrity in the media.
6. The Russia Today link will in particular be targeted. The Independent and London Evening Standard are owned by a former KGB agent and have published stories suggesting a back door RU-DE deal and purveyed a not-so-subtle death threat to Ukrainians. These examples will be used to pursue a campaign to protect the press from infiltration by hostile foreign agencies.
7. The troll army cannot be "out-tweeted," but must be discredited. The fact that there are two kinds of trolls must be considered:
the paid employees of call centre type organisations'
Western Ukrainophobes.
In the case of the former we must undertake an awareness campaign so that anyone's automatic response on seeing their work is to view it as propaganda. In the case of the latter, a campaign targeting the small number of people involved and challenging them over every fabrication purveyed to the West would have a deterrent effect. The strategy must be targeted to the individual. For instance, Brad Cabana, a Canadian politician who retweets unfiltered Russian propaganda, is vulnerable to pressure from the Ukrainian Canadian community. Seumas Milne's championing of Russian expansionism can be linked to his previous attempts to whitewash Stalin.
8. The left is still affected by residual Russophilia from the Soviet era and often repeats undiluted Russian propaganda. However, many of Russia's expansionist activities are in direct conflict with the left's Political proxies such as Stop the War. These agencies must be confronted with the humanitarian consequences of Russia's aggression at every turn.
9. The Ukrainian community and its friends must form alliances with other agencies and groups who share their aims.  The LGBT community will is strongly opposed to Russia's repression of their rights. A common campaign linking homophobia and national discrimination could be developed.
10. These last elements go beyond the media strategy and into areas that must be tackled in partnership with the Ukrainian government. We must promote Ukrainian culture and dispel the myth that it is second rate, an appendage. The perception of Ukrainian as "inferior" has facilitated an attitude of indifference and a lack of empathy for the country and its plight. The unique legacy of Ukraine's writers, whose names should be as famous as those of Balzac, Goethe, or Shakespeare, must be cherished. The promotion of Ukraine's literature must focus on its unique history of being subjected to genocide and legal prohibitions, and its daring experimentalism. The Executed Renaissance is one of the most tragic but also most inspiring events in literary history. We must make sure that Ukraine's writers, its voice are heard. Rory Finin characterises Ukrainian literature as "a literature of rebels and risk takers." An organised campaign of soft power could shift the current European literary canon, which effectively excludes Ukraine.
11. The prejudices which many Russians hold regarding Ukraine and the systematic attempt to associate Ukrainian identity with Nazism have shaped the academic study of Ukraine. This can only be addressed via the Ukrainian government and universities making a concerted effort to shift the Western academic community's perceptions.  Ukraine needs to promote the truth particularly as regards the Holodomor and WW2 in Ukraine. Ukrainians were overwhelmingly the victims rather than the perpetrators of crimes, but this is masked both by the emphases given in academic studies and popular history.
12. A campaign to target Ukrainophobia, linking it to campaigns to eradicate racial discrimination will be a key initiative. The campaign will illustrate that this prejudice is widely shared in Russia and has communicated itself to the west both actively – via propaganda campaigns- and passively through informal social and cultural ties (Brodsky's reading of his poem on Ukrainian independence and its subsequent championing by people unwilling to condemn him for its ethnic slurs). The campaign will illustrate that these attitudes led to the Holodomor, the largest act of genocide in a single European state in history.
5) Conclusion
This document is only an initial outline of a strategy. The key messages are:
a planned campaign focusing on the structure of Putin's propaganda apparatus and involving a coordinated effort will be more effect than sporadic, uncoordinated campaigns;
such a campaign could permanently and decisively ruin Russia's propaganda apparatus;
the campaign must be part of a programme to decolonise the West's perception of Ukraine;
the campaign must adhere to the principles of transparency, equality, and diversity both as a matter of principle and because this will neutralise several means by which Russia might attempt to discredit the attack on its propaganda apparatus.
Stephen Komarnyckyj,
Tags: Featured, International, Putin, Russia, Russian propaganda