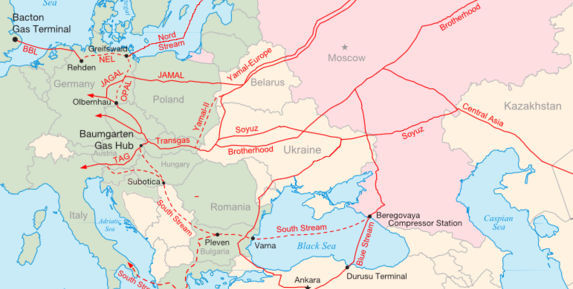 Map of the major existing and proposed Russian natural gas transportation pipelines to Europe. Photo: Samuel Bailey via Wikimedia Commons 
Twice gas crises have resulted from a breakdown in relations between Russia and Ukraine, in 2006 and 2009. It seemed likely these crises would encourage Brussels and Kyiv to work out a system to prevent future conflicts from affecting the energy sector. But this did not happen. The result is what you would expect: the EU is now approaching a third gas crisis.
Ukraine is not the only country which receives gas from the Russian Federation. Some top Brussels officials suspect that Moscow's next step will be cutting off the gas supplies to the EU, following the precedent of 2009. Russia does not even disguise this intention.
Some officials, but not all.
For some unknown reason, those in Brussels did not pay much attention to Russian President Vladimir Putin's statement just after his visit to Normandy on June 7. At that time he issued an ultimatum to Europe: "If anyone intends to resolve the problem of energy supplies to Ukraine by use of reverse supplies, he is mistaken… If we see that someone is going to break our gas supply contracts, we will reduce the gas flow such that physical gas volumes will be insufficient for the European market."
That kind of statement should have provoked an immediate response from Brussels, even an announcement of sanctions against Russia. But they pretended not to hear it. More than that, EU Energy Commissioner Guenther Ettinger, either deliberately or unintentionally, encouraged the Kremlin aggressors into escalation on the gas front by stating that "gas and oil sanctions must be at the end of the list for sanctions against Russia."
Europe only began to worry when Russia stopped gas supplies to Ukraine on June 16. Even then, Brussels bureaucrats flattered themselves with a deeply held hope that such actions concerned Ukraine exclusively, because it owed a large sum of money to [Russia's state-owned gas company] Gazprom.
But the next ultimatum from Moscow was not long in coming. As promised, it concerned reverse gas supplies to Ukraine from the territory of neighboring EU countries. "In future, the time will come when we introduce limitations on gas supplies to bordering gas metering stations where reverse flow is reported, with full consequences for European companies," stated Gazprom CEO Alexei Miller on June 27.
Those words did not go unnoticed in Brussels and immediately they recalled Putin's ultimatum at Normandy. The European Commission, in due course, called Miller's threats "absolutely unacceptable." It seemed Brussels felt Russia was just looking for a pretext to stop gas supplies to the EU.
Also, simultaneously, Gazprom promoted the popular opinion that Ukraine, left without Russian fuel, would steal it from the transit flow. Of course, under those circumstances, Gazprom would be forced to resort to cutting off gas supplies to Europe.
Ukraine will be accused of all gas supply problems on the line from Russia that runs through Ukraine to the EU. Just as it was in 2006 and 2009.
What should be done under these circumstances? Are there mechanisms that allow for clear identification of the causes and perpetrators of the gas crises? Is there a willingness to resolve the problems of energy security through multilateral cooperation? I will try to answer these and other questions.
A retrospective analysis
We all remember the major gas crisis of 2009 and know who stopped the supply in those days.
Brussels officials also know.
But officials in Brussels still leave the key question unanswered: what happened in January 2009 – the suspension of gas supplies from Russia or an interruption of gas transit through Ukraine?
On the grounds of political correctness (but at the expense of objectivity!), the European Commission avoided and continues to avoid clarification on this point, content with only a statement of fact: "On the night between January 6th and 7th, gas flow from Russia via Ukraine to the EU stopped. Gas supplies from Russia to Europe did not occur from January 7th to 20th."
Because the EU refuses to recognize Russia's guilt in the last crisis, it encourages Russia in further use of "the gas weapon."
Meanwhile, there is an explanation for Europe's position.
In 2009, European companies, the governments of countries utilizing Russian gas, and the European Commission did not have a full, objective, and well-documented picture of the gas flow. This picture needed to be based on data from monitoring instruments. But the problem is, a system for the cross-border objective control of gas flow simply does not exist.
The conclusion is simple: it is necessary to create such a system.
Its purpose is to minimize the occurrence of gas crises in the future. Or, at minimum, to form a multilateral mechanism for early warning and a program of transparency that will allow all interested parties to receive objective information.
Right now Europe lacks such a system and has only subjective information and events open to interpretation by different parties and which are sometimes deliberately distorted.
What do we have now?
In Europe today there is only an early warning mechanism (EWM) for energy crises that was created in a slipshod manner in 2009 between Russia and the European Commission and introduced by the signing of a memorandum.
An analysis of the memorandum shows:
1. No provision is made for the objective control of energy flow. All information circulating within the emergency mechanism is received not from automated metering equipment but from EWM sources consisting of coordinators, commissioners, focus groups, a panel of experts, and a special monitoring team.
2. Meanwhile, the information is based exclusively on the "human factor" and cannot be considered reliable because it cannot be measured by objective means.
3. The proposed EWM is too cumbersome and complicated. The memorandum is not an international treaty and does not create participant rights and obligations regulated by international law. This makes the value of the memorandum and the effectiveness of EWM highly questionable.
It is worth noting that Russia created EWM to best serve itself. In fact, it is a mechanism of manipulation.
It is not able to prevent or solve gas crises like the ones that happened in 2006 and 2009. So, the ideal option is to create a new transparent system for pan-European monitoring of gas flow. It should provide for the determination of problems, timely warning, and regulation of the crises. It should also provide a mechanism for effective trilateral dialogue between the supplier, transporter, and consumer.
Three in a boat
During negotiations between Ukraine and Spain's Foreign Ministers held January 10-11, 2010 in Madrid, Petro Poroshenko, Foreign Minister at the time, raised the question of establishing an early warning mechanism for energy crises in a trilateral format: Russia-Ukraine-EU.
Spanish Foreign Minister Migel Moratinos (as a representative of the state currently chairing the EU) was interested in his Ukrainian colleague's proposal.
During his visit to Moscow on January 12, 2010, Moratinos addressed the issue with Sergei Lavrov, Foreign Minister of the Russian Federation. Lavrov approvingly accepted this proposal as a whole. It should be noted that the Russian minister spoke in a constructive manner regarding the formation of a trilateral mechanism.
For the purpose of preventing a disruption of gas supplies in the future and discouraging the use of energy infrastructure as a method of waging energy wars, a system for creating mutual trust must be introduced similar to the one that functioned in the military sphere during the 1970s-80s.
Ensuring stability and security in Europe, the reduction of troops and armaments became possible due to the atmosphere of trust based on information exchange. This included the exchange of sensitive data (such as size and structure of armed forces, types and kinds of armaments and military hardware, dislocation, etc). A communication network was created for the exchange of operational information to ensure mutual trust.
The experience of implementing the Treaty on Conventional Armed Forces to oversee military limits, indicates that information exchange provided an increase in the level of transparency.
The same must be introduced in the energy sector since energy resources and supply infrastructure can be used as instruments for waging hybrid wars. The Russian Federation's aggression towards Ukraine is clear evidence of that.
The transparency of cross-border gas flow
There is reason to believe that an effective system for strengthening the energy security on the European continent could be the announcement and implementation of a program for transparency in cross-border gas flow, which should include the whole production line – from extraction to consumption.
Transparency along the extraction-transportation-consumption line, as a matter of fact, should create an atmosphere of trust like the one which occurred in the military sphere.
Mutual access to telemetric information concerning the physical parameters of energy flow resources would increase transparency. In the initial stage, a real-time system for monitoring telemetric data at corresponding gas metering stations could be installed by agreement of the parties involved.
Quantitative parameters indicating gas flow movement could be given, fixed, and compared on a daily basis. Commercial and financial indicators are not included so that this approach does not reveal trade secrets. Essentially, only two parameters are relevant: operating pressure and gas volume. The indicated parameters must be available to all parties along the extraction-transportation-consumption line.
This is relevant for more than just Russian gas. For example, this system could work along the following routes:
-Russia-Ukraine-EU
-Turkmenistan-Kazakhstan-Russia-Ukraine-EU (if Central Asia transports gas to Europe using conventional methods)
-Azerbaijan-Georgia-Türkiye-EU (if the TANAP and TAP projects are implemented)
The comparison of parameters will provide an opportunity to spot problem areas along the whole length of gas flow movement, from drill hole to consumer, and to identify those responsible in the case of gas traffic disruption.
In the summer of 2009, a group of Ukrainian NGOs (NOMOS Center, Strategy XXI Center, and Kyiv International Energy Club "Q-Club") proposed a transparency program in the form of the European Initiative on Gas Transparency. It was addressed to the European Commission and the Energy Charter Secretariat.
EU Energy Commissioner Guenther Ettinger reacted positively to the initial proposal. We also developed additional supplementary proposals consistent with the project, with the support of the NATO Communications Office in 2010.
But year by year, as the gas crisis of 2009 became a thing of the past, Europe's interest [in the plan] decreased.
Now or never. Together or apart?
Now, as Europe enters a third gas crisis, it is high time to begin practical work regarding the transparency of cross-border gas flow.
In fact, Ukraine has already started to cooperate with the European Commission to pursue increasing transparency in the gas sector. It should be noted that NAK Naftogaz Ukrayiny [Ukraine's state-owned energy company] joined the AGSI+ data display system in accordance with the standards of the European Association of the Operators of Gas Storage Facilities (GSE). Ukraine is the first non-EU member country that has joined this system. (You can see what is stored in Ukrainian and EU gas storage facilities here: http://transparency.gie.eu.com)
Naftogaz also informs European partners about the volume of Russian gas transit flow through the territory of Ukraine. This is especially important against the backdrop of Gazprom's ranting accusations that Ukraine will start stealing gas any minute now. They say: if not now, it will happen this autumn for sure.
But the problem for Ukraine is that a lot of people in the EU are inclined to believe Russian propaganda.
So, there is only one solution for our country: to provide more transparency regarding gas flow movement. But this should not be a unilateral act; we have to make our partner (the EU) and enemy (Russia) follow our example and act transparently as well.
Credit must be given to the Energy Charter Treaty Secretariat (ECT) in Brussels, which began relevant discussion in March 2014. Secretary General of ECT Urban Rusnak understands the gas crisis very well because he was at the center of events in January 2009 when he was Ambassador for the Slovak Republic in Ukraine.
Unfortunately, the March discussions in Brussels did not provide sufficient impetus for the rapid implementation of a transparency program.
Everything drowns in bureaucracy.
Attention should be paid to Urban Rusnak's statement on June 16 in connection with the termination of gas supplies from the Russian Federation to Ukraine: "From the beginning of March, the Energy Charter drew attention to the risk that a dispute between Russia and Ukraine might have an impact on transit flows to Europe. I proposed that the Energy Charter create a contact group as a platform for information exchange and increased transparency regarding transit flows. I especially regret that my initiative for real-time data collection on gas flows was not supported by the interested parties… The Energy Charter Secretariat is prepared to provide a platform for the parties concerned—the Russian Federation, Ukraine, and the European Union—with a goal towards finding mutually beneficial solutions."
It is a frank, timely, and objective statement by the Secretary General of the Charter regarding the termination of gas supplies to Ukraine, in contrast with the official reaction by the Energy Treaty Community (ECT).
Indeed, there was very little reaction. Which is strange since Russia is not a member of the ECT and cannot block its activity. While Ukraine is a member of the ECT, in fact, our country now leads the community.
The conclusion is simple: we should take action and not rely on the goodwill of the ECT because the plan for energy solidarity has no practical effect.
Ukraine has taken another step towards transparency. Ukrtransgaz [Naftogaz] stated its readiness to give official European observers access to Ukrainian gas metering stations to monitor the execution of natural gas transit through the territory of Ukraine.
Although, while you can send observers from any organization, with this approach the human factor remains dominant. Transparency can only be achieved by the establishment of objective (instrumental) control where, to speak figuratively, human hands will not touch the data streams.
Therein lies the importance of a transparency program for cross-border gas flow movement based on monitoring physical parameters along the length of the line. By introducing this kind of system, you can determine in real-time where the problem actually lies.
For example, if pressure falls in the pipeline through Russian territory it becomes clear that Gazprom is doing some manipulation along the gas pipeline system (or maybe an accident occurred), but it is not Ukraine stealing gas. If an operator sees the pressure drop only in Ukraine, then the problem is only there.
This system removes room for manipulation and propaganda from Gazprom, like claiming "they are stealing gas."
It entirely understandable why Russia would oppose this kind of transparency program, but why the EU gives no visible support to it is unclear.
Implementation of a transparent program for the movement of gas flow can begin on a voluntary basis. Announcement and implementation of the transparency program would meet the principles of European Energy Charter Gas Directive II of the EU (No. 2003/55/EC from June 26, 2003); particularly important in these documents is the principle of transparency in gas market functioning.
The pilot project could be in the format of Ukraine-EU, with the intent of adding other countries, which would create additional pressure on Russia.
So, the EU, Ukraine, and international organizations such as the Energy Charter Treaty should make concerted efforts to force peace from the Kremlin "gasocracy" trying to unleash a hybrid war along the gas front.
For this war is not only against Ukraine, as some in Europe believe.
It can only be counteracted by acting together because, apart, everyone is doomed to lose. It is the latter choice the Gas Master of the Kremlin counts on.
Mykhailo Gonchar, president of Strategy XXI Center, for EuroPravda – Wednesday, July 2, 2014, 14:50
Source:  
eurointegration.com.ua
Photo: Samuel Bailey [CC-BY-3.0] via Wikimedia Commons
Written by Mykhailo Gonchar
Translated by Anatoliy Shara
Edited by Elizabeth Martin
Tags: EU, Featured, Gas, International, Russia