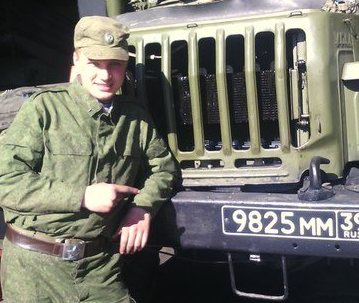 Social media has proved an effective tool for outing controversial figures in Ukraine, with Euromaidan Press editors exposing Russian cossack mercenaries, selfie-taking border guards, and MH17 looters. More recently, online postings by Russian soldiers have shown Moscow's implicit hand in shelling Ukraine with artillery and rockets from across the border. While US satellite images have proven these assertions, these first hand accounts convey malice and mentality that stills from sky cannot.
Meet Mikhail Chugunov, a Russian soldier deployed to the border town of Millerovo, Rostov Oblast as recently as July 13. In an artillery unit, Chugunov makes a habit of posing with Grad multiple-rocket launcher trucks. His recent photos include one of his convoy with the caption: "Grads to Ukraine…" Another shows an IL-76 transport plane captioned, "we have vehicles and drivers on the border."
[Editor's note: Excuse the crude Google translations in the screenshots]
Presumably on that very IL-76 is Sanya Zakharov, who posts "On the road to the Ukrainian border" on July 10, and then "we are waiting for loading onto the airplane" on the 11th. His current status is "on the border with Ukraine."
Two of Chugunov's unit comrades are Evgeny Bortsov and  Pasha Dyugurov, who post ominous replies to one of Mikhail's photos of his Grad convoy: "Ukraine, expect us" says Dyugurov, "Ukraine is waiting for us artillery gunners! :)" exclaims Bortsov.
Article and sourcing assistance by Vitalii Usenko, Ed Huet, and Rafael Brzęczyszczykiewicz
Tags: Donbas war (2014-present), exposed on social media, Featured, Russian invasion, Russian military, Social media