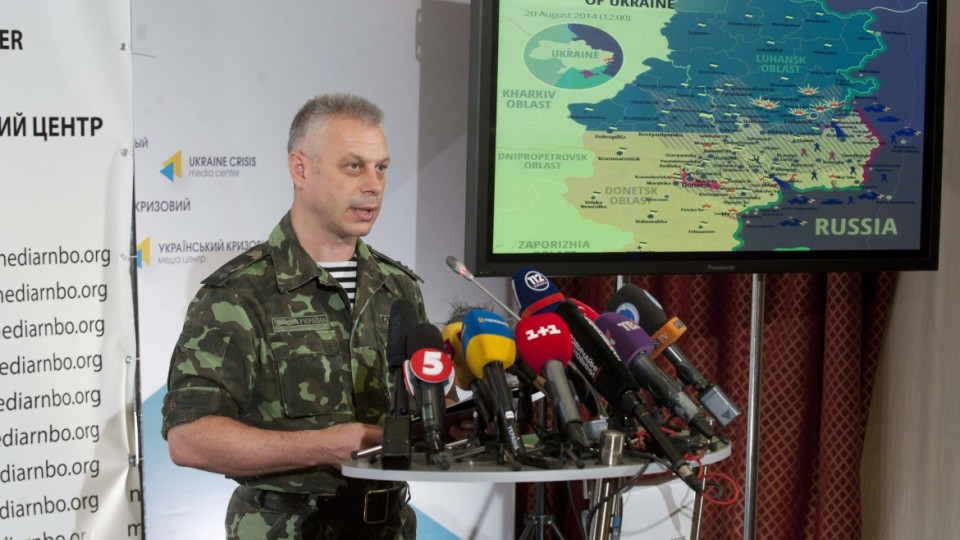 "Ukrainian Armed Forces troops continue the operation to establish control over the village of Blahodatne in Amvrosiyivka district and are carrying out operative missions in Yasynuvate and Zhdanivka. The operation to free Ilovaisk of Donetsk oblast from terrorists continues. Ukrainian troops have control over the entire city at the moment. Our troops fought off three terrorist counterattacks involving heavy machinery and artillery," stated NSDC Information Center spokesman Colonel Andriy Lysenko during a press briefing at the Ukraine Crisis Media Center.
ATO forces continue advancing on the terrorists. Combat to free Donetsk, Luhansk, Ilovaisk, Krasniy Luch, Shakhtarsk, Torez, Snizhne, Zugres, Horlivka, Stanychno-Luhanskiy continues. "Ukrainian troops have taken up defense positions on Savur-Mohyla hill, Donetsk airport, and are also preventing invasions of illegal armed formations and sabotage-intelligence groups from Russian territory. The Russian side continues firing at Ukrainian territory. As such, yesterday night at 11:50, the Russians fired at Amvrosiyivka in Donetsk oblast from the Russian village of Selezniove in Rostov oblast," added Lysenko.
The Russian side is doing active intelligence work on the Azov Sea coast. Yesterday the Ukrainian Coast Guard of the State Border Control Service documented a provocation on Russia's part. "At 11:30 near the locality of Siedove, 3 Russian FSB Coast Guard "Mangust" speedboats were detected as they moved towards Mariupol. After a warning that fire would be opened, the speedboats returned to Russian territorial waters," stated the NSDC spokesman.
Throughout the past 24 hours, the Border servicemen documented 2 Russian unmanned aircrafts in Donetsk oblast near the village of Siedove, and another one in Kherson oblast, which was flying towards Chaplinka from the territory of temporarily occupied Crimea.
Throughout August 19, the Ukrainian Border and Customs servicemen failed to begin clearance procedures for the Russian humanitarian cargo. The Ukrainian side has not received documentation regarding the contents of the cargo yet. "The Ukrainian Border Service Administration only received a list of delegates of the organization who would escort the humanitarian cargo through the Ukraine-Russia state border from the International Red Cross Committee Mission in Ukraine. The representatives of the International Red Cross Committee claim they still have not received security guarantees for the members of the leading mission group," explained Colonel Lysenko.
US Department of State representative Mary Harf condemned the terrorists for destroying the column of refugees on August 18, who were trying to escape the combat zone in Luhansk oblast. She expressed her condolences to the families of the victims and called for all the sides to make an effort to prevent civilian casualties. Besides, Mary Harf applauded the plans to hold a multilateral meeting in Minsk involving the Presidents of Ukraine and Russia. At the same time she emphasized that Moscow should confirm its claims to the deescalation of the Ukrainian crisis with actions.
source:Ukraine Crisis Media Center