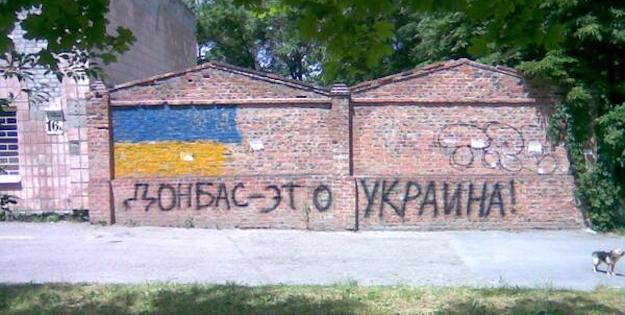 Graffiti in the Russia-occupied territory of the Donbas proclaims: "The Donbas is Ukraine!" 
It so turned out that I am a native Donetsk citizen. There is not much to be proud of, but it's a fact. I would have continued living at home, if a bunch of mad fanatics supported by Russia had not decided to make war in my native town and bring Russian mercenaries there.
Now the nightmare itself. Well, you know about it. It is what they are showing on your TV's with all the disgusting details for days on end. So let's talk about the things they won't show you instead.
7 years ago I thought the same the majority of Russians do. As a typical soviet guy. Taking into account that I have lived in Donbas since birth, it wasn't surprising at all.
Thought I studied after the proclamation of independence, I received a typically Russian-Soviet education. I grew and followed Russian movies, Russian music, Russian books, I considered Russia a friendly country for a long time, a brotherly country, but now it is all in the past.
Now myself, my friends and family, millions of Russian-speaking and Russian people of Ukraine will never be able to call you a brotherly nation.
We, your brothers by mentality, who grew up with the same books and cartoons as you, reached the point when we want to put a three-meter wall between our two countries, like Israel and Palestine.
We look at the barcode in the supermarket, so we don't buy what you produce and sponsor war.
For the first time in the history of our country, the majority of Ukrainians want to join the NATO, as they understand that to be the only real salvation from the insane "brother," who suddenly decided to advance the army on us.
It is difficult for you to understand the scale of this occurrence, of course. They show you a map that splits Ukraine in two on TV, and tell you that half of our country is not Ukraine but something else. That not Ukrainians but Russians live there.
You believe that it is so and you cannot understand why there has been no uprising there yet. Judging from Russian news, it is about to start there, and in reality everything is exactly opposite.
For a St. George's ribbon in Dnipropetrovsk, Zaporizhya, Kherson, one can get beaten up on the street. Not by Banderites – Russian people who studied Pushkin and Blok as children.
It is customary to be politically correct and say that we only hate Putin, and Russians are a wholly different matter. When Putin leaves, peace and accord will reign once more. Everything will be alright again.
But this is not true. It won't.
Because Putin is the essence of Russian mentality, your materialized national idea, in the shape it exists in at the moment.
You love Putin for what he did to Ukraine. Therefore will will never be able to love you.
Putin did a great evil to Russia. He burnt the bridges between us so well like nobody else in the world. Neither Americans, Jews, nor Poles would have done it better than him.
You will understand the whole extent of the horror of what he did sometime later, but at the moment you are blind.
Putin magically made you believe that the day of your moral fall is actually the day of your triumph.
He convinced you that the hypocritical occupation of part of a friendly country's territory, such regular betrayal is a great victory which you should be proud of.
He evoked patriotic rancor with what should have evoked shame and disgust.
And for this, we don't only look down on Putin. We look down on Russia and the 90% of its citizens which are screaming "Crimea is ours!" with their eyes bulging.
Sometimes I think Putin is Satan. He is capable of professionally capable of playing to human vices. He makes you show your dark sides, skillfully wake up the scum among you, he turns you into savage cattle, thirsting for blood.
It is not that the Russians are so bad and the rest are saints. This is the general human nature. We saw how in various historical periods, scum was awakened among the Germans, Italians, Croatians, Serbs etc.
And Putin woke it up among yourselves. He made you choke on your hatred on forums, desire war, celebrate the occupation of foreign territory and deaths of the people you once called your brotherly nation.
He excited you with primitive, lowly populism, presented you in the ugliest light, at the moment of temporary insanity, and we, alas, will remember you this way, and not as the nation of Sakharov and Dostoyevsky.
It may be you are not to blame. There is some algorithm of inciting this mass hysteria – you just push the right buttons, show horrors on TV about crucified children, and that's it – then society behaves quite predictably. The one who needs it just executes a certain list of actions.
Possibly, you have to be regarded as victims of social experimentation, and one day you will be ashamed of the fact that you participated in this. We should possibly try to understand you. But we will be unable to forgive you and overcome our disdain. Even if you repent one day.
Yes, let's not hide, Putin took out the scum out of us as well. And we are also happy when another "Cargo 200" crosses the border and heads for Rostov oblast, or when a dozen or two of your guys turns into a colander. It is horrible, but it is the truth.
We are happy out of purely pragmatic reasons – because every dead "Colorado" will be unable to kill any of our guys again. Because you are now enemies and occupants who came to our land, who took Crimea away and who are coming to kill us in Donbas.
It is horrible that you, having attacked us, made us become so that sometimes we feel disgusted with ourselves. And this is another reason to break ties with you forever.
You stuck your nose into the internal affairs of an independent state. You are shooting at Ukrainian citizens on their soil from your weapons and approve it on your television. And despite your lying to yourselves that this is all against fascists, that it is all grounded and fair – in the eyes of the entire world, you are aggressors.
The liberator country, the country who was victorious over fascism, disappeared forever. It is in the past. Now you are occupants, you are killers who are guilty of causing the deaths of innocent people, missiles to fall on cities that lived in peace before you came.
Your parades on May 9, all this pomp, war songs, eternal fires – all of this is worth nothing now. It is a lie.
We were tightly bound by common holidays, common fiascos, common traditions, but now this does not matter. You occupied a region with a population of 2 million, and fooled another 3-4 million with "crucified boys," but separated 40 millions of Ukrainians, a huge mass of people, from yourselves with a void.
Having taken a piece of our land, you have paid for it with the biggest friendly nation. Bzhezinsky himself could not have even dreamed of such a geopolitical fiasco on Russia's part just a couple of years ago.
You are senselessly accusing America, Britain and Israel of plotting behind your backs. Believe me, as a Russian Donetsk citizen, nobody has done more for our mutual hatred than the insane mouthpieces Glazyev, Kurginian and Dugin, who are calling to kill Ukrainians and drown Ukraine in blood, or Putin, who sent his "polite people" to our country.
We have seen it all, we have remembered it all, will not forgive.
Yes, of course, Russia is the biggest country in the world, compared to which Ukraine is a dot on a map. You have nuclear missiles and we don't.
If for you attacking someone you know to be weaker, someone who did not expect a treacherous stab in the back and did not prepare for war with you, is heroic, then it's up to you. But don't expect neither respect nor compassion from us anymore. For us, Russia is henceforth a lowly "banana republic of evil."
Your media will not tell you this, of course. They are creating the illusion of a huge split in Ukraine into Ukrainian fascists and Russians, which does not actually exist.
There are a couple million marginals – communists, stalinists, black sotnya, orthodox fundamentalists – which have always hated Ukraine and are now acting as collaborationists in the conflict. And there are 39-40 millions of Ukrainians who don't agree with them.
Putin gave us all a radical choice – for or against Ukraine. And we were forced to make it.
Something happened, which you cannot comprehend yet: the Russian aggression in Ukraine was supported by those who have been with you forever, but the 40 million who have always been loyal or neutral became your enemies because of this aggression.
Forty million Ukrainians were forced to become 'Banderites' in your sense of the word. This is Putin's greatest achievement.
There are unfriendly governments. It is alright to be in conflict with them. They can be subject to sanctions. But it is not right to humiliate peoples, because rulers change and nations remain.
Poroshenko and Turchynov will leave. Most likely, very soon. And the treacherous occupation of Crimea, your invasion, your tanks and man-portable air-defense systems in Donbas – this will not go away. We will simply be unable to explain to our children in textbooks why you did such a thing to us.
You pushed away the southeast you consider to be yours. Because, just imagine, the "ukrops" and "khokhly" have dignity too. While you are happily hysterical that "Crimea is yours," for us it only means one thing: that Crimea is not ours.
You took it away from both "Banderites" and "Russian-speaking compatriots." You took Crimea away from Yarosh, but you also took it from Kharkiv, Poltava, Odesa citizens. You spat at everyone without exception, regardless of language and religion, with your characteristic dumb pomp.
You said before: Slavic brothers, and we agreed. Now you say "salo eaters," "ukrs" and this offends everyone who has a Ukrainian surname, a Ukrainian passport, regardless of them being for the EU or the Customs Union.
You are not leaving us a choice by destroying everything without exception.
In spring Russian "tourists" ripped off and stomped on Ukrainian flags in Donetsk, and put up their own instead. This is the difference between you and the Europeans – they never stomped on our symbols.
Those who are for the European Union fly their flag next to the Ukrainian one, but not instead of it. This is why we chose Europe, and now we will not retreat. In the current situation it is the only way, because only only someone totally mad and suicidal would integrate with you now.
If you still believe that in Donbas the war is between "rebels" and the "junta," I hasten to disillusion you – it is not so. The war we are having has been set up by you from beginning to end.
You may not believe me, but ask yourselves why "The Republic of Donetsk" is governed by Russians? Why my native city of Donetsk is now under the government of Muscovites Girkin (Strelkov) and Boroday?
I, a native Donetsk citizens, did not know them or ask them to come. I did not vote for them. If this is not Russian occupation of Donbas, then why are they here? And how are they different from German occupants? Can you find ten differences?
If you feel for the "rebels" because they are Russian, I assure you – there are hundreds of thousands of Russians that disagree with them and that suffer the consequences of their actions.
You should feel for them instead. Those who have their cars taken away, who are thrown into basements because of stupid accusations, who your Igor Strelkov uses as a cover, behaving in the city like Shamil Basayev did in Budennovsk.
If you feel for the citizens of the southeast, feel compassion for the 38 soldiers from Dnipropetrovsk who died in the jet downed by your man-portable air-defense system. Feel for the soldiers from Mykolayiv who were burnt alive in BTR's. Do you think their families, friends will love Russia?
If you want to know the truth about what the "Republic of Donetsk" is, try to switch off the television, close your eyes and imagine for a minute that someone armed all the druggies and criminals in your city. That mad veterans of Chechen wars, drunken retired policemen, tattooed secondary offenders, bullish guards, insane Cossacks, tolkienists, limonovists, skinheads suddenly get weapons and unlimited power.
Did you imagine it? If yes, then I don't need to explain anything else. It is quite easy to set up such a republic anywhere. Just take away the name "Donetsk" and replace it with "Saratov," "Chelyabinsk," "Rostov."
You think I am lying about the "rebels?" Then imagine the situation – there is no police, no government, weapons are freely accessible. What will happen in your city? Just admit it to yourselves, be honest.
To destabilize the situation, raise up a senseless and merciless rebellion in a socially unstable region, crowded with proletariat and unemployed people is quite easy. Boroday, Strelkov, Motorola only lit the match and everything started burning like during the civil war.
"Give us the republic," "steal the stolen," "let us build a new paradise – Novorossiya."
It is sufficient to say that the repressive body of the terrorists in Luhans is called KGB SMERSH. And this is no joke. Admit to yourself honestly – is it normal and would you want such an institution working next to you?
Everyday life in Donetsk for the last two months has been filled with looting, kidnapping, robbing. Read the local Donetsk news. Only within one week between June 16 and 23, 47 cars were stolen, as well as one motorcycle, and 42 of those cars were captured on the roads by armed individuals. 14 people were kidnapped by unidentified individuals. This is the official information courtesy of the mayor.
And here are the photos from "Metro" supermarket the entire world has seen. It was also looted by "poor rebels."
I can continue for a long time, but is there any sense? Euphoric states have their own specifics. Their subject, even if it is an entire nation, is unresponsive to external factors. "Crimea is ours" is like a drug, like a crush, which makes your conscience hazy.
The time has to come for you to come down from your high, and you will see that nothing has changed. That Crimea has not become closer, cheaper, cleaner or more comfortable for vacations.
And you, an entire people, the biggest country in the world, have marred yourselves with shame of aggression and put on your children the yoke of occupant descendants and Girkin and Boroday's supporters. Sad but true.
Good luck.
Tags: Donbas, International, Russian occupation