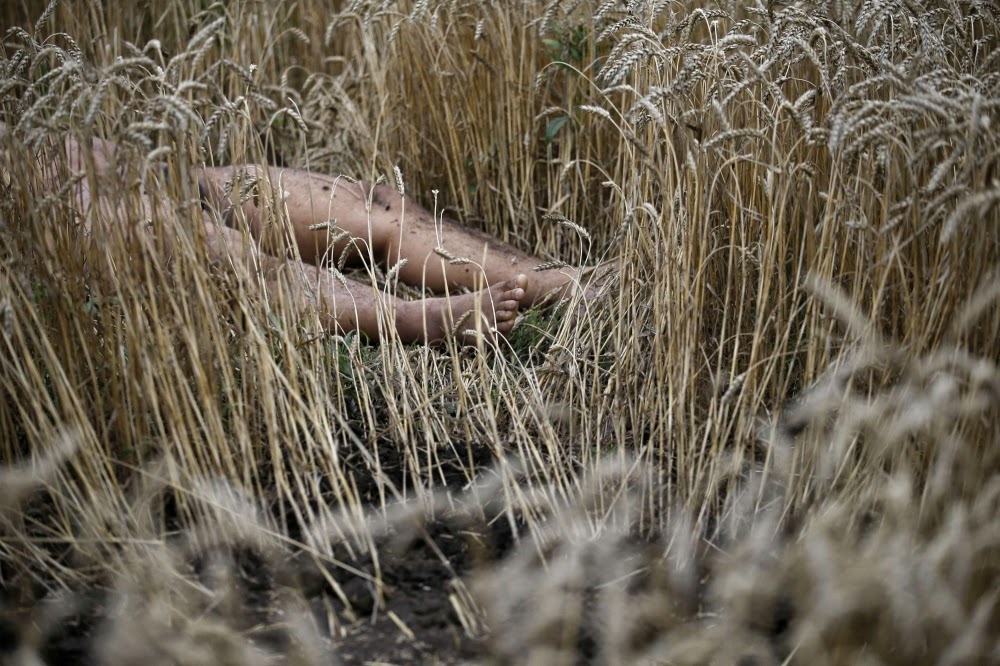 298 people died onboard the Malaysia Airlines Boeing which was shot down by separatists over Donbas yesterday. About 260 Ukrainian soldiers have been killed during the entire span of the ATO.
I understand that such comparisons are out of place as of today, and may sound very harsh.
However both we and the entire world have to understand at this point that the amount of civilian victims in the war incited by the Kremlin is growing exponentially.
And it was not an accident. Putin not only gave the monkey a grenade, he consciously gave a powerful weapon to maniacal killers. And they did not forego using it. And they will use it again and again.
A little boy (whose father is probably a PRD patriot) is commenting the crash on video: "Look, they shot down a junta plane! It fell so prettily!" And he does not know that the probability of him being next is quite high.
Such is the logic of Putin's war. Such is the logic of similar wars in general.
I found some statistics online. The number of civilian casualties constituted 5% of the killed soldiers in World War I. In World War II the percentage of civilian victims grew to 48%. During the Korean War – to 84%. In Vietnam one dead solider corresponded to 10 civilians, in Iraq the ratio constituted 1:7, in the first Russian Chechen war – 1:20…
"Grad" and "Tornado" cannot distinguish a soldier from a civilian. And there are things which are scarier than multiple rocket launchers, but I don't even want to mention them.
In contemporary war a civilian has more chances of dying than a soldier, unfortunately. And not because the soldier has a bulletproof vest, a helmet and a commander, who will lead him out of the crossfire, and a civilian has none of these things. A civilian is vulnerable because they live with the conviction that they have nothing to be killed for, as they have not wronged anyone.
What was the fault of the law-abiding and respectable citizens of far Europe that boarded the Boeing 777 at a tragic time? For the majority of them the war in Ukraine was probably some event on the edge of Europe, insignificant in the live of the civilised world, a foolish conflict, the goals of which they did not understand.
However the horrible truth is that in contemporary, so-called "hybrid" wars, civilians inevitably become part of the military actions, unwittingly. Their lives are used as a resource to achieve victory.
This resource is called "ethical" by S. Pereslegin, Russian philosopher, one of the theorists of "World War IV." The essence lies in getting moral advantage in military action, by making the enemy commit unethical actions. Make them shoot at civilians, set up as a live shield, at hospitals and schools on whose territory "Grad" launchers have been set up, at apartment blocks with missile launchers on their roofs. This resource, according to the philosopher, overcomes the enemy's advantage in terms of human and technical resources, when used correctly.
The wildest thing is that to prove their moral advantage over the enemy, they do not shy away from killing even those that greeted them with flowers (and blaming it all on the enemies). Whatever they won't do for victory!
What happened yesterday over Donetsk oblast territory was a simple transition from quantity to quality. For several weeks now PRD and PRL mercenaries have been shooting at the territories of the cities they occupy themselves, in order to create a picture for the Kremlin media.
We see ruined houses and confused people in Snizhne. A horrifying shapeless thing lying on the sidewalk next to the sinkholes from the shots, which you don't want to recognise as to be a small body… Shells exploded in Luhansk apartment blocks. Where did they come from? On footage the men that survived, still not completely recovered from shock, point somewhere with their hand with a sigh and shrug their shoulders… They say that it was the Ukrainian army but they saw very well who made the shot. They simply don't understand what for…
The tragedy that happened today, Putin's personal crime is being used by himself and his propaganda in order to top-up their "ethical resource" – by blaming the Ukrainian army for the missile shot at the civilian liner and even saying that they were trying to kill Putin himself this way.
The Kremlin dictator, who proposed the live shield strategy as a means to achieve an advantage at the cost of victims among the civilians, was not the first to do so. In the Dark Middle Ages women and children were put up in a similar way on the walls of besieged forts to face the arrows of the advancing troops.
Historian Nataliya Yakovenko, who studied the military memoirs of days gone by, noted that the mercenaries have adopted a name for the civilians, which is translated into Ukrainian as "scrap." It was not an insult, it was the actual status of civilians during wartime. They were not subject to the norms of chivalry (when it is unacceptable to torture prisoners of war and humiliate those defeated). They were allowed to loot, horribly torture and kill the civil population.
One is a fool to consider a mercenary with a rifle in hand to be a protector. Alas! It is him who is taking advantage of your warmth, and it is irrelevant to him whether you're alive or dead. And he will kill you to achieve his goal. You are just "scrap" for him.
I read posts from Donbas. Feeling the approach of battle and ruin, the locals of Donetsk and Luhansk are trying to find solace in the mundane state of things. They go to work, they go shopping. They plant flowers in the streets and sweep the sidewalks. But the mercenaries will surely ruin the mundanity – they will blow up the railroad and the water supply, rid the city of electricity, loot the hospitals, shoot down a passenger flight. A civilian torn out of mundanity is more eager to become a live shield.
Is there any way to avoid this?
Perhaps there is. Maybe we have to stop being civilians? Stop convincing ourselves that this has nothing to do with us? Start fighting, help the army, even in the enemy's rear forces. Just help other civilians who have lost their house and family. Do everything possible to put an end to this war.
It will not help us save ourselves, but it will give some sense to our lives…
The day before yesterday these words could have been directed at the citizens of Donbas, the rest of Ukraine. But starting yesterday, there are no peaceful skies over the entirety of Europe.
Yevgeniy Yakunov, Kyiv
Source: UkrInform
Translated by Mariya Shcherbinina
Tags: Donbas war (2014-present), European Union, Malaysia Airlines crash