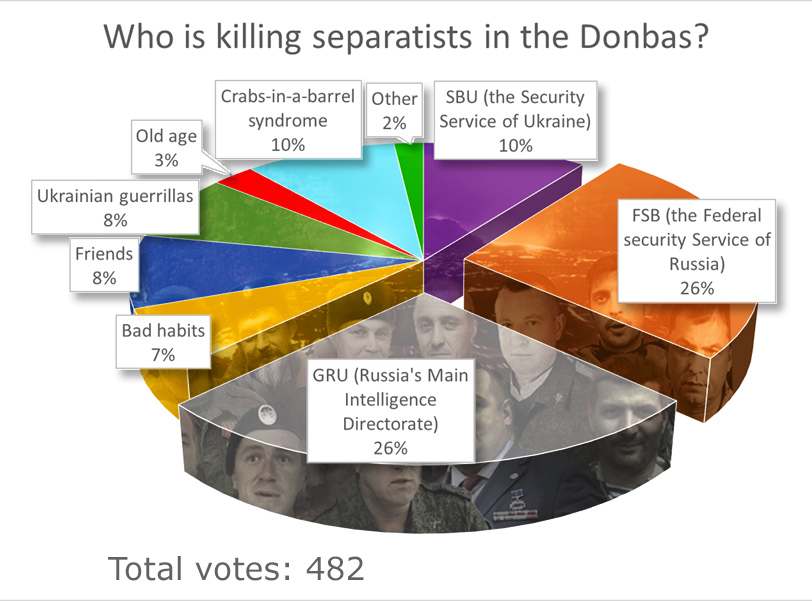 Poll results: Who is killing separatists in the Donbas?
GRU 26.37%, FSB 26.15%, SBU 10.43%
 
At least 13 "Donbas warlords" and other "leaders" were killed or died under mysterious circumstances in the occupied territories in Eastern Ukraine since 2015.
We asked our readers who killed the terrorists.
Among the 482 total votes collected on Twitter and Opinionstage, more than one-fourth of participants (26,37%) think that the GRU (Russia's Main Intelligence Directorate) is behind the mysterious deaths of "separatist leaders", while another fourth (26,15%) blame the FSB (the Federal security Service of Russia).
10,43% of votes are for the SBU (the Ukrainian Security Service), only 7,83% believe in the Ukrainian guerrillas.
Other options selected were crabs-in-a-barrel syndrome (9,59%), friends (8,54%), bad habits (6,55%), old age (2,68%), other (1,87%).
Some of our readers think that it does not matter who kills the "separatist leaders":
Whether infighting among the "elite" of "republics" is the reason for murders or the Russian security services dispose the leaders going out of their control who may become unwanted witnesses for Russia in future, or the Ukrainian services are at work, we would witness the similar assassinations in future.
Next poll: What country is under danger from Russia the most?
Our next poll is about the neighbor countries of Russia. Please tell us your opinion: what country is under danger from Russia the most?
Euromaidan Press Survey
Dear readers! The times are changing and we are too – Euromaidan Press is planning a website overhaul. And we want to know what YOU want to see on our site and how it could be improved. Please fill out this short form so we can be the best for you.
Tags: Donbas war (2014-present), News, Poll, Russo-Ukrainian War (2014-present), Survey, voxpopuli