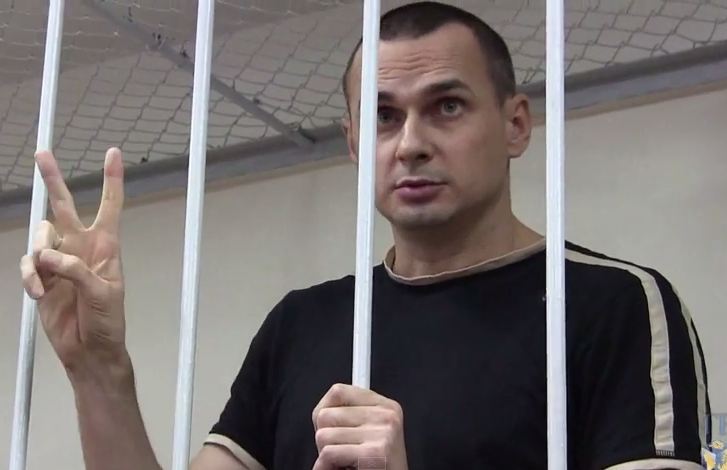 Oleg Sentsov, July 7th, 2014. Sentsov is a Ukrainian filmmaker and resident of Crimea illegally arrested on made-up charges and imprisoned by Putin's regime since March 2014. #FreeSentsov 
Today, a court in Moscow has extended the pretrial arrest of Ukrainian film director Oleh Sentsov, who was detained in Crimea and accused of plotting terrorist attacks. The Lefortovo District Court's spokeswoman said on July 7 that Sentsov's pretrial detention had been prolonged until October 11.
Sentsov and three other Ukrainian citizens were arrested in May on suspicion of planning terrorist attacks in Crimea's major cities — Simferopil, Yalta, and Sevastopil.
Video here.
Video transcript, July 7th, 2014
Investigator:
Standing accused of terrorist activities and the establishment of a terrorist community. Simferopil local municipal office of Russian political party "United Russia" and NGO "Russian Community of Crimea" are recognized as victims.
Oleh Sentsov's statement:
"I state that I have never been a member of the Right Sector, did not organize any terrorist groups or terrorist acts in Crimea. I consider May 9th [WWII Victory Day] to be a sacred day for all Slavs and all monuments commemorating this day are sacred, which is why I consider the accusations of attempting to blow them up not only unfounded, but insulting.
I do not admit any guilt in organizing said criminal acts and consider the case to be falsified and political, i.e. the entire case rests on statements from two suspects which were obtained first by torture, and now they can't refute these accusations as they were promised reduced sentences as a result.
In the beginning I was subjected to torture. I was detained on May 10th, not May 11th, before the official interrogation in the SBU office in Simferopil, I was tortured, beaten, humiliated for the purpose of extracting a confession and statement against the leaders of Maidan and Ukraine alleging that they ordered these crimes. After I refused, I was told that I would be named the organizer of these crimes in court and I would be charged with more serious crimes.
I'm stating that I have no plans to wash the window in my cell in Lefortovo prison or to smoke on the 6th floor of the Investigative Committee office or to commit any other actions indicative of suicide. I'm stating this because I received threats in this matter [i.e. threats of murder masked as a suicide].
Also, I want to register my protest against the attempts to deprive me of my Ukrainian citizenship, since I was and continue to be a citizen of Ukraine. I do not recognize the annexation of Crimea and the military takeover of Crimea by the Russian Federation and I consider any agreements made by the illegitimate Crimean authorities with the Russian Federation to be null and void. I am not a serf; I cannot be transferred with the land. I did not submit any request for Russian citizenship nor have I renounced my Ukrainian citizenship.
I have no illusions about the Russian justice system and I am prepared to face the 20 plus year sentence.
I have considered the arguments of the investigator about the need for an "expert assessment". I can say that during the unofficial interrogations they were placing various objects against my body, which are very likely to be attached to the case as evidence since it is clear that statements alone will not get them far.
Additionally, I was warned 24 hours earlier about arrests of the activists, so that when Afanasyev called me, clearly at a loss and asked to meet with him, I understood that he was being threatened and I did not go to the meeting, but stayed in town for another day and a half trying to help the activists until my arrest. When I was arrested I learned that statements had been made against me and that I was the organizer of these actions. I was very surprised.
I consider myself innocent and for this reason I have to be freed and sent back to my homeland…"
Once the judge read the decision on extending Sentsov's pretrial detention  until October 11, a woman in the audience accosted the judge, saying "Judgment Seat of hell!  Freedom to Sentsov!  Glory to Ukraine! Glory to heroes of Maidan!  Death to the fascist Putin's empire!" ending with the resolute "Putin will be executed".
Other sources: Interfax, rferl.org, ARC Mobil Team.
Tags: #LetMyPeopleGo, Crimea, News, Political prisoners, Torture