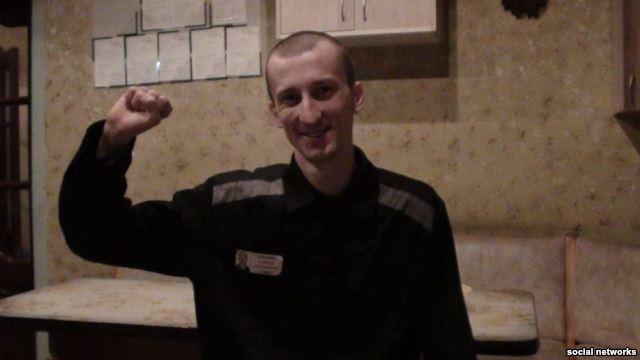 Oleksandr Kolchenko in a Russian prison 
Oleksandr Kolchenko from Crimea, who is held prisoner in Russia, met with his mother for three days. This information was reported on Facebook on May 28 by Olha Afanasyeva, the mother of Hennadiy Afanasyev, another Ukrainian from Crimea imprisoned in Russia.
"Larysa Kolchenko had a three-day meeting with Sasha. She's very tired, but happy. She fed him, she kissed him. They spoke… and spoke and spoke. They watched the news about Nadia's release (Nadia Savchenko-Ed.). Sasha greets everyone: Slava Ukrayini! (Glory to Ukraine!). Thank you to all the activists, the members of the Public Oversight Committee, and everyone who's helped Larysa and Sasha in Chelyabinsk and Kopeysk."
Members of the Public Oversight Commission in Chelyabinsk Oblast, Russia report that Oleksandr Kolchenko is serving time in Kopeysk penal colony as a "person inclined to spread extremist ideology". .
Oleksandr Kolchenko and Oleh Sentsov were sentenced by the North Caucasus Military District Court in Russia to 20 and 10 years imprisonment respectively. They were charged with preparing to blow up the Lenin monument in Simferopol (Crimea), and setting fire to offices belonging to the Russian Community of Crimea and the United Russia Party in occupied Crimea. The Russian human rights movement Memorial has recognized both men as political prisoners.
Another Ukrainian citizen involved in the same case is Hennadiy Afanasyev, who was sentenced to seven years and transferred to a detention colony in Syktyvkar, Komi Republic.
Tags: #LetMyPeopleGo, Afanasyev, Crimea, International, Kolchenko, News, Oleh Sentsov, penal colony, Political prisoners, Russia, Ukraine