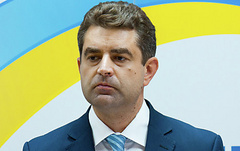 The frequency of fascist and xenophobic manifestations in Russia has multiplied and is of great concern, states Ukrainian Foreign Ministry spokesman Yevhen Perebyynis, as reported by Ukrainska Pravda, March 25, citing the Ministry's Twitter communications.
"Naturally these manifestations of fascism, xenophobia and legal transgressions under the Russian ethnic identity, which are increasing in frequency, are very disturbing," Perebyynis said.
"The extreme rightwing groups are increasing their distribution of anti-Semitic literature and their blogs and social networks are calling for pogroms," he said.
Perebyynis reported that "during 2013, the number of victims of religious xenophobia grew in Russia, and some 24 people have been injured."
As has been reported, Ukrainian law enforcement authorities believe that "pro-Russian" demonstrations in eastern and southern Ukraine are being organized with the help of Russian neo-Nazis."
Source: http://www.pravda.com.ua/news/2014/03/25/7020273/