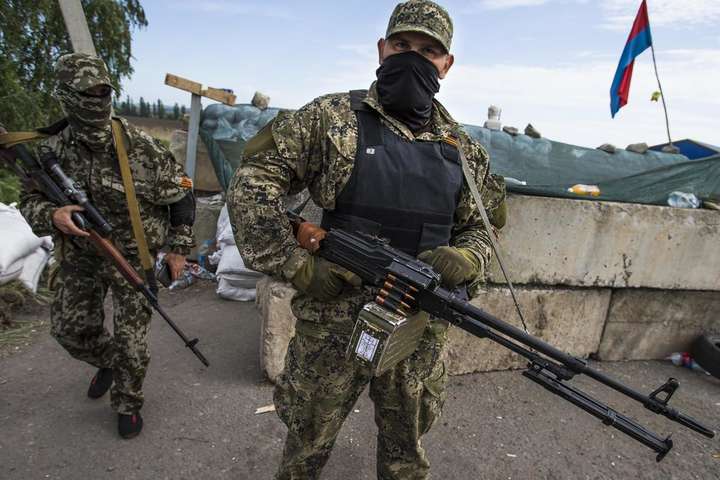 Checkpoint held by Russian-backed militants somewhere in occupied Donbas. Photo: glavcom.ua 
The Media Initiative Group for Human Rights reports that at least 113 Ukrainian hostages, POWs and civilians, are being held hostage in the occupied territories of the Donbas. Of them, 89 are civilians. Human rights activists have managed to gather some information about these persons. Their families have been waiting for months, or even years. Meanwhile, Ukraine's representatives in Minsk have repeatedly pointed out that Russia continues to block negotiations on the exchange of prisoners.
Mariya Tomak, one of the coordinators of the organization, has published an infographic, according to which 13 civilians are currently being held hostage in Luhansk Oblast, and 76 civilians in Donetsk Oblast.
Iryna Herashchenko, Vice Speaker of the Verkhovna Rada and the President's Humanitarian Envoy at the Minsk peace talks maintains that negotiations have come to a complete halt. Ukraine has not "buried" Minsk, she says, but Russia is responsible for failing to make the hostage negotiations work.
"We're ready to compromise. We proposed the following plan: we can pardon and transfer 66 separatists in exchange for 19 Ukrainians who are illegally detained in the occupied territories. These prisoners include civilians, journalists and soldiers, both men and women, who've been imprisoned in occupied Donetsk and Luhansk for more than three years."
Oleksandr Tymofeiev
Svitlana Tymofeieva is a nurse from Donetsk who hasn't had a good night's sleep for almost a year. The 359th day has already gone by, and she's still waiting for her husband Oleksandr to return home.
Oleksandr Tymofeiev was detained at a "DPR" checkpoint in winter of 2017 – the day before the last major prisoner exchange. As soon as the conflict erupted in eastern Ukraine, the couple and their son left their home in Donetsk and settled in Kyiv. Before the New Year, they decided to visit Svitlana's partially paralyzed mother who they'd left behind in Donetsk. Svitlana adds that they couldn't afford to rent a two-room apartment in Kyiv, so they decided to leave her mother in Donetsk temporarily. Svitlana's brother and a neighbor were there to help out, while Svitlana and her family visited every month.
"My husband works as a food technologist in a sausage factory. His company moved to Kyiv. Our son graduated from the Technical University in Donetsk in 2014, and he's also started working here."
Svitlana says that everything was as usual. They passed the Ukrainian checkpoint normally, but at the next one Oleksandr was "invited" to step into a wagon. The two men, who called themselves representatives of the "Donetsk Ministry of State Security", didn't present any documents, but put them in a car and drove to their home in Donetsk in order to conduct a search, or so they said. Then, they threw Oleksandr into their car and drove off.
"We called the police, but we were told that we'd acted very foolishly… like, how could you let strangers into the house, people without official documents! It's your problem now!" says Svitlana.
A few days later, on December 31, a stranger called her and said: "If you want to see your husband again, and not in pieces, then stay put and get $20,000 ready!"
"But, I couldn't keep quiet. I went to the same police station and filed a blackmail complaint. On the morning of January 7, the doorbell rings, I open the door and see four men in camouflage standing before me… with machine guns." she says.
As soon as the neighbors came out, the men drove away. Svitlana still doesn't know who they were. For almost two months, she knocked on doors, trying to find out what had happened to her husband. She was told that there was no news of Oleksandr. Then, they said that he was under administrative arrest for 30 days, and later it turned out that he was accused of espionage.
"I was told they'd searched his laptop and allegedly found some photos that we'd taken from the window of our apartment… photos of drunk 'militants' – one is lying on the ground; the other guy is pulling him." says Svitlana.
Since that moment, Svitlana has seen her husband only once – when some men came to conduct an "investigative experiment" in their home. Oleksandr had lost a lot of weight; he asked his wife for some clean clothes and painkillers.
"I'm currently seeing a psychologist, because I really need help. I told the psychologist that I was very happy with my husband, that I'll continue to be happy with him… because there's no other person like him in this world!" says Svitlana.
Svitlana continues to fight for her husband's release in Kyiv. She has established the "investigator's" name, as well as the names of the men who detained Oleksandr at the checkpoint; they were found on the Myrotvorets* website.
Editor's Note
Myrotvorets is a Ukrainian website that reveals information about people who are considered to be enemies of Ukraine. The website report that these may be people "whose actions have signs of crimes against the national security of Ukraine, against peace, humanity and international law. This information is available for law enforcement authorities and special services about pro-Russian terrorists, separatists, mercenaries, war criminals and murderers.
Svitlana Tymofeyeva hopes that there will be another prisoner exchange soon, although she says that Oleksandr is still on the list of "unconfirmed" hostages. The Ukrainian side has included Oleksandr in its list of prisoners-of-war and civilian hostages detained by the "DNR," but the Russian-backed militants stubbornly deny it, although in responses to her inquiries, they initially acknowledged that he was being held in the Izoliatsiya Art Centre, and later – in the Donetsk prison. Recently, Svitlana received news that Oleksandr had been transferred to the medical ward. Svitlana is afraid that he might be suffering from the torture and beatings.
Maryna Chuikova
Maryna Chuikova was accused of espionage by the so-called "DPR". Her two sons have been waiting for her to come home since March 2018. One of them, Savva Chuikov, explains that his mother used to work as a nurse in Horlivka, but left for Kharkiv when the war broke out and found a job in a jewelry store. However, their grandmother refused to leave their home, so Maryna visited her quite regularly.
"She's an elderly lady who's taken a strong position: I was born here, and I will die here, she says. So, my mother had to go there periodically and spend time with her in Horlivka," he points out.
On March 19, Maryna Chuikova was detained at a checkpoint when she tried to leave Horlivka, a city controlled by Russian hybrid forces.
"We still don't understand why. She was allegedly charged with being in touch with someone from the SBU on her phone, and for allegedly using her computer's webcam to take pictures of military hardware, which was located not far from the house. But, I'd like to point out that there are five meters from the computer to the window, so…"
The family now knows that Maryna is being held in the Donetsk prison. They have no direct contact with her – only through a local lawyer. Savva says that there are about six other women with her in the cell.
Shortly before the arrest, Maryna was hospitalized in an ICU for internal bleeding. The family has requested news of her health, but prison authorities reply that she was duly examined and no health problems were recorded. At least they admit she's being held, says Savva.
"Mom is on the list of prisoners. But, we don't know who they're discussing in Minsk. The negotiations are behind closed doors. Nobody knows what they're talking about, whom they agree on, whom they'll include in the next prisoner swap. We don't know anything." says Savva.
Roman Sahaidak
Businessman Roman Sahaidak is currently detained by the so-called "Luhansk authorities," says his former classmate Yanina Smelianska. He was kidnapped from his office in June 2017.
"Several men in masks and camouflage uniforms simply jumped him, put a bag over his head and drove away," says Yanina.
She says that there was no information about Roman's whereabouts for a month. It was only when the media and human rights activists started writing and speaking out about the kidnapping that members of the so-called "Luhansk Ministry of State Security" brought Roman's mother in for questioning.
During the first month, Roman was kept in a cellar; they tortured and beat him… when his mother was finally allowed to visit him, she saw traces of torture on her son's body. They had broken his fingers and ribs. But, they soon prohibited these visits.
During the past year, the "LNR authorities" changed the charges in Roman's case – from espionage to robbery, and just before the final "sentence" was announced in October 2018, Roman's father was suddenly arrested.
"We tried to find out why, but we got no answers. His father was home, gazing through the window and noticed that a car had been standing for a very long time in his courtyard; he thought something might be wrong with the driver, so he went to have a look. Out jumped some men in camouflage – just like in Roman's case – and took him away. He wasn't charged with anything…" she remarks.
Yanina says that Roman Sahaydak was never an activist; in fact, he was totally apolitical, and spent a lot of time abroad. She believes that he simply "didn't see all the risks involved".
"Roman never fully understood what this "self-proclaimed republic" really was, what it stood for, and how it could affect his life. He simply rebuilt the business that he had before the war (something related to jewelry) and continued working. But, the so-called "Ministry of State Security" didn't see it that way…" says Yanina.
Yanina Smelianska remembers that strangers have approached Roman's parents several times and demanded money, sometimes very large sums, and in dollars. They even entered the Sahaydak home and carried off many valuable objects.
Recently, the "LNR court" sentenced Roman to 13 years in prison and total confiscation of his property.
Yanina confirms that Roman Sahaydak is on the list of hostages. His family hoped that he would be part of the prisoner exchange last year, but it never happened.
Tags: kidnapping, occupied Donbas, prisoner exchange, Ukrainian hostages