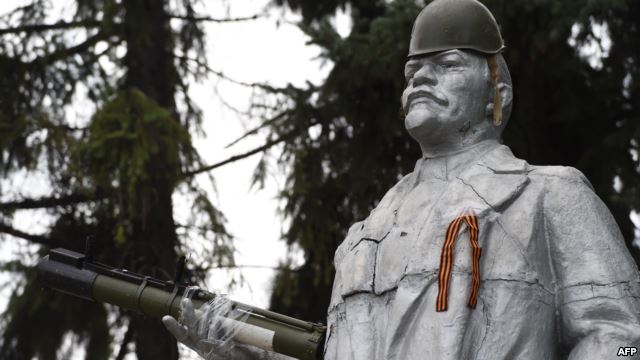 Citizen of the town of Rovenki in Luhansk oblast Victoria Butenko was on the way home with her 22-year-old son, Ihor, on August 14. At the 'LNR' gang roadblock they were detained, Victoria spent three days in prison, her son was beaten and still has not been let go. He is in critical condition, imprisoned. The mother's desperate pleas to 'LNR' leadership remain unanswered. 
"I am a social worker in Rovenki. Our family has had miners since our ancestors. My son dreamt of becoming a soldier. He served in Crimea since 2013. Then he served in Mykolayiv, and he retired from there. He once disappeared, I was looking for him, I couldn't find him, he lost his phone, we were unable to contact him. I found him two months later. I came to Mariupol for him, I saw he was living in bad conditions. I say to him: 'Son, let's go home.' He tells me: 'Mom, what are you talking about, how can I go there?' 'It's nothing, we will pass through somehow. You didn't participate in anything.' We drove through all of Ukraine. At Stanytsia Luhanska, already near home, a Cossack roadblock stops us. They started their search, to take him as a mercenary, that's what I thought. They started checking his pulse, looking into his eyes: take off your clothes, put them on, turn there, look there. In the end they found his military license. And they say: 'That's it, friend, you can't deny it.' I run out of the bus, I went after my son voluntarily. We were taken to the command, they put me in one cell and him in another."
What kind of prison was it? 
"It was the Luhansk oblast executive committee, they have basements that were remade into cells. There are many people there."
Who was there with you? 
"Various civilians, different ones, priests, they detained a drunk guy, and prisoners of war. Women and men separately. I was joined by some old women, some Crimean woman, they held her in prison in Donetsk, then sent her here. The people circulated, some were let go, some were detained. We barely talked, because we were in shock."
How did they treat you?
"Like any other prisoners: to work in the morning. You go to do the laundry, you go to clean the cells after torture, you go there, you go here. A dark room, you don't know whether it's day or night, how much time has gone by: a day, a week, an hour, a month. They did not beat us, but they threatened us."
Did they immediately start beating your son after they took him?
"On the very first day, I would even say at the very first hour. They tortured him, laughed at him."
Right before your eyes? 
"Practically, yes. My cell was on one side, and the questioning chamber was on the other, a little lower than my cell, I could hear very well. I know the voice of my child. I did not see anything, but I heard it. I saw them dragging him later. I also heard something horrible, God forgive: 'Do you hear how your bastard is screaming, you ukrop bitch?' It was all like this."
They didn't allow you to talk to him this entire time?
"The last time I saw him was on the day we were detained, in the evening. I saw them taking him to the questioning and dragging his back. There was something wrong with his leg, he was being dragged in chains. They said that the naval infantry were a death machine. What machine – the boy only served a year! He was in the General Headquarters of the Naval Fleet, they guarded the arsenal and something else, he never participated in battle, or anything. He went, he served, and this is what happened. I don't know what he is suffering for.
They started storming Luhansk three days later, and they let me go. They let me out of that building, and there were no buses, no cars, no people, nobody, I had no idea where to go. I met a kind person, he was 60 years old, he took me in, took me home, and then got me on the first bus he saw, I had no idea where they were taking me. They took me to Bilovodsk. I ended up in Bilovodsk, in the village of Markivka. I went to the local SBU, wrote a petition, went to the police, wrote another. They made me go to the hospital. I was unable to get home for two and a half weeks, I have three younger children at home. I barely got home. Nobody knew where I was, because there was no communication. My family thought we got shot somewhere, that we were not among the living at all. My brother died recently, you can only imagine what my mother and the others went through.
Then buses started going to Luhansk, and I went back to where I was imprisoned. You can imagine me, when I go there, reliving everything again. I approach the place, nobody lets me through. They say: 'Forget about your son.' He was either used as a live shield or something else. They they tell me: 'He is in quarantine still, he is all right, they are being fed, clothed, redressed.'
I am going there again this week. It turns out that my son is in bed, sick, they don't allow him out of the cell, as he cannot walk, he is in critical condition. The only thing, they allowed me to send him clothes and food. I have been to all the offices, nobody admits me. I flooded our Rovenki with petitions, the commander as well: what for? My child did not participate in battle, he is in prison for nothing, suffering. To be frank, I am not sure whether he is alive."
Was it the guard who told you that your son was in critical condition? 
"Yes, he is in critical condition. We asked him to take the bag with food, last time they didn't allow it, he was in quarantine, this time he says that they are working, restoring Luhansk oblast. I tell him that he cannot be working physically, because I saw back then that he was already in bad condition. My mother asked the guard: 'Please, go see if he is there.' He went. He comes back and says: 'Yes, it's him.' 'Did he say anything?' 'No, he only started crying and that's it.' 'How is he?' 'He is in critical condition.' Then he pitied my mother, as he saw her eyes, full of terror: 'Don't you worry, missus, it's nothing bad.' She says: 'Are his legs broken?' 'Yes, of course.' I know very well that he is in bad shape. Because everyone was made to work, there are two people with him in there, as if they have been beaten, I don't know who these people are, but they cannot work. He came and said there are three of them, those who cannot work after the beatings."
Did you go to the commander in Rovenki? 
"I wrote numerous plaints in Rovenki. Everyone in Luhansk oblast knows me, because I am knocking on every door, both open and closed, on all websites. He was in Ruban's lists, he was number 90, then 46. I go to our government, in Rovenki, and the Ukrainian government. It's a full circle, I cannot do anything. First, I cannot understand what my child is in for. The guard tells us: 'Why are you worried? He will get better, work, restore Luhansk oblast a bit and go home.' First, he never ruined it, this Luhansk oblast. Second, the child needs to go to the hospital, get treatment first, and then renovate Luhansk oblast. I am in shock. Of course, it is terrifying, every time you think that you will be taken back to the basement. I know what goes on there. You know, at first you're desperate, and then you think: that's it, you will never get out of here. Then the feeling that you have nothing to lose. If they shoot you, they will shoot you, just let it all be over, this entire nightmare. I came home, I sleep in bed, get up at night and don't understand where I am, who is next to me. You are terrified of lice crawling all over you. I kept asking what I was in for. 'For your son.' 'And what is my son in for?' 'Think you don't have a son anymore, you will leave, we will put him up as a live shield, we will shoot him.' Every minute. The cell opens, the first question is: 'What did you do to my son?' 'You talk a lot, we will put you against the wall and shoot you now.'
Whether they shoot you or not, they threaten you every time. Then, when they said to get out, I thought, that's it, I said too much, I will get shot and that'll be the end of it. It turned out they let me go. They did not beat women much there, they threatened all the time: if you run… There are guards on every corner, if you run, they will beat the entire ell, and if they beat everyone, you will be killed either way. There were no attempts to flee, as everyone was scared. Even ardent 'LNR' supporters, when the Ukrainian army stormed, sat there and prayed to God so that the Ukrainian army would come and set us free. It was clear in their eyes that everyone was silent and waiting for all of this to be over, for us to be freed."
Was there serious combat in Rovenki, is the city in ruins? 
"No, a missile targeted one of the buildings, but for the most part the city stands. Something exploded in the outskirts, maybe the 'rebels' were training, I don't know, but we didn't see any battles. We were constantly afraid of fire, but there was no battle. No salaries, no pensions, we have electricity, but no water. Nothing good."
Victoria, your family and yourself supported the 'LNR' at first or were you impartial? 
"To be frank, I saw this from Crimea, from the beginning, I was against it. But we did not state our mind publicly, we didn't go anywhere. There are many like us here, we just kept silent. We were for the Ukrainian government, we thought everything would be all right, and it turned out…"
How do you feel now, is 'LNR' around for long?
"It is difficult to say. We have no hope that this will end. None at all."
Tags: Donbas war (2014-present), Kidnapping, LNR ("Luhansk People's Republic")