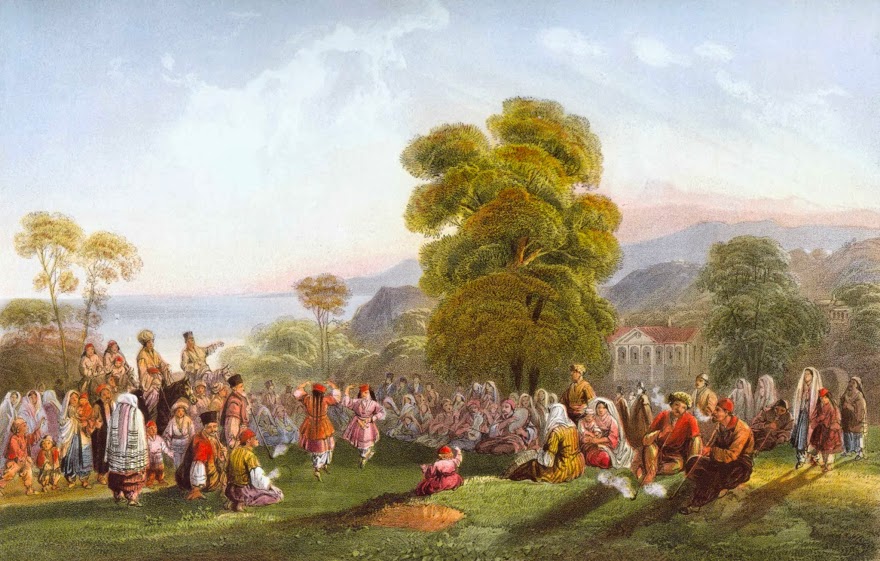 Dance of Crimean Tatars, a lithograph from the series The Beautiful Scenery and Chief Places of Interest throughout the Crimea by Carlo Bossoli, 1843
A draft law that would label Crimea not "the Crimean Tatar Autonomous Republic" but rather "the Crimean Tatar Autonomy," underscoring that the Crimean Tatars are an indigenous people of Ukraine, is Kyiv's response to Hungarian and Romanian claims in Western Ukraine, Gulnara Abdulayeva says.
The Kyiv historian says that originally officials had planned to refer to the autonomous republic, but a decision to change the title of the law and thus of the occupied peninsula reflects other considerations (apostrophe.ua and turantoday.com).
Crimean autonomy has already been declared, she says, "and we know how all this ended. Today, Russia has claims on Crimea even though it does not have any relationship to Crimea whatsoever. [But] Crimea is, at the same time, connected with the mainland of Ukraine, and without Ukraine, Crimea can't live."
What remains an open question, Abdulayeva continues, is whether the measures will garner the 300 votes that it needs for passage. But however that may be, she says, "the Crimean Tatars never will want any separation from Ukraine, as we unfortunately observe in the Transcarpathian Oblast with the Hungarians and Romanians."
She argues that the ethnic Hungarians and Romanians cannot aspire to separate from Ukraine for one very simple reason: these people already have an ethnic statehood in the countries of Hungary and Romania. But the Crimean Tatars intend to realize their right to self-determination within the Ukrainian state because "they are an indigenous people of Ukraine and Crimea."
Read More:
Edited by: A. N.