The Russian invasion has left Ukraine with a staggering amount of territory to clear of landmines before normal agricultural activity can resume. According to Ukraine's Emergency Service deputy chief Mykola Didyk, Russian forces may have scattered mines across 30% of Ukraine's territory – some 174,000 square kilometers. The country faces major economic damage, with vast swathes of crops going unharvested and fields falling.
Despite predictions that Ukraine will only finish demining with current resources at the end of the third millennium, the Ukrainian government has pledged to return 80% of this mined farmland to use within the next decade. Experts state this will require a massive coordinated effort between Ukrainian demining teams, international funding and equipment providers, and local farmers wanting their land back.
Three types of demining operations are employed, each serving a different purpose. Military demining focuses on clearing frontline combat zones to enable troop movements. The State Emergency Service tackles spot removal of explosives in newly de-occupied towns to allow displaced residents to return.
PM Shmyhal at Demine Ukraine Forum: $37 bn and 10,000 deminers needed for Ukrainian mine cleanup
But the priority now is a third type called humanitarian demining. This involves comprehensive surveying of rural areas, mapping suspected mine locations, and systematic clearance efforts culminating in safety certification for agricultural use.
The first step is a non-technical survey to divide the land into dangerous and potentially safe zones. The safe plots can be immediately handed back to farmers. Deminers then search contaminated areas using specialized technology to locate landmines. Finally, the land is certified mine-free.
The cost of this process depends on the density of mines laid by occupying forces. According to the Kyiv School of Economics, non-technical surveys cost around $6 per hectare. But searching and clearing heavily mined land can soar to $30,000 per hectare – a massive financial hurdle for Ukraine.
With nearly a third of the country's farmland potentially contaminated, agricultural losses are piling up. The Ukrainian Agrarian Business Club warns the sector stands to lose $2.5 billion for every year fields remain inactive.
During the Demine Ukraine Forum in Kyiv on 28 September, Ukraine's Prime Minister Denys Shmyhal said that Ukraine needs $37 billion and 10,000 deminers for mine cleanup.
"According to the World Bank estimate, cleaning the mined territory will require spending over $37 billion. These figures are as of today, with a note that this is the territory currently controlled by Ukraine," Shmyhal stated.
So far, foreign donors have pledged over $300 million in aid. The influx of funds is already paying dividends. The number of demining organizations active in Ukraine has quadrupled since the full-scale war began. Deminer teams will triple in size by the end of 2023. And new mechanical demining vehicles are being procured and deployed.
With only around 3,000 trained deminers in Ukraine so far, at least 10,000 are needed to eliminate the significant number of landmines in a reasonable timeframe, Ukraine's PM said.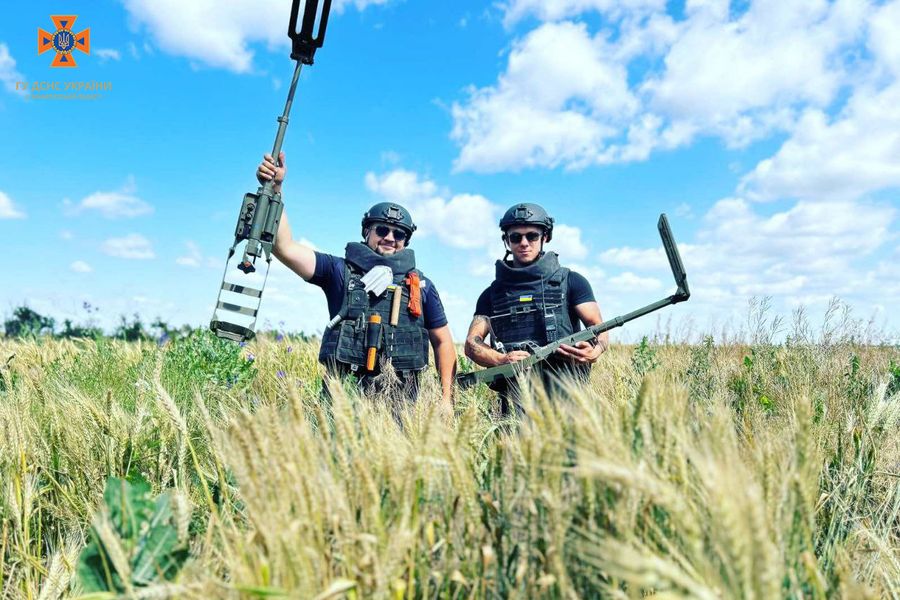 But manpower and machinery aren't the only constraints. Bureaucracy also needs to be reduced for demining firms and NGOs entering Ukraine. The government is considering a significant overhaul to streamline the certification process for operators, Economic Pravda reported, citing Oleksandr Borniakov, Deputy Minister of Digital Transformation.
According to Borniakov, there's a plan to reduce the certification documentation from 23 to 7. A digitized information collection system for demining and temporary certification suspension during wartime is also on the cards.
Mechanized demining machines are actively clearing Ukrainian land of Russian mines.

Only in the Kherson region, the first two machines donated by the Howard Buffett Foundation have already completed 40 tasks. pic.twitter.com/GCp2iFKSa0

— Euromaidan Press (@EuromaidanPress) May 1, 2023
The Ukrainian Ministry of Economy sees potential beyond non-profit organizations, expecting commercial companies to play a more prominent role. "Some foreign operators want to profit, not work for grants. We are ready to create conditions for them to do business. We are ready to create conditions for them to do business." Deputy Minister of Economy Ihor Bezkaravaynyi told Economic Pravda. With commercial players entering the domain, the market would be enriched with a variety of services, eventually serving private entities like farmers who can afford their own land surveys.
To further boost capacity, Ukraine aims to manufacture its own equipment ranging from protective gear to armored demining vehicles. Parts for imported machines are already being produced domestically at significant cost savings. Ukraine also hopes to someday export locally developed vehicles and robotics to other nations tackling contamination.
"Some advanced Western machines cost up to 1.5 million dollars. We expect that machines made in Ukraine will be twice as cheap since the production of spare parts, assembly, and maintenance will take place here. Moreover, some of the money will return to the budget," Anna Gvozdiar, Deputy Minister of Strategic Industries, told Economic Pravda.
With a 10-year deadline approaching, the Ukrainian government plans to tender the first large-scale humanitarian demining contracts in April 2024. Market mechanisms aim to incentivize efficiency while ensuring safety remains the top priority. Officials expect creating a competitive demining industry cluster could attract commercial investors and permanently transform Ukraine into a global leader in this niche field.
The first Ukrainian-made demining machine has been certified in Ukraine, according to Ukraine's Ministry of Economic Development

The machine will disarm anti-personnel & anti-tank mines. So far, 2 such machines can be produced per month.
📷UNIAN pic.twitter.com/rCRW9uLkDs

— Euromaidan Press (@EuromaidanPress) August 3, 2023
One challenge that remains is the need to import chassis for armored vehicles. However, solutions may soon be found domestically, possibly from the company "KrAZ."
As per Alexander Kamyshin, Minster of Strategic Industries, Ukraine lacks serial products in just two: mechanized demining machines and the so-called demining tech, which includes robots, metal detection sensors, and software.
Yet, companies are gradually filling these gaps. For instance, the "Intervybuhprom" company has unveiled its first Ukrainian mine-clearing machine, "Kryvbas." This machine, priced at 360,000 euros, has successfully passed trials and withstood multiple anti-tank mine explosions.
Ukraine's Ministry of Digital Transformation has registered 20 Ukrainian developments in demining tech within the Brave1 cluster. Six of these have been granted a total sum of $140,000. With such innovations and collaborations, Ukraine might eventually emulate Croatia's success and become a world leader in the humanitarian demining sector.
Furthermore, collaborations with foreign companies are fostering knowledge transfer and economic benefits. Already, parts for Croatian company DOK-ING's machines are produced in Ukraine, with assembly in the country being a future possibility. Similarly, Pozhmashina enterprise has agreed to produce components for the Danish demining machine Hydrema 910.
For now, Ukrainian farmers must balance impatience with the hard reality that making hundreds of thousands of hectares of land mine-free again will not happen overnight. But the renewed activity and inflow of expertise provide hope that harvests on a scale not seen since the war began are on the horizon.
Read also: