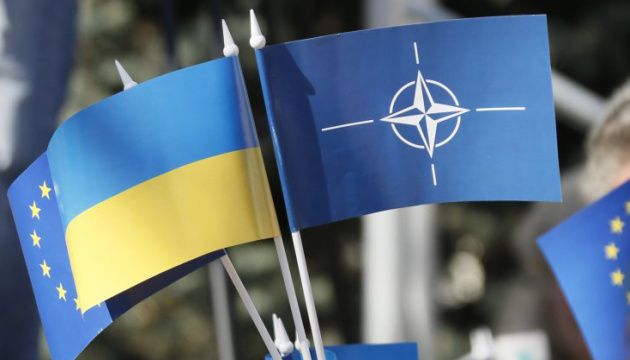 Photo: UNIAN 
The NATO membership of Ukraine could be the best security guarantee for this country, even without a total victory in the war, Steven Erlanger, the New York Times chief diplomatic correspondent in Europe, wrote in his column.
In his article, Steven Erlanger compared Ukraine with West Germany, which joined NATO in 1955, despite unresolved territorial issues.
"Though peace seems distant, the United States and Europe are debating how to guarantee Ukraine's security once the fighting with Russia stops, even without a total victory by either side. West Germany may provide a model, a precedent for admitting a divided country into NATO," Erlanger wrote.
Despite the division into the Federal Republic of Germany and the German Democratic Republic following the end of World War II, West Germany joined NATO, benefiting from the alliance's protection "without giving up its commitment to unification," Erlanger noted.
Erlanger claimed that the West German model started "gaining traction in some European capitals" during the discussion about the security guarantees for Ukraine following the end of the Russo-Ukrainian war in case Russia would still occupy certain Ukrainian territories.
"For Ukraine, much will depend on the shape of the battlefield after its coming counteroffensive, and whether the outcome leads to some kind of extended cease-fire, relatively stable borderlines, or even peace talks," Erlanger wrote. "As NATO's yearly summit approaches in July, its members are discussing what they can offer Ukraine's president, Volodymyr Zelensky, who wants more concrete assurances that his country will join the alliance."
West Germany joined NATO despite unresolved territorial issues, Ukraine can do the same, even though Russia would object, Erlanger insisted. Erlanger praised the position of Kaja Kallas, the Prime Minister of Estonia, who supports the NATO membership of Ukraine "when conditions allow."
Netherlands, Belgium, and Ukraine join forces for security, NATO membership
According to Kaja Kallas, NATO must lay out a more concrete road map for Ukraine to join at the NATO summit in Vilnius, Lithuania, in July 2023, reconfirming a promise first made in 2008.
"The only security guarantee for Ukraine is NATO membership," Estonia's Prime Minister said. "We don't have a war here because we are members of NATO."
Kaja Kallas said that allowing Ukraine to join NATO would be a "cheaper, much cheaper option than making it a militarized hedgehog for the next 50 years."
Steven Erlanger claimed that if a divided Germany could join NATO, then Ukraine should be allowed to do the same. Ukraine's NATO membership should ensure that Russia would never attack Ukraine again, Erlanger concluded.
Related:
Tags: Germany, NATO, Russian invasion of Ukraine, Ukraine