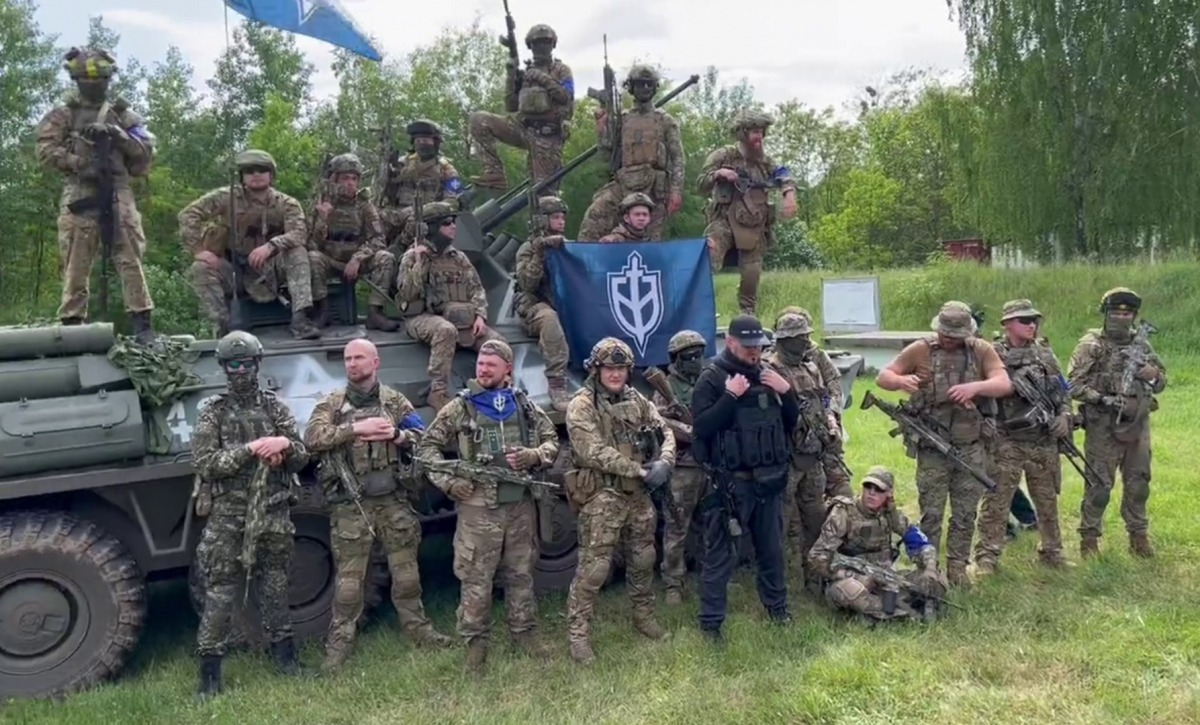 Pro-Ukrainian Russian fighters at a press conference after completing their Belgorod Oblast raid. Photo: screenshot from video via UNIAN 
On 24 May, at a press conference in one of the Ukrainian border regions., the pro-Ukrainian units of the Freedom of Russia Legion (LSR) and the Russian Volunteer Corps (RDK) said their raid in Grayvoron district of Russia's Belgorod Oblast had been successfully completed.
The operation's objectives were achieved as "the enemy has been defeated, some of them fled in shame; we have taken prisoners and captured a large amount of equipment."
Key statements:
"We will not betray the idea of Free Russia, the hopes of the Russians, we will bring truth and justice back to Russia. We will come again. Belgorod, Bryansk, Kursk, Voronezh, Rostov, Moscow – wait for us."
"In Belgorod Oblast, we witnessed the unprincipled brutality of Putin's troops: as the Legionnaires passed through populated areas without harming local residents, the [Russian Armed Forces'] artillery and aviation operated on civilian towns."
In Russia, the raiders used the Ukrainian equipment captured by the Russian military near Bakhmut and later recaptured by them.
The LSR's casualties in the Belgorod raid amounted to 2 KIA and 10 WIA. The RDK commander said only two of his fighters were lightly injured during the operation.
The Russian Defense Ministry earlier claimed that they killed 70 raiders without presenting any evidence of the casualties.
On 22 May, the LSR and RDK crossed the border from Ukraine into Russia's Belgorod Oblast, clashing with Russian government forces and asserting control over border settlements. Russian authorities labeled the raiders a "Ukrainian sabotage group" and imposed a counter-terrorist operation regime in the region. They announced counterterrorism measured officially ended on the next day, 23 May.
https://twitter.com/EuromaidanPress/status/1661409223752679426?sdfds
Read also:
Tags: Belgorod Oblast, Grayvoron, raid