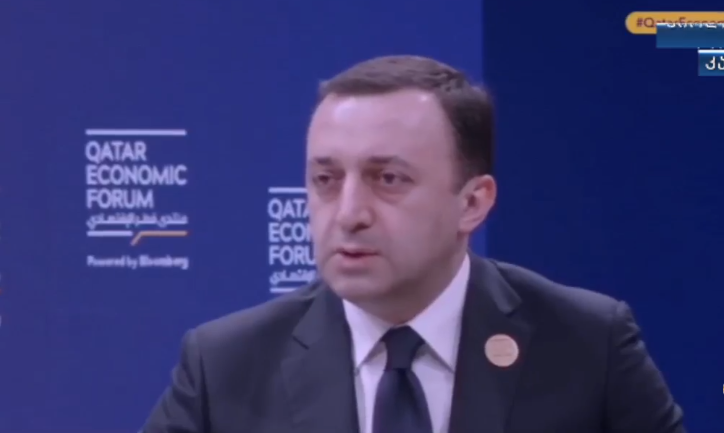 Irakli Garibalishvili. Screenshot from broadcast of his speech at Qatar economic forum 
Georgian Prime Minister Irakli Garibashvili has stated that if his country were to enact direct sanctions against Russia, it would result in a collapse of Georgia's economy. He made this assertion at an economic forum in Qatar on 24 May 2023, Liga.net reported.
Backing his country's reluctance to impose sanctions against the country that occupied 20% of Russia's territory in 2008, Garibashvili argued, "Georgia's economy will collapse, we will harm our people if we introduce such bilateral economic sanctions against Russia." He stated that the European Union trades with Russia in just four days as much as Georgia does in a whole year, leading him to label the idea of direct sanctions as illogical given that Russia accounts for only 0.3% of Georgia's total trade.
Garibashvili stated that the international community did not take enough action to support Georgia during its own war with Russia in 2008.
"Where's the logic? Our war was not a war and the Ukrainian war is a war. Well, I have to say that we were quite disappointed that business as usual continued with Russia after the 2008 war.

 

"The result of that war, a devastating war, is that 20% of our territory was taken over by Russia. Russia built two military bases on our historic lands."
The Prime Minister asserted Georgia's support for Ukraine and its people amidst the ongoing war with Russia, but clarified that Georgia would not impose direct restrictions against Russia.
In 2022, Georgia joined international sanctions following Russia's invasion of Ukraine but refused to enact any of its own restrictions. The position of official Tbilisi, which maintains a "restrained stance" towards Russia's war against Ukraine, has been acknowledged and appreciated by Moscow.
Dashing the hopes of some Ukrainian politicians that Georgia might open a "second front" against Russia, Garibashvili said, "Georgia is a small nation with a population of four million people, so it's important to maintain peace, stability, and security in the country. My duty is to protect the interests of my people."
Russia: Georgia's largest trading partner
Georgia has maintained close economic ties with Russia despite a brief war in 2008 that resulted in the occupation of about 20% of its territory by Russian forces.
Georgia's trade with Russia reached $2.5 billion in 2022, making it the second-largest trading partner for the small Caucasus nation. As well, according to customs records from the Trade Data Monitor platform, Georgia's trade with Russia increased by 22% since Russia's full-blown invasion in 2022.
Georgia also relies on tourism revenues from Russian visitors, which were disrupted by a flight ban imposed by Moscow in 2019 after anti-Russian protests in Tbilisi. The flight ban was lifted in May 2023, amid criticism from the Georgian opposition and the United States.
However, Georgia's stance on sanctions has drawn criticism from some of its Western allies, who have urged the country to join the international pressure on Russia to stop its aggression against Ukraine. The US State Department has warned Georgia that it could face sanctions for resuming air traffic with Russia, saying that it undermines the unity and effectiveness of the sanctions regime. The EU has also proposed sanctioning third countries that continue to do business with Russia, thus allowing it to bypass the sanctions.
Some analysts have suggested that Georgia's refusal to join the sanctions could damage its aspirations to join NATO and the EU, and weaken its position in the negotiations over its occupied regions.
Georgian President Salome Zurabishvili is at odds with her government's position on Russia. On 31 March, she criticized Prime Minister Garibashvili's pro-Russian statements, accusing him of speaking "the same language as Moscow."
Georgia's risky gamble on Russia backfires as country falls into a trap, say journalists