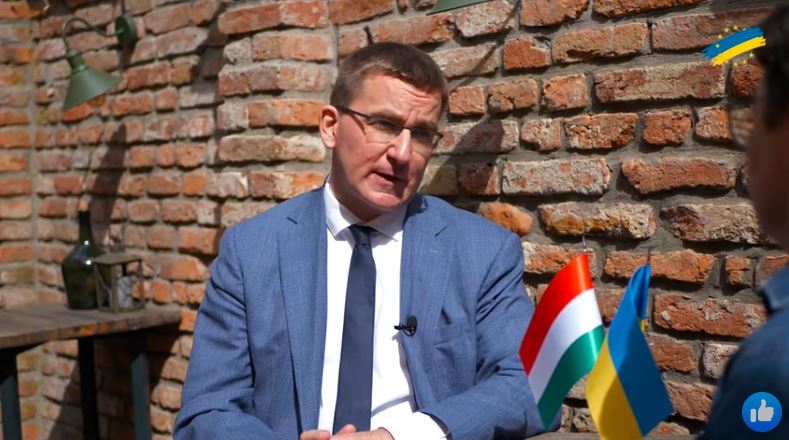 Screenshot from European Pravda's video 
Hungarian expert András Rácz, who until recently worked for Hungary's state Institute for Strategic and Defence Studies and is currently a Senior Fellow at the German Council on Foreign Relations, told European Pravda why Budapest sent troops to Ukraine's border in February 2022, dispelling speculations that Hungary was posed to occupy Ukraine's westernmost Zakarpattia Oblast simultaneously with the start of Russia's invasion.
Rácz explained that Hungary's military presence was not meant for attacking Ukraine, but rather as part of a contingency plan in the event of a humanitarian crisis and massive refugee wave. Stier emphasized that Hungary did not believe Russia would attack and had initially focused on a plan A with no Russian aggression. However, Hungary also had a plan B in case the situation escalated.
It is crucial to note that these plans were not formulated with the intention of attacking Ukraine. Rather, Hungary's focus was on ensuring its own security and managing the implications of the conflict. When Russia invaded, Hungary was taken by surprise, like many other countries, as it did not anticipate Russia's serious mistake of attacking Ukraine. Therefore, the deployment to Ukraine's borders was purely defensive, and driven by three main motives:
Firstly, they were aimed at addressing potential humanitarian crises, considering that the border police alone would not have been able to handle the massive influx of refugees.
Secondly, Hungary drew lessons from the Yugoslav War in the 1990s, where armed units from neighboring countries inadvertently or intentionally crossed the Hungarian border. Hungary wanted to be prepared in case a similar scenario occurred in the event of Ukraine's collapse.
Lastly, the presence of pontoons along the border indicated Hungary's readiness to handle logistical challenges and provide assistance if needed. In the event of Russia destroying a crucial bridge at Chop, it was planned that a new bridge would be quickly built in coordination with the Ukrainian side to ensure continued refugee crossings. Although it is unclear if Ukraine was aware of these plans, there was significant coordination between the two countries even before the war.
Rácz further highlighted that Hungary did not have offensive capabilities like tanks, heavy artillery, or ammunition supplies necessary for attacking Ukraine.
He also addressed the notion of military coordination between Hungary and Russia, stating that there was no evidence of such coordination. He mentioned that he had never been aware of any military coordination during his time in the Hungarian government and research institutes. Rácz added, "It's interesting to see that some people in Ukraine think like this. If such coordination took place, most probably I would have known about it."
Despite the uncertainties surrounding the war, a significant portion of Hungarian society already understands that Ukraine has achieved a measure of success. In fact, Ukraine's ability to resist Russian invasion plans, liberate territories, strengthen ties with the EU and NATO, and demonstrate the sustainability of its government has led to a prevailing perception of victory in Hungary, Rácz says:
"Nobody has any more questions about the survivability of the Ukrainian government, the Ukrainian people, or the Ukrainian state. This is already a victory."
The outcome of the conflict remains uncertain, but Hungary sees Ukraine's survival against Russian aggression as a significant victory in itself. Denying an adversary the ability to realize their plans is a victory in its own right. The exact course of the conflict's evolution is still unknown, but Hungary remains committed to ensuring its own security while mindful of the implications for Ukraine.
While the Hungarian government did not believe that Russia would attack Ukraine and had planned for a scenario where no Russian attack occurred (plan A), the current government under Orbán has shifted its position (plan C), blaming Ukraine and not supporting Ukrainian actions during the war. The government's stance on demanding an immediate ceasefire and not allowing Western weapons to cross the Hungary-Ukraine border raises questions about Hungary's interests and motivations.
Furthermore, the government's position on supporting Ukraine is not always clear and has resulted in mixed messages. Hungary's involvement in assisting Ukraine and the transit of weapons raises questions about the government's stance. Although the official position is that no weapons should cross the Hungarian-Ukrainian border, Hungary allows the transit of military shipments through its territory and airspace, with exceptions made for the small border section. Instances such as the accidental filming of French-made helicopters transiting through Hungarian airports and the delivery of diesel on an old Soviet pipeline demonstrate Hungary's involvement. These strategic decisions are made by the Prime Minister and his closest circle, indicating a high level of control over Hungarian assistance to Ukraine and limitations.
Related:
Tags: Hungary