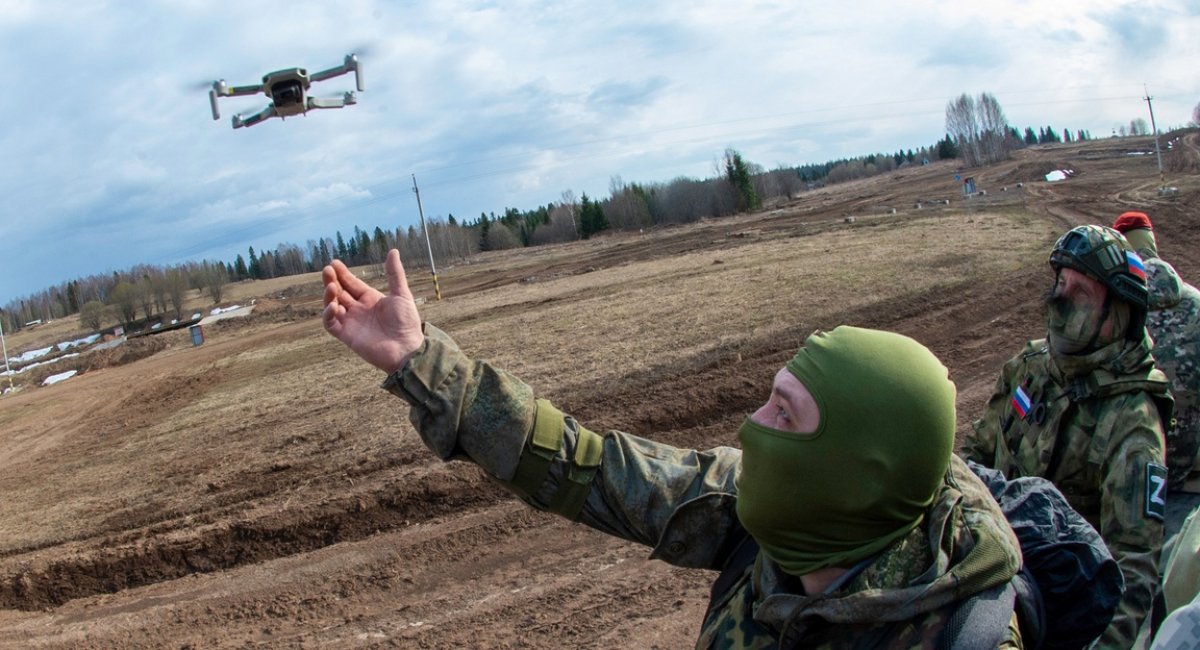 Russians actively use quadcopetrs now, too. Photo: Defense Express 
Russians first were losing to Ukraine's drone volunteers, but have now taken UAVs seriously
Russians have become more serious about using drones and developing countermeasures against Ukrainian UAVs, including new weapons such as electromagnetic weapons. This information was shared by Viktor Taran, the head of the Center for Training UAV Operators "Kruk," in an interview with Defense Express.
According to Taran, Ukraine has made significant efforts to give its soldiers an advantage in drone technology. Simple civilian quadcopters have been actively supplied to the Ukrainian army since Russia's first invasion in 2014, and these efforts have increased significantly since 24 February. Each drone in the hands of Ukrainian soldiers serves as an intelligence tool, a means of adjusting fire and unit actions, and a weapon.
Volunteers are creating a drone revolution for Ukraine's army
Taran explained that a change in attitude towards small UAVs in Russia has been observed over the past year. Russians initially viewed drones as auxiliary means, focusing mainly on UAVs such as "Leer-3" and "Orlan-10."
However, in mid-2020, Russians realized that they were losing the "drone war" and their electronic warfare and intelligence means were insufficient to counter Ukrainian UAVs. As a result, they began to work on creating their own "fleet" of small drones and increased their focus on civilian quadcopters.
By early 2023, the number of enemy quadcopters increased dramatically, and Russia started to create numerous training centers for drone operation.
Taran stated that Russia has also changed its approach to electronic warfare (EW) and is now developing electromagnetic weapons. These weapons emit powerful electromagnetic pulses that can disable electronic devices within a certain radius. Russians claim that these weapons can affect both drones and guided munitions. However, Taran noted that such weapons have drawbacks, including their size, energy consumption, limited range, and potential for affecting their own equipment.
In addition to electromagnetic weapons, Russians are attempting to counter Ukrainian drones by using their own drones as interceptors or kamikazes.
Taran explained that they have created several models of such drones that can carry explosives or nets to catch enemy drones. They also use quadcopters with grenades or mines attached to them. However, Taran pointed out that Russians' attempts to imitate Ukrainian tactics have been clumsy and inefficient.
Furthermore, Taran mentioned that Russians are using jammers and decoys to mislead Ukrainian drones and artillery fire correction systems. They deploy inflatable models of tanks, armored vehicles, artillery systems, and even planes to create false targets for Ukrainian reconnaissance and strike drones. They also use jammers to create false coordinates for Ukrainian fire correction systems like Krasnopol or Vilha.
Taran emphasized the importance of Ukraine continuing to improve its drone capabilities and countermeasures, as well as training more operators who can use them effectively. He stressed the need for Ukraine to develop its own drone industry and create new models with better characteristics and protection from enemy interference.
Related:
Tags: drones, Russian Army