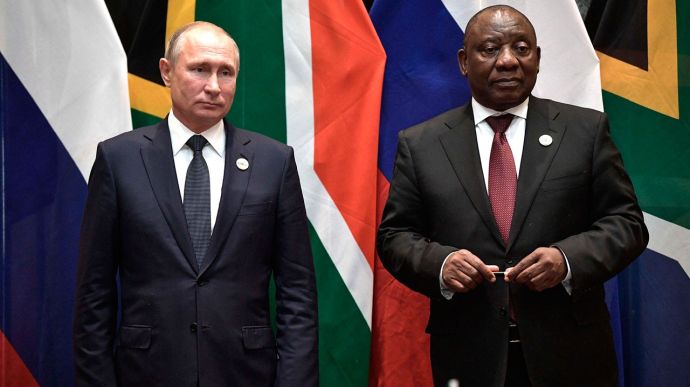 South Africa has invited Russian dictator Vladimir Putin to participate in the upcoming BRICS summit via Zoom instead of in person, following the issuance of an arrest warrant for the Russian president by the International Criminal Court (ICC). The Sunday Times reports that the move places South Africa's ruling party in an uncomfortable position after it refused to support sanctions against Russia or condemn its aggression in Ukraine.
The BRICS summit includes the leaders of Brazil, Russia, India, China, and South Africa. South Africa, which is a signatory to the Rome Statute, is obligated to comply with the ICC's decisions.
Last week, South African President Cyril Ramaphosa appointed a special government committee led by the country's vice president to consider the country's options after the arrest warrant for Putin was issued. According to a source cited by the Sunday Times, the committee is unable to find any other options than having Putin participate in the summit via video conference from Moscow.
High-ranking officials in South Africa confirmed that Pretoria is in negotiations with Moscow over the matter.
This is not the first attempt by South Africa to withdraw from the ICC. The country attempted to do so in 2016 after ignoring an arrest warrant for former Sudanese President Omar al-Bashir in 2015.
In March of this year, the ICC issued an arrest warrant for Putin, accusing him of forcibly deporting thousands of children from Ukraine. The warrant means that Putin can be arrested if he travels to any ICC member country.
ICC arrest warrant for Putin: what's next, and do we still need a Tribunal? Human rights defender answers
Tags: arrest, friends of Putin, Putin, Putin ICC, South Africa