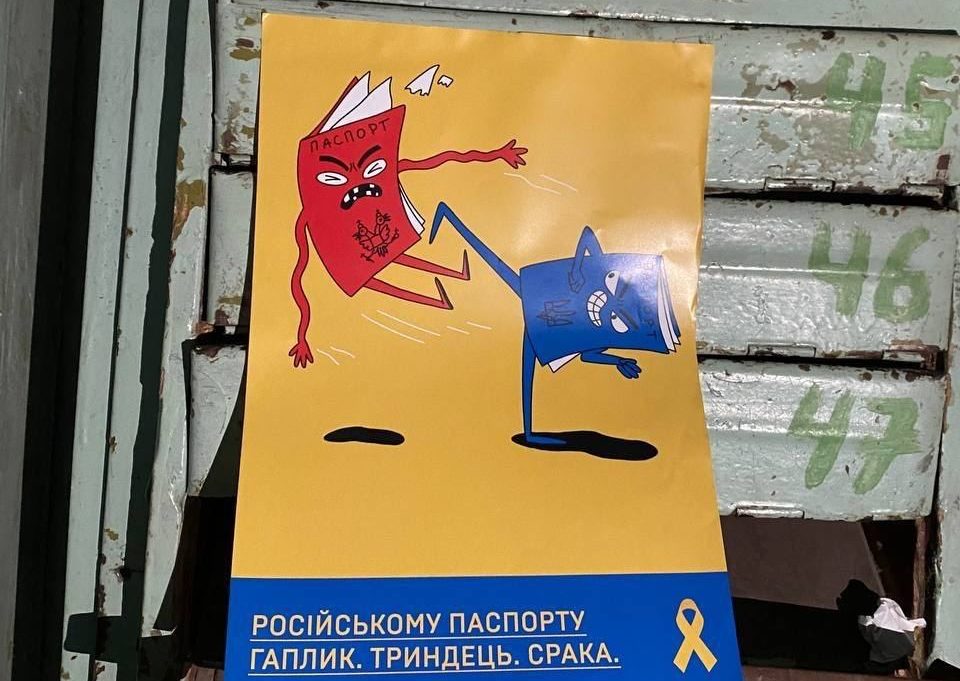 "The Russian passport is done for," say these posters showing a Russian passport being kicked by a Ukrainian one. They are hung up by the Yellow Ribbon movement, which unites Ukrainian activists leading a poster war under Russian occupation; one of its main messages is to dissuade Ukrainians living under occupation from getting Russian passports. 
Russia may deport Ukrainians who did not want to become Russian citizens from their homes in occupied Ukraine starting 1 July
Russian President Vladimir Putin has enacted a decree permitting the expulsion of residents from Ukraine's temporarily occupied regions who have not obtained Russian citizenship. The decree was made public on the Russian Federation's official legal information portal, as reported by Ukrinform.
According to the decree, Ukrainian citizens or individuals holding "passports" from Russia's proxy states in Donbas, the "DNR" and "LNR," must either acquire Russian citizenship or state their refusal to do so. Those who opt for the latter will be regarded as foreigners starting July 1, 2024, and may subsequently face deportation.
A specific provision in the decree addresses the expulsion of individuals deemed a threat to Russia's "national security." Residents from the temporarily occupied regions who support the "violent alteration of the foundations of the constitutional order" in Russia, finance terrorism and extremism, or partake in "unauthorized" activities will be deported and prohibited from entering Russia.
It is worth noting that on March 17, 2023, the International Criminal Court issued arrest warrants for Russian President Vladimir Putin and Russian President's Commissioner for Children's Rights Maria Lvova-Belova. They are both suspected of illegally deporting children from Ukraine's temporarily occupied territories to Russia since at least February 2022.
Related:
Tags: Deportation