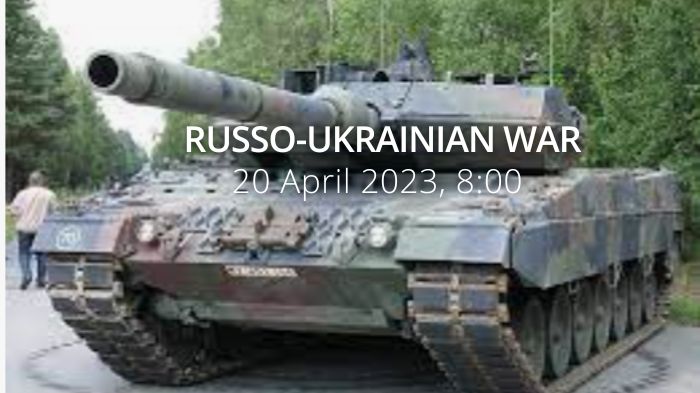 Severe mud is slowing down military operations in Ukraine. Denmark, Netherlands to donate 14 Leopard 2 tanks to Ukraine. Russian forces continued defensive preparations in southern Ukraine out of concern for a possible Ukrainian counteroffensive.
https://twitter.com/pevchikh/status/1648686652376727557
Daily overview — Summary report, April 21
A map of the approximate situation on the ground in Ukraine as of 00:00 UTC 21/04/23. pic.twitter.com/qwJdGsxtCN

— War Mapper (@War_Mapper) April 21, 2023
The General Staff's operational update regarding the Russian invasion as of 18.00 pm, April 21, 2023 is in the dropdown menu below:
On April 21, the Russian Federation launched 23 air strikes. Last night, Russian forces used about 10 Shahed-136 UAVs (to be updated), 8 of which were destroyed by Ukrainian defenders. Also, the Russian aggressors launched 49 MLRS attacks at the positions of Ukrainian troops and various settlements. The attacks have killed and wounded civilians, and destroyed and damaged private residential buildings and other civilian infrastructure.
The likelihood of missile and air strikes across Ukraine remains quite high.
At the cost of heavy losses, the adversary is focusing its main efforts on the offensive operations on Lyman, Bakhmut, Avdiivka, and Maryinka axes. Over 60 enemy attacks were repelled on April 20. The fiercest fighting is for the city of Bakhmut.
Volyn, Polissya, Sivershchyna, and Slobozhanshchyna axes: no significant changes. [Certain units of the Armed Forces of the Republic of Belarus remain in the areas bordering Ukraine. Certain units of Russian territorial troops undergo training in Belarus. Russia maintains an enhanced military presence in its Bryansk, Kursk, and Belgorod oblasts bordering Ukraine.] On April 20, Russian forces shelled the settlements of Yanzhulivka, Halahanivka, Hrem'yachka (Chernihiv oblast), Stukalivka, Pavlivka (Sumy oblast), Kozacha Lopan', Hoptivka, Neskuchne, and Khatnje (Kharkiv oblast).
Kupyansk axis: Krasne Pershe, Novomlyns'k, Dvorichna, Zapadne, and Berestove (Kharkiv oblast) were shelled by Russian forces on April 20.
Lyman axis: the adversary attempted to improve the tactical situation and conducted unsuccessful offensives in the vicinity of Serebryans'ke forestry. Stel'makhivka, Nevs'ke, Dibrova, Bilohorivka (Luhansk oblast), Ivanivka, Verkhn'okam'yans'ke, and Spirne (Donetsk oblast) were shelled with artillery yet again.
Bakhmut axis: Russian forces continue their offensive operations. Heavy battles for the city of Bakhmut continue. Vasyukivka, Min'kivka, Zaliznyans'ke, Orikhovo-Vasylivka, Novomarkove, Hryhorivka, Bakhmut, Ivanivske, Oleksandro-Shul'tyne, Bila Hora, Druzhba, Zalizne, Nelipivka, and New York (Donetsk oblast) suffered from enemy shelling.
Avdiivka axis: the adversary attempted offensive operations in the vicinities of Kam'yanka, Pervomais'ke, and Nevel's'ke (Donetsk oblast), to no success. In particular, the invaders shelled Keramik, Stepove, Kam'yanka, Tonen'ke, Sjeverne, Karlivka, Pervomais'ke, and Nevel's'ke.
Maryinka axis: on April 20, Ukrainian defenders repelled numerous enemy attacks in the vicinities of Mar'inka and Pobjeda (Donetsk oblast). At the same time, Krasnohorivka, Maksymil'yanivka, Heorhiivka, Mar'inka, Pobjeda, and Novomykhailivka were shelled by Russian forces.
Shakhtarske axis: Russian forces shelled the settlements of Novoukrainka, Velyka Novosilka, Zolota Nyva, Prechystivka, and Vuhledar (Donetsk oblast) on April 20.
Zaporizhzhia and Kherson axes: the adversary stays on the defensive. At the same time, the invaders shelled more than 40 settlements on April 20, including Ol'hivs'ke, Malynivka, Orikhiv, Ivanivka, Novodanylivka, Novoandriivka (Zaporizhzhia oblast), Dudchany, Zmiivka, Kachkarivka, Inzhenerne, Dniprovs'ke (Kherson oblast), and the city of Kherson.
[Fearing leakage of information about their units, the Russian occupiers have reinforced counter-intelligence measures in several districts of Kherson oblast. They dispatch additional patrols and conduct frequent searches of local houses. At the same time, during such inspections, the occupiers conduct surveys of citizens and offer them service in the armed forces of the Russian Federation.]
On April 20, the Ukrainian Air Force launched 6 air strikes on the concentrations of occupants. In the meantime, missile and artillery troops hit 5 command posts of Russian forces.
Military Updates
https://twitter.com/EuromaidanPress/status/1649234749326778368
Pentagon Leak: China Ignored Wagner's Arms Request – FT, European Pravda reports, citing Financial Times. "Classified document suggests Beijing did not respond to the Russian paramilitary group Wagner request for weapons in early 2023. According to one of the published Pentagon documents, representatives from the mercenary group – led by Putin ally Yevgeny Prigozhin – reportedly sought munitions and equipment from China in early 2023.
But previously unseen intelligence, first reported by the Financial Times, claims that in early January, China had not sent [Wagner] any weapons, not even for testing, and had no contact with [Wagner] regarding weapons deliveries. As the FT writes, Wagner's request to China indicates that China is considering supplying Russia with lethal arms.
The Pentagon's leaks also mention successful examples of Wagner's PMC acquiring weapons from Moscow's other allies – Belarus and Syria. According to one of the documents, Belarus already delivered 50% of unspecified weapons promised by early January and offered to send Wagner 300,000 VOG-17 grenade launcher rounds. Wagner also bought six SPG-9 grenade launchers and 180 grenades in Syria at an unspecified time.
And in Türkiye, Wagner sought drones, electronic warfare systems, counter-battery systems and howitzer artillery. Their Turkish contacts informed Wagner they could not export some of the requested weapons and equipment, such as howitzers, counter-battery systems and some counter-drone weapons. […]
Late last year, the White House released US intelligence photos of Russian rail cars entering North Korea (Ukr), picking up a cargo of missiles and returning to Russia, presumably at the behest of Wagner's group."
Russia may discard Pyotr Velikii battlecruiser as there is no money for repairs, Ukrainska Pravda reports, citing TASS, citing a source in the navy. "The Pyotr Velikii (Peter the Great), a heavy nuclear missile carrier and the flagship of the Northern Fleet of Russia could be withdrawn from the Russian Navy due to the high cost of modernisation.
TASS's navy source stated that this issue is being worked on at the moment. The withdrawal of the battlecruiser may be connected with the experience of repairing and modernising the heavy nuclear ship Admiral Nakhimov, which showed that this is very costly. […] However, a source of RIA Novosti has denied that the flagship is being withdrawn from Russia's Naval Forces."
According to British Defence Intelligence, (last 48 hours): 
With soft ground conditions across most of Ukraine, severe mud is highly likely slowing operations for both sides in the conflict.
However, Russian online outlets are likely exaggerating the overall impact of mud on Ukrainian forces as part of an information operation aimed at raising Russian morale and undermining Ukraine's supporters, in light of an anticipated Ukrainian counter-offensive.
Surface conditions can be expected to improve in the coming weeks. The threat from mines probably continues to be a more important factor in limiting the combatants' off-road manoeuvre.
On 18 April 2023, the Kremlin issued a press release on President Putin's visit to Russia-occupied southern Ukraine. Using the Russian spelling of Ukraine's Dnipro river, the release described the president as having visited the 'Dnipr Group of Forces'.
This is one of the first references to the existence of a Dnipr Group of Forces (DGF). Russia uses the term 'group of forces' in a specific way, indicating a large, task-organised operational formation. Early in the invasion, the Russian force was organised into groups of forces each aligned to their home military districts in Russia, for example, the Western and Central Groups of Forces. The existence of an apparently new DGF suggest that the original force organisation has evolved, probably due to heavy losses. DGF's mission is likely to defend the southern sector of the occupied zone, and especially the south-western flank which is currently marked by the Dnipro river.
Losses of the Russian army 
Russia's estimated losses in Ukraine as of day 422 of the all-out war, according to Ukraine's GenStaff pic.twitter.com/ap08SBQJM8

— Euromaidan Press (@EuromaidanPress) April 21, 2023
As of Friday 21 April, the approximate losses of weapons and military equipment of the Russian Armed Forces from the beginning of the invasion to the present day:
Personnel – about 185050 (+630)
Tanks – 3668 (+1)
Armoured combat vehicles – 7126 (+6)
Artillery systems – 2827 (+2)
Multiple rocket launchers –MLRS – 539 (+0)
Air defence means – 285 (+0)
Aircraft – 308 (+0)
Helicopters – 293 (+0)
Automotive technology and fuel tanks – 5713 (+6)
Vessels/boats – 18 (+0)
UAV operational and tactical level – 2394 (+8)
Special equipment – 334 (+2)
Mobile SRBM system – 4 (+0)
Cruise missiles – 911 (+0)
A new law on military recruitment in Russia aims to make draft dodging impossible, a Russian military expert Pavel Luzin says

The new recruitment system is based on a massive electronic database that significantly limits potential conscripts' rights.https://t.co/VvW4JUQTBW

— Euromaidan Press (@EuromaidanPress) April 21, 2023
Humanitarian 
https://twitter.com/EuromaidanPress/status/1649261928638709761
Over 36 million people live in Ukraine – UN, Ukrinform reports, citing the United Nations Population Fund report. "The United Nations Population Fund said that 36.7 million people live in Ukraine as of 2023. As noted, the largest share of the population – 64.6% – is people aged 15 to 64 years, another 20.2% are people aged 65+, and 15.2% of citizens are under the age of 14.
According to the UN data, on average, a woman in Ukraine lives 78 years, and a man is 68 years. The total fertility rate in 2023 (the average number of children a woman has in her reproductive years) in Ukraine is 1.3.
As Ukrinform reported, the Institute of Demography and Social Studies suggests that as of January 1, 2023, the population of Ukraine was 28-34 million."
Hungary calls for EU aid to help Ukrainian grain transit, Reuters reports. "Hungary called on Thursday for "progressive" aid from the EU to help move Ukraine's grain through central European countries whose farmers are having to compete with its cheaper imports. Agriculture Minister Istvan Nagy met his Ukrainian counterpart after Hungary banned imports of honey and certain meat products from Ukraine, in addition to grains, until June 30, adding to pressure to broaden proposed EU-wide measures. Nagy did not say what was meant by "progressive" in terms of what aid Hungary considered was required from the EU.
The European Commission said on Wednesday it would take emergency "preventive measures" for wheat, maize, sunflower seeds and rapeseed after some central European countries took unilateral steps to ban imports of food products from Ukraine. However, Bulgaria, Hungary, Poland, Romania and Slovakia, whose ministers took part in talks with European Trade Commissioner Valdis Dombrovskis on Wednesday, want the list to be longer, including products such as milk, poultry and honey.
The countries became transit routes for Ukrainian grain that could not be exported through the country's Black Sea ports because of Russia's invasion in February last year. Bottlenecks then trapped millions of tons of grains in countries bordering Ukraine, forcing local farmers to compete with an influx of cheap Ukrainian imports. Hungary's ban includes a total of 25 products, the most important of which are cereals, rapeseed and sunflower seeds, flour, oil, honey and certain meat products, the prime minister's chief of staff Gergely Gulyas told a news briefing.
Polish Agriculture Minister Robert Telus also said on Thursday that the proposed EU list should be longer. […] Nagy had said on Wednesday that Budapest will continue to allow the transit of Ukrainian grain through Hungary, ensuring the departure of shipments in a controlled manner.
An EU official said the bloc's proposals would only allow grain to enter the five countries from Ukraine if they were set for export to other EU members or to the rest of the world. This measure would last until the end of June."
Seals and convoy: how Poland will control transit of Ukrainian agricultural products, Ukrinform reports, citing Ukrtransbezpeka. "The State Service of Ukraine for Transport Safety (Ukrtransbezpeka) has announced new conditions for the transit of Ukrainian agricultural products through Poland, including convoys; transit will resume from the beginning of the day on April 21. The transit of agricultural products through Poland will resume under new conditions at 00:00 on April 21. We are announcing the preliminary conditions for the transit of Ukrainian agricultural products through the territory of the Republic of Poland, according to the information provided by the Polish side, the statement said.
It is noted that the customs authorities of the Republic of Poland will carry out customs clearance of agricultural products from Ukraine, which are prohibited for import into the customs territory of the Republic of Poland and are in transit, only if there is a customs declaration T1, where the destination is indicated by the Polish ports of Gdansk, Gdynia, Swinoujscie, Szczecin or other EU countries. In addition, the codes of agricultural products (6 digits), as well as safety and security data required by the European Union, are required for clearance.
In order to prevent attempts to stop the transit and import of agricultural products into the customs territory of Poland, additional control measures are introduced, namely:
installation of electronic seals on the vehicle on the Polish side (to track the movement of the vehicle and ensure that the cargo is not unloaded in Poland)
tracking of cargoes in transit to other EU countries using the SENT electronic system to confirm that road or rail transport has reached its destination in another EU country (will not apply to cargoes bound for Polish ports);
physical escort of cargoes from the border to a Polish port or to the border with another EU country during the first week after the resumption of transit, from April 21 to 26.
In the future, escorting will be used only in justified cases provided for by the current legislation of the Republic of Poland," the Ukrainian agency noted. For Ukrainian carriers, sealing will be free of charge, and escorting will be free of charge in the coming week. […]
As reported, Poland will unblock the transit of Ukrainian grain through its territory to ports in Europe on Friday, April 21. However, the ban on imports of Ukrainian agricultural products to the Polish market remains in place."
Environmental
The first freight train on this route in 25 years has carried salt from Ukraine along the Basarabeasca-Berezino line. This rail link was long abandoned, but reconstructed months ago to bypass Moldova's Russian-controlled region of Transnistria – by @RFERL pic.twitter.com/ekAUvLEo4E

— Euromaidan Press (@EuromaidanPress) April 20, 2023
Ukraine needs ten times more specialists for demining – MoE, Ukrinform reports, citing the First Vice Prime Minister of Ukraine, Minister of Economy of Ukraine Yulia Svyrydenko and the press service of the Ministry of Economy. "Humanitarian demining of Ukrainian territories requires ten times more specialists trained according to international standards than are currently working. Therefore, the Government expects partner countries to help with the training of sappers, the statement said.
First Vice Prime Minister of Ukraine and Minister of Economy of Ukraine Yulia Svyrydenko reminded that about 174 thousand square kilometers of land in Ukraine are potentially contaminated. This is the land that is a source of food for about 81 million people around the world. This is an extremely large amount of work, which Ukraine can accomplish only if it is extremely efficiently organized and only with the help of the international community, Svyrydenko said.
According to her, an action plan for demining agricultural land has been developed. Economically priority regions have been identified, a map of potentially hazardous areas has been approved, and clear and transparent criteria for the order of demining work have been established. A total of 470,000 hectares of agricultural land is planned to be surveyed and demined. The largest area of contaminated land is in the south and east of Ukraine. More than 208,000 hectares need to be surveyed in Kherson Oblast, almost 160,000 hectares in Kharkiv Oblast, and more than 85,000 hectares in Mykolaiv Oblast.
The World Bank estimates that the full range of humanitarian demining activities could cost $37.4 billion. According to preliminary estimates, USD 1.5 billion is needed for the priority needs of surveying and prioritizing the demining of agricultural land alone.
As reported, a project has been launched in Ukraine to engage global companies with advanced mine action technologies in demining the territory of our country. The project was initiated by the United Nations Development Program. It will be implemented at one of the training grounds remote from the combat zone in cooperation with the Ministry of Defense and the State Emergency Service in May 2023."
Legal
Insane sentence after #Russia #FSB kidnaps and tortures young #CrimeanTatar from #Kherson oblast in mainland #Ukraine#Appaz_Kurtamet #LetMyPeopleGo #StandWithUkraine #StopRussiahttps://t.co/GzF3XEoqts pic.twitter.com/6zfsvQEfos

— Euromaidan Press (@EuromaidanPress) April 20, 2023
Ukrainian servicemen accused of treason over unauthorised mission, Reuters reports. "A number of Ukrainian servicemen have been accused of treason for giving away information during an unauthorised mission that enabled Russia to attack a military airfield, Ukraine's SBU security agency said on Thursday. The SBU said in a statement that the servicemen had attempted, without coordination with the relevant state authorities, to seize a Russian plane last July after its pilot said he would defect.
During the "special operation", they revealed details about the location of Ukrainian air force personnel and aircraft that made it possible for Russia to carry out a successful missile strike on the Kanatove airfield in central Ukraine, it said. A Ukrainian commander was killed, 17 other personnel were wounded, two fighter jets were destroyed and the airstrip, buildings and equipment suffered significant damage, the SBU said in the statement posted on the Telegram messaging app.
The SBU did not say how many service personnel were involved, or identify them, but said they were accused of treason and abuse of their position."
The demining excavator can clear fields using special hammers on chains, which rotate at high speed and hit the ground. To protect the driver from mine explosions, the machine includes a shield, and the hammers hit the ground about 2 meters away from ithttps://t.co/E9Vkg6mH4v

— Euromaidan Press (@EuromaidanPress) April 20, 2023
Support
Ukraine's Commander-in-Chief and Supreme Allied Commander Europe discuss situation at front and Ukraine's military needs, Ukrainska Pravda reports. "Valerii Zaluzhnyi, Commander-in-Chief of the Armed Forces of Ukraine, had a phone conversation with Christopher Cavoli, Supreme Allied Commander Europe and Commander of the United States European Command, on the eve of the Ramstein-format meeting of the contact group. We have discussed Ukraine's priority fronts in regards to arms, equipment and ammunition. I have briefed General Cavoli on the operational situation at the contact line. […]
Defence Minister Oleksii Reznikov stated that the main priority of the Ukrainian delegation will remain air defence systems. The issue of providing Ukraine with armoured vehicles and shells for 155-calibre heavy artillery and means of radio-electronic warfare will also be raised."
Ukrainian air-defence systems require ammunition replenishment: 1,500 Russian aerial targets were destroyed in last five months, Ukrainska Pravda reports, citing Yurii Ihnat, spokesperson of the Ukrainian Air Force. "We expect a growth in supply of not only air-defence systems themselves, but ammunition for them from our partners. Because the consumption [of ammunition – ed.] is pretty significant. In spring and winter, the enemy attacked our infrastructure. If we take the Iranian kamikaze drones and missiles alone, 750 of them were destroyed by our air-defence [Russia has launched 850 cruise missiles in total over that period of time – ed.]. This is 1,500 [Russian – ed.] aerial targets. Throughout the war, 600 more units of flying machinery [jets, helicopters] and at least 1,500 more UAVs were destroyed by defence forces. 
In the result we have significant consumption of ammunition and therefore need significant replenishment. We hope that the forthcoming Ramstein meeting will bring good results. Financial Times informed that according to their data, Ukraine will plead for urgent shipments of surface-to-air missiles, which are in acute shortage, at the Ramstein-format meeting."
Minister of Defence of Ukraine reminds about modern fighter jets before Ramstein, Ukrinform reports. "Minister of Defence of Ukraine Oleksii Reznikov reminds that Ukraine's priority is to quickly create a multi-level air defence system. For this, we need modern fighter jets.
"Our top priority is to quickly build a multi-level air defence/anti-missile defence system. Patriots, IRIS-T, NASAMS, and MiG-29 are the most recent, but not the final, steps towards this goal. Given the kremlin's barbaric tactics, we need NATO-style fighter jets. We've heard "no, it's impossible" a lot. But I have seen firsthand how the impossible can become possible,"  Reznikov wrote.
As reported, Patriot air defence systems from the United States, the Netherlands, and Germany have arrived in Ukraine."
Air Force spox explains why issue of F-16 jets should be raised constantly, Ukrinform reports, citing Yuriy Ihnat, spokesperson for the Ukrainian Air Force. "[MiG and Su aircraft] provide fighter cover, work against the strikes of Shahed drones and cruise missiles, that is, where there is a large air defense or mobile fire groups, there are places where fighters work. Unfortunately, they are not as effective in the destruction of missiles and drones as we would like. F-16 would perform the tasks of destroying missiles and drones with one hundred percent efficiency.
He noted that it is extremely difficult, if not impossible, to oppose Russian aviation with MiG and Su aircraft. The issue of F-16 should be constantly raised both in the West and in our country. This is what will allow us to gain air superiority, what will allow us to counter the enemy extremely effectively, and what will allow us to win, the Air Force spokesman emphasized.
As reported, Ukraine now has four types of aircraft: Su-27 and MiG-29 fighters, Su-25 attack aircraft, and Su-24 bombers. President of Poland Andrzej Duda said that Warsaw will lobby for the provision of NATO-standard aircraft to Ukraine."
US announces $325 mln in new arms aid for Ukraine, including HIMARS ammo, Reuters reports. "US President Joe Biden's administration announced $325 million in new military aid for Ukraine on Wednesday to help its military in its war against Russia, including additional ammunition for High Mobility Artillery Rocket Systems (HIMARS), advanced missiles and anti-tank mines. […]
This security assistance package includes more ammunition for US-provided HIMARS and artillery rounds, as well as anti-armor systems, small arms, logistics support vehicles, and maintenance support essential to strengthening Ukraine's defenders on the battlefield, US Secretary of State Antony Blinken said in a statement. […]
Russia could end its war today. Until Russia does, the United States and our allies and partners will stand united with Ukraine for as long as it takes, said Blinken. In addition to the HIMARS ammunition, the package includes artillery rounds; tube-launched, optically-tracked, wire-guided (TOW) missiles; anti-tank mines; port and harbor security equipment, and over 9 million rounds of small-arms ammunition, a Statement Department spokesperson said.
The package will be funded using Presidential Drawdown Authority, or PDA, which authorizes the president to transfer articles and services from US stocks without congressional approval during an emergency."
Denmark, Netherlands to donate 14 Leopard 2 tanks to Ukraine, Reuters reports. "Denmark and the Netherlands will jointly donate 14 Leopard 2 tanks to Ukraine, the two countries said on Thursday. The Leopard 2A4 tanks, which will be bought from a third party and refurbished, are expected to be delivered in the first quarter of 2024, they said in a joint statement.
It is absolutely crucial for the hope of a peaceful and secure Europe that we do not let the Ukrainians fight the battle alone, Denmark's acting Defence Minister Troels Lund Poulsen said.
In February, Denmark, Germany and the Netherlands also announced they will pool resources to restore at least 100 old Leopard 1 tanks from industry stocks and supply them to Ukraine this year and next."
Estonia announces additional artillery shells for Ukraine as part of EU million-projectile plan, Ukrainska Pravda reports. "Estonia plans to supply Ukraine with a batch of 155 mm projectiles within the framework of the EU initiative concerning providing Ukraine with a million artillery shells as well as other armament."
Shells for Ukraine: EU plan slows down as France and Poland squabble, Ukrainska Pravda reports, citing Politico, referring to three diplomats familiar with the situation. "France and Poland squabbled on Wednesday when the country's ambassadors to the EU failed to settle a dispute over joint EU contracts to purchase ammunition for Ukraine. EU ambassadors have tried to break the impasse over how to implement a joint ammunition purchase plan for Ukraine in its fight against Russia. Although EU leaders approved a communal scheme and have even allocated 2 billion euros to finance it, some EU countries have since disagreed over how to spend the 1 billion euros set aside for joint contracts.
The main issue of the dispute is how much these contracts should be restricted to manufacturers from the EU and whether companies from countries such as the US and the UK should be included in the programme. France favours keeping the funds within the European Union, which has irked some of its EU colleagues.
According to three diplomats, at a meeting of EU representatives on Wednesday, the French ambassador to the EU accused his Polish counterpart of blaming Paris in the press for obstructing the path to reaching a final agreement. The French official, according to the diplomats, stressed that Paris is simply being pragmatic and noted that EU countries have already agreed to spend 1 billion euros on reimbursements for ammunition supplied to Ukraine. The Polish official objected, saying that France was only complicating the current negotiations.
In the end, Sweden, which holds the presidency of the EU Council, intervened in the matter, trying to find a compromise. Swedish officials proposed an updated agreement text to satisfy both sides. The compromise document limited future contracts to "economic operators established in the EU and Norway" but included a line stating that the directive should not set a precedent. 
Some diplomats felt the new text was too favourable to France's position. Others complained that it raised further questions about which companies or subcontractors should be involved in contracts. Late on Wednesday, EU officials admitted they could not reach any agreements that day.
Negotiations are likely to continue next week. This means that EU foreign ministers have yet to have a deal in hand to discuss at their meeting in Luxembourg on Monday. The joint ammunition purchase plan is part of a three-step process which EU leaders approved last month in the hopes of quickly obtaining much-needed ammunition for Ukraine. 
According to one of the diplomats, one of the critical concerns that persist is that the European defence industry may not be up to the task of delivering 1 million shells to Ukraine within 12 months."
Poland negotiates maintenance of Ukrainian Leopard tanks, Ukrainska Pravda reports. "Leopard tanks sent to Ukraine will be maintained within the Polish military-industrial complex. This was reported by Tomasz Lejman, correspondent of Polsat News and Interia, writes European Pravda. According to Lejman, the negotiations in regards to this are still underway. If they are to be successful, the official announcement will take place after the meeting of NATO defence officials in Ramstein.
Polsat News and Interia report that German Leopard tanks will be undergoing maintenance on the Polish Bumar-Łabędy defence factory in Gliwice. An appropriate memorandum should be signed after the Ramstein meeting on Friday. […]
In the end of March, Der Spiegel, with reference to its sources, reported that 18 tanks were supplied to Ukraine by Germany. The supplied Leopard 2 tanks are the new 2A6 version models. Spare parts and ammunition were supplied alongside the tanks. Almost at the same time with Leopard 2 tanks arriving in Ukraine, the soldiers of the Armed Forces finished their training on Challenger tanks in Britain. The country wants to supply 14 of such tanks to Ukraine. Overall, around 140 tanks were supplied by the West.
Poland has opened a T-64 repair centre for Ukraine. Bumar-Łabędy and Ukroboronprom [Ukrainian Defence Industry – ed.] have jointly created a technological centre that will deal with the repair of T-64 tanks, their maintenance of combat capability and restoration to full working condition."
New Developments
For years, the Ukrainian Orthodox Church of the Moscow Patriarchate promoted the "Russian world" ideology that drives Russia's war. A religious expert explains how the church in Ukraine ended up in the Kremlin's service — and what should be done about it.https://t.co/lxFXqWHihu

— Euromaidan Press (@EuromaidanPress) April 21, 2023
https://twitter.com/EuromaidanPress/status/1649169927608082440
Assessment 
On the war. 
The Institute for the Study of War has made the following assessment as of  April 20, 2022:
Russian forces continued limited ground attacks in the Kreminna area on April 20. The Ukrainian General Staff reported that Russian forces attempted to improve their tactical positions in the Kreminna area and conducted unsuccessful offensive operations near the southern outskirts of Kreminna and near Hryhorivka (11km south of Kreminna). Ukrainian sources reported battles near Bilohorivka (12km south of Kreminna) and that Chechen Akhmat Special Forces are operating near the settlement. A prominent Russian milblogger claimed that previous Russian claims that Ukrainian forces withdrew from Spirne (13 km south of Bilohorivka) were premature and that Ukrainian forces still control the settlement as of April 20. Another Russian milblogger claimed that Russian forces conducted unsuccessful ground attacks in the direction of Torske (15 km west of Kreminna), Terny (17 km northwest of Kreminna), and Nevske (17 km northwest of Kreminna).
Russian sources claimed that Ukrainian forces continued reconnaissance activity northwest of Svatove. The Russian Ministry of Defense (MoD) claimed that Russian forces repelled three Ukrainian sabotage and reconnaissance groups near Tymikva, Kharkiv Oblast (32km northwest of Svatove) and Andriivka, Luhansk Oblast (15 west of Svatove).
Russian forces continued assault operations in Bakhmut and its vicinity on April 20. The Ukrainian General Staff reported that Ukrainian forces repelled 22 Russian attacks in the Bakhmut direction – specifically in Bakhmut city and in the area of Khromove (2km northwest of Bakhmut). A Kremlin-affiliated milblogger claimed that Russian conventional forces attempted to advance towards Stupochky (about 14km southwest of Bakhmut) while Wagner Group forces continued to attack Ukrainian forces from central, southern, and northern parts of Bakhmut. A Russian source claimed that Wagner forces are changing the direction of the main attack against Bakhmut and are intensifying efforts to advance towards the O0506 highway that runs through Khromove into Bakhmut. A milblogger claimed that Wagner forces attacked near Khromove and were able to advance to an unspecified highway – likely the O0506 – that Ukrainian forces use as a ground line of communication (GLOC) into Bakhmut. Geolocated footage posted on April 20 showed Ukrainian forces shelling Russian positions northwest of Khromove. A Wagner-affiliated source published a video purportedly showing Wagner tank crews firing at Ukrainian forces in central Bakhmut using T-90 tanks. Another Russian milblogger claimed that Wagner forces are confidently holding positions in the area of the Bakhmut administration building and the central square forces while Ukrainians hold a relatively small portion of the urban area.
Russian forces continued unsuccessful offensive operations on the Avdiivka-Donetsk City frontline on April 20. The Ukrainian General Staff reported that Russian forces conducted unsuccessful offensive operations near Avdiivka; within 5km northeast of Avdiivka in Kamianka; and within 15km west of Avdiivka in Pervomaiske, Vodyane, and Nevelske. The Ukrainian General Staff also reported that Ukrainian forces repelled numerous Russian attacks on Marinka and Pobieda, 23km and 27km southwest of Donetsk City, respectively. A Kremlin-affiliated milblogger claimed that Russian forces attempted to encircle Ukrainian forces in Marinka and unsuccessfully resumed ground attacks near Nevelske and Pervomaiske. The milblogger claimed that a Russian assault on Sieverne from the direction of Vodyane forced Ukrainian forces to retreat from unspecified positions. Another Russian source claimed that Russian forces continued to launch assaults on Marinka and Nevelske, and that fighting is ongoing in the vicinity of Novobakhmutivka (about 15km northwest of Avdiivka). A Russian milblogger claimed that Ukrainian forces attempted to counterattack in the area of Krasnohorivka (about 9km north of Avdiivka), where fighting is currently ongoing. […]
Russian forces continued to attack Ukrainian positions southwest of Donetsk City on April 20 but did not make any territorial gains. The Ukrainian General Staff reported that Ukrainian forces repelled Russian assaults on Prechystivka and Vuhledar within 60km southwest of Donetsk City. A Kremlin-affiliated milblogger claimed that Russian forces conducted a ground attack in the direction of Prechystivka, and Ukrainian forces conducted a reconnaissance-in-force near Pavlivka (about 48km southwest of Donetsk City).
The Kremlin demoted the commander of the Russian Pacific Fleet on April 19 amid an ongoing surprise readiness check that began on April 14. Russian Deputy Prime Minister and Presidential Envoy to the Far Eastern Federal District Yury Trutnev announced on April 19 the "appointment" of Russian Pacific Fleet Commander Admiral Sergei Avakyants to the headquarters overseeing Russia's military sports training and patriotic education centers, a clear demotion for one of the seniormost commanding officers in the Russian Navy. It is unclear why a Kremlin official initially announced Avakyants' reappointment instead of the Ministry of Defense. […] Russian Defense Minister Sergei Shoigu announced a surprise readiness check of the Pacific Fleet on April 14 that is still ongoing as of April 20. Russian state wire TASS reported on April 20 that two sources close to the Russian Pacific Fleet's management stated that current Commander of the Russian Baltic Fleet Admiral Viktor Liina may take command of the Pacific Fleet and that Deputy Chief of the General Staff Vice Admiral Vladimir Vorobyov may command the Baltic Fleet.[5]
The Kremlin clearly demoted Avakyants from a senior operational commander to a military bureaucrat overseeing programmatic work, despite Russian officials' framing of the shift as a new appointment. Avakyants' demotion may be connected to the poor performance of Pacific Fleet naval infantry (such as the 155th and 40th naval infantry brigades) around Vuhledar since early 2023. Avakyants alternatively may have failed in some manner to conduct large-scale drills in the Pacific. Former Russian officer and ardent nationalist Igor Girkin linked Avakyants' dismissal to the Pacific Fleet drills and sarcastically questioned if someone could conduct drills within the Russian MoD, likely advocating for the dismissal of Russian Defense Minister Sergei Shoigu. Another milblogger welcomed Avakyants' dismissal, stating that Russia needs to appoint younger commanders like Ukrainian intelligence chief Kyrylo Budanov.
A prominent Russian milblogger criticized the Russian military's ineffective use of Russian airborne (VDV), naval infantry, and Spetsnaz forces in Ukraine. The milblogger argued on April 20 that Russian forces are relying on VDV, Spetsnaz, and naval infantry units to conduct ground attacks in Ukraine due to a lack of high-quality infantry, despite VDV and Spetsnaz units not initially being prepared for conducting combined arms operations. The milblogger argued that VDV, Spetsnaz, and naval infantry units need to carry out their intended purposes and not serve as the Russian military's elite infantry and assault groups in Ukraine. The milblogger particularly criticized Spetsnaz units for not conducting enough sabotage and targeting operations and VDV units for being too large and requiring expensive specialized equipment that is not useful in the current tactical realities in Ukraine. The milblogger asserted that the Russian military will not be able to normalize command, management, and planning for major operations until it establishes clear roles for VDV, naval infantry, and Spetsnaz units. The milblogger additionally admitted that the Russian military has in practice formed light infantry units without transports for some time, despite the Russian military's doctrinal focus on "motorized rifle" (mechanized infantry) units. ISW previously assessed that Russia's most elite forces – VDV and Spetsnaz – are diluting their combat effectiveness and doctrinal specialties with poorly trained mobilized personnel and volunteers due to high casualties sustained in Ukraine. The milblogger's criticism of the use of these elite forces further suggests that these units' reputation as Russia's elite fighting force in Ukraine is questionable.
The Russian State Duma adopted a law on April 20 that grants members of the Donetsk and Luhansk People's (DNR and LNR) Militias veterans' status and could apply to select PMC or other irregular personnel but fails to explicitly address the status of PMC groups as legal entities. The law (adopted in its third reading) provides veteran status to members of the DNR and LNR Militias who have fought since Russia first invaded Ukraine in 2014, as well as to personnel who served in unspecified organizations which "contribute to the tasks of the Russian Armed Forces" in Ukraine. This framing will likely allow the Kremlin to provide veteran status to select PMC personnel without recognizing the legality of PMCs like the Wagner Group, for which Wagner Group financier Yevgeny Prigozhin has long campaigned. Prigozhin focused on the lack of recognition of the Wagner Group, though this law would have been an unusual way for the Kremlin to legally recognize Wagner. Prigozhin griped that unnamed Russian entities seek to "forever remove [Wagner] from the history of Russia." Prigozhin claimed that he is happy for the DNR and LNR militiamen and that he is okay not receiving recognition until authorities eventually punish the individuals who stole Wagner's recognition.
Russian President Vladimir Putin instructed Russian Deputy Prime Minister Marat Khusnullin to resolve issues at the Gukovo checkpoint on the Ukrainian-Russian border during a meeting with government officials on April 19. Putin claimed that he personally traveled through the Gukovo checkpoint, which connects Rostov and Luhansk oblasts, when returning from his recent trip to occupied Luhansk and Kherson oblasts. Putin stated that poor road conditions at the checkpoint caused a civilian backup and forced trucks delivering perishable goods to wait for hours before passing through, causing shipment delays and price increases in occupied territories. Putin added that some trucks must bypass the checkpoint entirely as the roads are too narrow and practically nonexistent. Putin called on Russian special services and law enforcement to increase the number of inspection complexes and employees at checkpoints and ordered Russian officials to improve roads around checkpoints and establish routes from Rostov-on-Don to Luhansk Oblast.
Putin's orders indicate that Russia intends to maintain customs checkpoints with the illegally annexed eastern regions out of security concerns. ISW previously reported that Russian milbloggers complained that Russian checkpoints at the international customs line significantly slowed down Russian deliveries of ammunition to the frontlines in Donetsk Oblast. The Kremlin's failure to implement meaningful integration policies and secure occupied Ukraine is likely undermining Russia's ability to provision forces on the front line, as ISW has previously assessed. Putin is likely attempting to remedy the delays by expanding staffing to speed up inspections at the checkpoints and is not entertaining the possibility of removing these obstructions. Russia previously intensified security measures and inspections around the Kerch Strait Bridge, the Kremlin likely continues to use these checkpoints for similar security reasons. The Kremlin may also use these checkpoints to prevent the mass movement of men from occupied Ukraine escaping forced mobilization, to stop Russian mobilized personnel from fleeing to Russia, and to maintain Russian filtration measures. The existence of these checkpoints further highlights that Russian officials do not view the residents of occupied Ukraine as Russian nationals and are governing as the occupying power they are, despite ongoing claims the illegally annexed territories are part of Russia.[…]
Key Takeaways
The Kremlin demoted the commander of the Russian Pacific Fleet Sergei Avakyants amid an ongoing surprise readiness check that began on April 14. It is unclear if the Kremlin demoted Avakyants due to his poor performance in the ongoing rills or for other reasons.
A prominent Russian milblogger criticized the Russian military's use of Russian airborne (VDV), naval infantry, and Spetsnaz forces as frontline infantry in Ukraine.
The Russian State Duma adopted a law granting members of the Donetsk and Luhansk People's Militias veterans' status which could possibly cover PMC personnel but does not formally recognize PMC formations.
Russian President Vladimir Putin instructed Russian Deputy Prime Minister Marat Khusnullin to resolve issues at the Gukovo checkpoint during a meeting with government officials, indicating continued Russian challenges integrating illegally annexed Ukrainian territory.
Russian forces continued limited ground attacks in the Kreminna area.
Russian sources claimed that Ukrainian forces continued reconnaissance activity northwest of Svatove.
Russian forces continued ground attacks in and around Bakhmut, along the Avdiivka-Donetsk frontline, and in western Donetsk Oblast.
Russian forces continued defensive preparations in southern Ukraine out of concern for a possible Ukrainian counteroffensive.
The Kremlin may be eliminating or deprioritizing formal force structures controlled by the Russian Ministry of Defense (MoD) and permitting private military companies (PMCs) to absorb their soldiers.
Russian occupation authorities continue to target Ukrainian youth to consolidate societal control of occupied territories." (unquote)
Under the blow of the Armed Forces of Ukraine and sanctions. Five main conclusions from the report on how the Russian army will continue to fight after huge losses in equipment, New Voice reports. In more than a year of war, Russia has lost between 10,000 and almost 23,000 units of military equipment, and five critically scarce components of imports are slowing down the work of its military-industrial complex. However, the Russian Federation has significant Soviet stockpiles of equipment, so now it is trying to impose a war of attrition on Ukraine and the world. This is discussed in a new report from the Washington-based Center for Strategic and International Studies (CSIS).
The authors of the report analyse in detail the losses of Russian equipment and the impact of Western sanctions on the Russian military-industrial complex. They state that these factors forced Moscow to choose a slower campaign in an attempt to deplete Ukraine's military potential. "Russia has lost a significant amount of military equipment, which may limit its ability to conduct large-scale ground offensives. This may be one of the reasons why the Russian authorities and Vladimir Putin in particular present this war as a long-term undertaking [supposedly] necessary to ensure the security of Russia itself," write CSIS analysts. According to them, now the key Russian strategy in Ukraine seems to be the Kremlin's attempt to impose on Ukraine a prolonged struggle that is slowly depleting Ukraine's weapons stockpiles, and at the same time, Western efforts in helping Kyiv.
NV compiled the most important facts and findings from the CSIS report.
Russia lost from 10 thousand to 22.5 thousand pieces of equipment during the big invasion. Although the Russian Ministry of Defense has classified all information about the military equipment lost in the war against Ukraine, CSIS points to several estimates that give an idea of the scale of these losses of the Russian army. […]
We are talking about the generalized losses of various weapons and equipment systems, including military trucks, tanks and other heavy equipment, artillery systems, drones, MLRS, aircraft, ships, etc.
Russia loses about 150 tanks every month: its industry does not compensate for this. The need of the Russian army for modern main battle tanks (MBTs) exceeds the current production rates in the Russian Federation, the authors of the report state. They cite estimates that the Russian tank plant Uralvagonzavod can only produce 20 tanks per month. While Russia, according to Oryx, loses at least 148 tanks every month. Recently, Deputy Chairman of the Russian Security Council Dmitry Medvedev said that the Russian military-industrial complex would allegedly produce 1,500 modern MBTs in 2023, but this goal is considered by independent military experts on Russia to be completely impossible. At the same time, some of them note that Moscow can actively modernize its Soviet-era tanks, equipping them with new communication systems, electronics and other components.
Against the background of tangible losses of modern tanks, the old tank reserves of the Russian Federation remain a threat. According to various estimates, in general, Moscow lost from 1845 to 3511 tanks during the year of the big war (at the time of this report), but it is believed that it still has about 5000 old tanks in service.
CSIS analysts emphasize that Moscow has suffered especially tangible losses of its modern T-72B3 tanks (a model that was put into service in 2013 as an upgraded version of the T-72B tanks). This eventually forced Russia to put into service older tanks to replace them, made several years, and sometimes several decades before the start of the Russian military modernization program in 2011, the authors of the report recalls. They also note that the rare appearance of more advanced Russian equipment on the front (such as the "third generation" T-90A and T-90M tanks or the upgraded T-80BVM) may indicate that, so far, Russia has deliberately kept them from being used on the battlefield.
Experts also cite earlier data on how many relatively modern tanks the Russian Federation had before the big invasion of Ukraine (in particular, in 2020 it was about 700 T-90 and T-80 tanks and up to 2000 different variations of the T-72 tank). While Russia has lost a significant proportion of its pre-war tank fleet – up to 40% by some estimates – it likely retains a significant portion of its post-2011 retrofit tank stock, as well as a large number of older Cold War tanks. Moscow also has the defence industry's capacity to repair and upgrade such equipment, CSIS warns.
According to some reports, the Russian military-industrial complex can restore and upgrade about 90 old MBTs (main battle tanks) per month, the authors of the report warn, even despite the sanctions. Thus, for some time, the Kremlin will probably be able to maintain the ability to supply tanks for its armed forces fighting in Ukraine, CSIS experts predict. However, in the long term, Allied export restrictions on certain key Western parts used in modern tank production could significantly impair the capabilities of the Russian defence industry.
How sanctions work: five components, the lack of which is most noticeable for the Russian army. US intelligence has calculated that since February 2022, sanctions and export restrictions have resulted in Russia's inability to replace more than 6,000 pieces of lost military equipment, forcing production to halt at some key defence industrial facilities and causing shortages of critical components for tanks, aircraft, missiles, UAVs, assets EW, etc. The authors of the report identify five technologies among them, the lack of which is especially sensitive for the Russian military-industrial complex. Basically, these are dual-purpose components:
Optical systems: they are critical for the production of modern tanks in Russia. Before the war, the Russian military imported a critical mass of advanced optical systems from France, which has now blocked such supplies to Russian manufacturers. In particular, the authors of the report point out that Russia is now equipping some of its tanks (T-80BVM and T-72B3M) with less sophisticated and effective sights than should be used in such vehicles. The Russian tank fleet is likely to become even less perfect as the war continues, CSIS experts state.
Bearings: essential for the production of any type of moving vehicle, including military vehicles. Most high-quality bearings Russia previously imported from Western countries: up to 55% came from Europe and North America. Now, according to the US government, Russia is already facing a shortage of this key component that affects the production of all vehicles: from tanks to aircraft and even submarines. The shortage is exacerbated by the civilian industry's need for bearings as Russia's railroad-dependent economy suffers direct losses as trains become more difficult to manufacture and repair. The authors of the report believe that the Russian Federation may increase the import of bearings from China or Southeast Asian countries, such as Malaysia, but their quality will be much lower, which may also affect the reliability of equipment.
Machine Tools: Industrial machines are critical to the production of many types of weapons and military equipment, including aircraft. Even before the invasion of Ukraine in 2022, the Russian machine tool industry had long been in crisis, analysts remind. According to rough estimates, the Russian industry was 70–80% dependent on imported machine tool products, while the defence sector accounted for 85% of all RF needs for precision machine tools. China, the world's largest producer of these goods, also remains dependent on Western imports to create the most technologically advanced machine tools that the Russian defence market lacks. Russia is facing an acute shortage of sophisticated machine tools in the most advanced categories, experts say.
Engines, especially for aircraft. The authors of the report remind us that Russia's problems with the production of high-quality engines were noticeable even before it invaded Ukraine in 2022. Thus, the new Russian Su-57 fighters are likely to still rely on older fourth-generation engines (including the Saturn AL41-F1 engines that were used in previous Su-35S aircraft). Even before 2014, the aviation industry of the Russian Federation relied heavily on the engines of the Ukrainian company Motor Sich (although even after the big invasion, as the investigation found out, its leader Vyacheslav Bgosulaev tried to circumvent the ban by supplying engines for Russian helicopters). Not only the military but also the civil Russian aviation industry is suffering from a shortage of aircraft engines. And Chinese engine maker Weichai has stopped supplying engines for use in Russian tractors because their manufacturer KamAZ was sanctioned by the West as a supplier of vehicles for the Russian army.
Microchips: necessary in the production of a wide variety of weapons systems, communications and electronic warfare systems. However, domestic chip production in Russia lags behind Western industrial standards for many years, which markedly increases its dependence on Western-made microchips, the supply of which is currently limited. For example, according to the British Royal United Services Institute (RUSI), Orlan-10 UAVs contain American-made microcircuits manufactured by Texas Instruments and Honeywell. Western-made chips have also been found in Russian Lancet UAVs, Azart radio stations, and many other weapons. In addition, a study by Conflict Armament Research has shown that satellite navigation units in several Russian missiles, such as 3M14, 9M544, Kh-59 and Kh-101, contain several foreign-made microchips.
At the same time, the volume of production of microprocessors in Russia itself is small, and besides, they are inferior in quality to Western models. The Russian Federation is not able to solve this problem quickly […]. In the case of microchip shipments from China, in some cases, a complete redesign of electronic equipment and restructuring of production chains is required, which can take years to complete. In addition, Chinese microchips are also often inferior to leading Western microchip designs. Today, Russia needs 30,000 base-level microchip boards per month, while only 8,000 such boards can be manufactured within this period within the Russian Federation. […]
The pressure on the Russian military-industrial complex, forcing Moscow to turn to less reliable suppliers, more expensive supply routes, and lower quality imports, is likely to slow down the speed and quality of Russian defence production, CSIS analysts emphasize. They also believe that so far Moscow's efforts to import substitution through state support remain mostly unsuccessful. "Ultimately, this affects Russia's ability to produce, maintain and deliver advanced weapons and technology to the battlefield in Ukraine. Therefore, while the quality of military equipment used by the Ukrainian army continues to improve thanks to the help of the West, the quality of Russian weapons continues to degrade, the authors of the report added.
The risk of a war of attrition: how the Armed Forces of Ukraine can compensate for the quantitative advantages of the Russian army. Despite losses in equipment, Russia's military potential still far exceeds Ukraine's potential in many respects, CSIS analysts remind. They emphasize such a quantitative advantage to draw the attention of Western countries to the risk of a war of attrition, which the Russian Federation now prefers – waiting until Ukraine is left without enough weapons.
Analysts emphasize that according to rough estimates as of February 2023 Russia has 13-15 times more aircraft, 7-8 times more tanks and 4 times more armoured fighting vehicles than the Armed Forces of Ukraine. The Russian Navy is 12-16 times bigger than the Ukrainian.
Such quantitative advantages could allow Moscow to wage a gruelling war this year despite sanctions, the report says. Therefore, it is crucial that Ukraine can compensate for the quantitative advantage of Russia with the technologically best examples of Western weapons, the authors of the report urged. They note that further the pace and quality of Russian military operations will depend on the ability of the Ukrainian military to use systems capable of countering Russian tactics – in particular those provided by the West. In other words, they explain, the Russian army is still able to put the modernized T-62 tank (first introduced in the early 1960s) on the front lines, even if this vehicle does not have sophisticated optics or modern weapons. However, the effectiveness of such systems will be significantly offset by Ukraine's further access to more advanced Western technologies: from anti-tank weapons such as Javelin or NLAW to high-precision artillery.
That is exactly the point in the second year of the war: the Russian military can rely on mass and keep 'feeding' [their army] with older or less modern technologies – for as long as they think they can simply wait out supplies of Western weapons and systems to Ukraine, summarize the authors of the CSIS report."
Consequences and what to do?
Hans Petter Midttun: A meeting of the Ukraine Defence Contact Group will be held at the Ramstein Air Force Base (Germany) today. It is worth reminding the West of the options available.
From the onset of the war, the US and Europe had three alternative courses of action.
Do nothing. NATO – as an Alliance, not the individual countries – decided on a cause of action that comes very close to doing nothing from the very onset. During the first eight years of the war, the Alliance focused on reform. Practical support was provided by the Multinational Joint Commission (MJC) under US leadership. The MJC was established as a coalition of the willing with the knowledge that it could do what NATO could not: Provide practical support to Ukraine.
NATO has upheld its initial strategy. After the full-scale invasion started on 24 February 2022, it decided to provide non-military support only.
When discussing further arms supplies today, it's ironic to realise that the West has one diplomatic initiative that is more likely to bring us closer to peace than any number of weapons supplied to Ukraine. NATO is the key (as discussed later).
Do something. During the first eight years, the MJC did something. Still, the West did not help rebuild Ukrainian deterrence – its Armed Forces – and did not provide lethal military support at any meaningful scale until weeks before the full-scale invasion.
In my opinion, the US and Europe are still doing "something". While the military, humanitarian and financial support are unprecedented, it is still not setting up Ukraine to defeat and evict Russian forces from its territory. It is being denied the weapon systems and ammunition it needs to succeed on the battlefield.
In the meantime, the West is accepting all the consequential costs of the most serious conflict since World War 2.
By doing something – and not what is needed – the West has accepted a strategy that undermines NATO and weakens the USA. A strategy that fails to stop the fallout of the "tsunami of ripple effects", including a potential change in the political landscape in Europe. A strategy that fails to defend our shared values and principles. Fails to alleviate Ukrainian suffering and the destruction of Ukraine. Fails to stop the global repercussions of the war. Fails to stop the war. A strategy that, not least, fails to respond resolutely to the Hybrid War Russia is waging against the West.
Do what is needed. In my opinion, the war ends the moment NATO decides to act in a manner that fundamentally changes the strategic situation to its disfavour. The West has three alternatives.
Firstly, it needs to provide Ukraine with all the tools it needs – both in quality and quantity – to enable it to re-establish control over its internationally recognised borders (most costly). Secondly, NATO should act according to its late strategic concept and intervene militarily. Facing 31 plus 1 would force Russia to step back (second most costly). Thirdly, I believe that a decision to accept Ukraine's NATO membership today would end the war tomorrow. If Russia decides to uphold the war after Ukrainian accession to NATO, it would trigger Article 5 and collective defence.
Despite its bluster and belligerent language, Russia has for more than nine years been desperately trying to avoid engaging the Alliance in war. After having lost a greater part of its conventional forces in Ukraine, a fundamental change in the military balance – Ukraine becoming a NATO member – would force Russia to withdraw.
The quickest possible accession of Ukraine into NATO could achieve peace at no cost.
Some would argue that some (or all) of the options would "trigger World War 3 and a nuclear confrontation". I have previously argued why they are mistaken. On the contrary, a NATO intervention in Ukraine would prevent a nuclear disaster.
As repeatedly stressed: Russia is a terrorist state without morale bearing. It is, however, not stupid.
Tags: Russian invasion