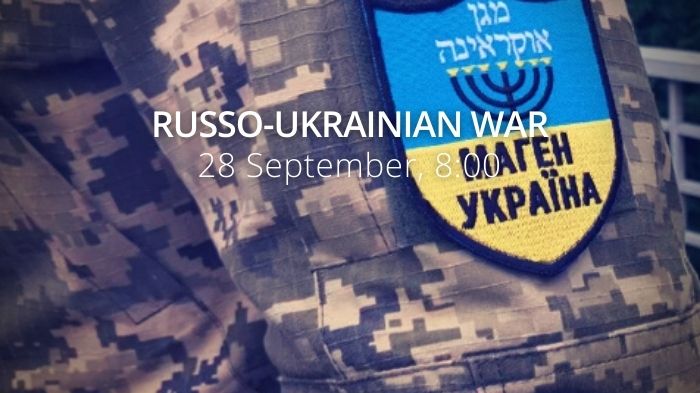 Daily overview — Summary report, September 28
A map of the approximate situation on the ground in Ukraine as of 00:00 UTC 28/09/22. pic.twitter.com/vGAvAiBE2d

— War Mapper (@War_Mapper) September 28, 2022
The General Staff's operational update regarding the Russian invasion as of 06.00 am, September XX, 2022 is in the dropdown menu below.
Military Updates
US will have to get "fully involved" if Russia goes nuclear – Former Commander Army Europe
Reportedly, Ukrainian forces have reached Ridkodub village, 10 km further east of the previously confirmed liberated areas of Kharkiv Oblast—circulating videos& Russian sources

If true, Russian troops in Lyman can be encircled or forced to retreat but Ukraine doesn't comment yet pic.twitter.com/b88wNoQKEe

— Euromaidan Press (@EuromaidanPress) September 27, 2022
Ukrainian forces have regained Kupiansk-Vuzlovyi, a village & railway 5km south of earlier liberated Kupiansk, Oblast head confirmed

This means Ukrainian troops expanded foothold on the left bank of the Oskil river in Kharkiv Oblast advancing further east https://t.co/5LRpFwBcKm pic.twitter.com/77mF2I6IhU

— Euromaidan Press (@EuromaidanPress) September 27, 2022
Regional updates
According to British Defence Intelligence, (last 48 hours): 
Losses of the Russian army 
As of 28 September, the approximate losses of weapons and military equipment of the Russian Armed Forces from the beginning of the war to the present day:
⚰️russia's combat losses in Ukraine as of September 28

▪ 58150 killed soldiers (+400)
▪ 4889 APV (+8)
▪ 2312 tanks (+6)
▪ 1381 artillery systems (+3)
▪ 262 aircraft (+1) and 224 helicopters
▪ 15 boats and cutters#StopRussia #StandWithUkraine️ pic.twitter.com/XKMKbxR7YN

— VoxUkraine (@voxukraine) September 28, 2022
Humanitarian 
28,000 Hasidic Jews celebrated RoshHashanah in Uman at Rabbi Nachman grave. 
https://twitter.com/EuromaidanPress/status/1574892079355920384
Environmental 
Danish & Polish leaders opened the pipeline to transport gas from Norway to Poland

The flows from Norway along with LNG will end Poland's dependence on Russian energy. "The era of Russian domination in the field of gas is coming to an end," Polish PM said https://t.co/zFxi2z58fO pic.twitter.com/7nP0XjJwZw

— Euromaidan Press (@EuromaidanPress) September 27, 2022
Legal 
In 'gratitude' for the destruction of their city, #Moscow claims #Mariupol residents 'vote' to join #Russia and mobilizes them to fight #Ukraine #StandWithUkraine #RussiaWarCrimes #StopRussia #ShamReferendumhttps://t.co/wUpS0jjCGz pic.twitter.com/CyidTORq6I

— Halya Coynash (@halyapuff) September 27, 2022
Kherson region: 96.75% allegedly for joining,
Zaporizhzhia  – 97.81%,
Luhansk ("LPR" ) – 97.93%,
Donetsk ("DPR") – 98.69%.
Support 
Western support for Ukraine is slow and half-hearted. By staying idle in the fear of a hypothetical catastrophe while accepting a multitude of real catastrophes, NATO is already paying a heavy price, says military analyst Hans Petter Midttunhttps://t.co/s3ExkzsYWI

— Euromaidan Press (@EuromaidanPress) September 27, 2022
https://twitter.com/EuromaidanPress/status/1574713459807240192
New Developments 
Int'l companies have at least 700,000 employees, $141 bn in assets in Russia, acc to analysis by B4Ukraine coalition

B4Ukraine is urging multinationals to leave Russia to avoid becoming complicit in Russia's devastating war, war crimes, and atrocities https://t.co/dTBLpcl7W7 pic.twitter.com/VBRWO3wR1M

— Euromaidan Press (@EuromaidanPress) September 27, 2022
 The US is ready to provide asylum to the Russians fleeing the mobilization.
Turkish Airlines has canceled all flights to Minsk, Sochi, Rostov, and Yekaterinburg until the end of the year. Passengers will be able to choose another route or get a refund. The reasons for the cancellation of flights are not reported.
Bulgaria asks its citizens to leave Russia.
The US announced that they would not impose an entry ban on Russians fleeing the mobilization.
Zimbabwe supported the Russian Federation and its invasion of Ukraine.
The number of requests to surrender on the hotline of the "I Want to Live" project from newly mobilized Russians has increased, – said Andrey Yusov, a spokesman for the Defense Ministry.
The EU border control agency Frontex recorded an increase in the number of Russians crossing the EU border: almost 66,000 Russian citizens entered in the past week, 30% more compared to the previous week. Most of them arrived in Finland and Estonia.
Kazakhstan will extradite Russian citizens put on the wanted list. 98,000 Russians have entered Kazakhstan since September 21, according to the Ministry of Internal Affairs of Kazakhstan.
98000 Russians have crossed into Kazakhstan in less than a week after Putin's call for mobilization

According to Kazakh officials, 64000 Russians left Kazakhstan during the same period. They didn't clarify how many to Russia & how many to third countries https://t.co/OoHQU2E86e

— Euromaidan Press (@EuromaidanPress) September 27, 2022
Assessment 
On the war. 
The Institute for the Study of War has made the following assessment as of XX September, 2022:
Tags: Russian invasion