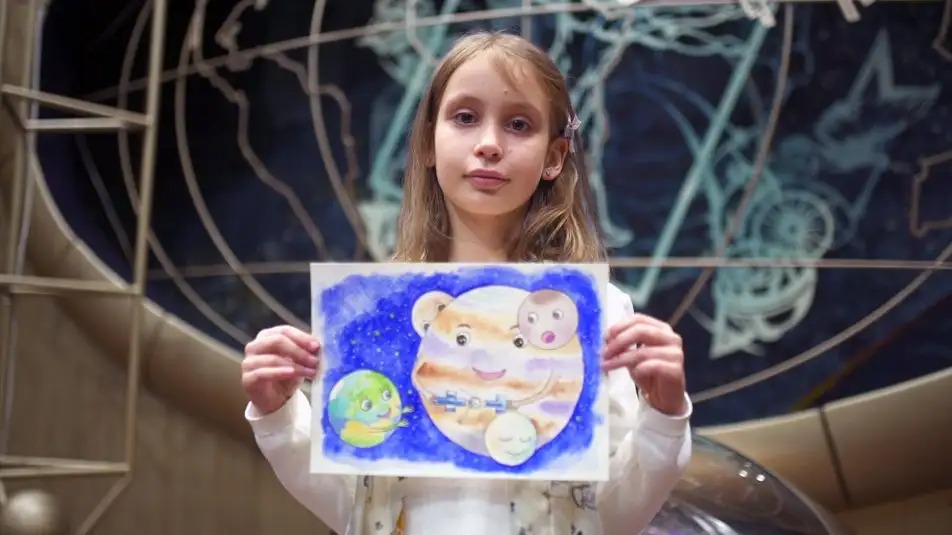 Yaryna Zakaliuzhna with her artwork. Credit: ESA 
The European Space Agency (ESA) is scheduled to launch its Jupiter Icy Moons Explorer, better known as JUICE, into space from Europe's Spaceport in French Guiana to begin its eight-year mission today. On the Ariane 5 rocket, ESA has featured artwork by a Ukrainian girl from Zhytomyr, Yaryna Zakaliuzhna, Sky News reports.
ESA's Jupiter Icy Moons Explorer, Juice, will make detailed observations of the giant gas planet and its three large ocean-bearing moons – Ganymede, Callisto and Europa – with a suite of remote sensing, geophysical and in situ instruments, according to ESA.
In 2021, ESA launched a competition for children to submit drawings that could end up on the rocket. After sifting through 2,600 entries sent by over 60 countries, eight-year-old Yaryna Zakaliuzhna from Ukraine's Zhytomyr won the contest.
Read also:
Tags: ESA, Jupiter, space exploration