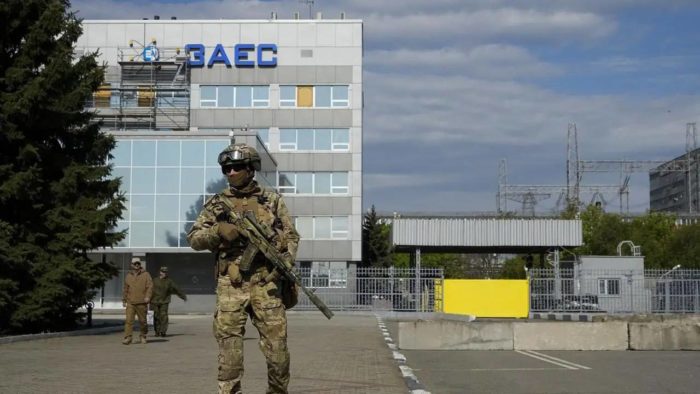 Russian occupiers prepping to hold hostage ZNPP's personnel, in a face of an impending Ukrainian counteroffensive, an illustrative image/ Source: Telegram channel, Tsaplienko 
In the face of an impending Ukrainian counteroffensive, the Russian occupiers are bringing food and water supplies to Zaporizhzhia NPP (ZNPP) and preparing to forcibly keep the nuclear plant's staff, as reported by Telegram channels of State Enterprise National Nuclear Energy Generating Company "Energoatom" (SE NNEGC "Energoatom") and Enerhodar.
According to channel's reports, there is currently "a huge shortage of professional nuclear engineers required to operate the temporarily occupied ZNPP."
Additionally, there is information about an upcoming Ukrainian counteroffensive. Thus, the Russian occupiers are preparing for a lengthy hostage holding of ZNPP's employees.
It is noted that the Russian invaders have already supplied the plant with plenty of food and water. According to Energoatom, there is a high probability that Russian forces stationed at the facility may prevent the plant's employees to leave home at the end of one of the upcoming work shifts. The Russian occupiers are preparing to keep the ZNPP's personnel at the facility forcibly.
Energoatom noted that the Russian occupiers had previously applied similar tactics. At the beginning of the full-scale invasion, the occupiers blocked personnel on a shift at the Chornobyl NPP. The occupiers kept the nuclear plant's staff hostage for nearly a month until the end of the occupation.
Read also:
Ukraine made secret, unsuccessful attempt to retake Zaporizhzhia NPP – The Times
Zaporizhzhia NPP talks stalled – Energy Minister Halushchenko
Tags: Russia energy blackmail, Russian occupation, Zaporizhzhia NPP