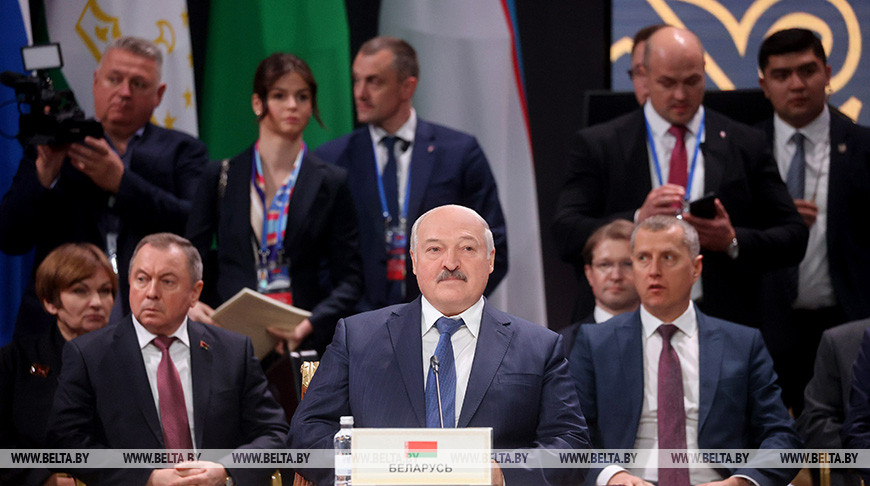 Belarus ruler Aliaksandr Lukashenka (in the center) at the session of the CIS Heads of State Council in Astana, Kazakhstan, on 14 October 2022. Photo: BelTA
 
Editor's Note
The US-based think tank Institute for the Study of War
says
Belarus ruler Aliaksandr Lukashenka, also known in Russian as Alexander Lukashenko, keeps making high-profile statements to present de-facto Russian-occupied Belarus as a sovereign state.
Belarusian President Alexander Lukashenko continues to use high-profile public statements to portray Belarus as a sovereign state despite its current de-facto occupation by Russian forces. Lukashenko reiterated boilerplate rhetoric about how he is Russian President Vladimir Putin's equal partner in defense of Russia and Belarus by explicitly painting Belarus as the target of a Western hybrid war – a narrative Lukashenko has promoted since 2020.
Lukashenko stated that he and Putin mutually agreed to deploy Russian nuclear weapons in Belarus to protect Belarus' "sovereignty and independence."
Lukashenko also stated that he and Putin mutually decided to partially deploy elements of the Union State's Regional Grouping of Troops (RGV) to an unspecified area.
Lukashenko stated that nobody should worry that Russia "captured something" in Belarus and stated the Russian forces training in Belarus under Belarusian officers are subordinated to Belarusian forces'.
Lukashenko likely seeks to use the narrative that Belarus is a fully sovereign state and Russia's equal partner in the Union State so that he can use informational leverage to request that Russian forces leave Belarus after Russia's invasion of Ukraine concludes.
Lukashenko also stated that he supports peace negotiations "as soon as possible" and offered to help mediate negotiations.
Kremlin spokesperson Dmitry Peskov promptly rejected Lukashenko's suggestion of a ceasefire and indicated that the Kremlin is not interested in serious negotiations.
Russian Security Council Deputy Chairman Dmitry Medvedev leveraged comments about sending peacekeeping forces to Ukraine to continue information operations that portray the West as escalatory.
Editor's Note
Adviser to Ukraine President's Office Mykhailo Podoliak also made a remark regarding Lukashenka's ceasefire suggestion:
https://twitter.com/Podoliak_M/status/1641789032953782272
Read also: