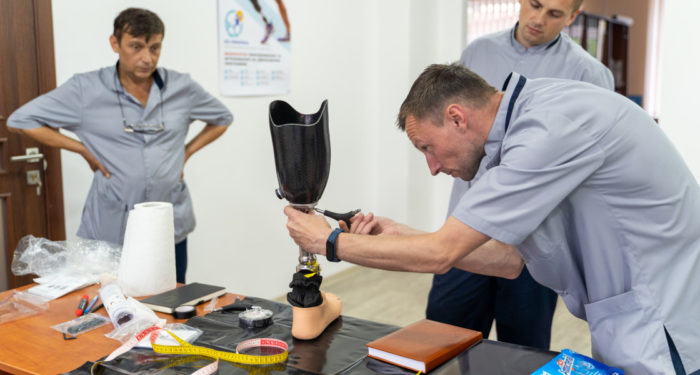 Image from the course 
In response to the growing number of amputees in Ukraine due to Russia's war, a comprehensive online educational platform, Baza Znan: Protez Hub, has been created to provide resources for healthcare professionals involved in the rehabilitation process. This initiative is the result of a collaboration between Protez Hub, US-based NGO Prosthetika, and the "Saving Lives" initiative by Metinvest.
Antonina Kumka, President of Protez Hub, explained the motivation behind the platform: "We needed to create a comprehensive resource for Ukrainians in Ukrainian based on best practices and with a clear flow. This is how the idea of Baza Znan: Protez Hub was born. It came to fruition thanks to the support from 'Saving Lives' initiative by Metinvest." The platform features dozens of lectures in Ukrainian, delivered by experienced local specialists who have attended webinars and implemented what they have learned, now sharing their knowledge with others.
Topics cover a wide range of subjects, from preparing a stump for a prosthesis to managing phantom pain and understanding different prosthetic feet. Five online courses are available not only for specialists but also to the general public, under a separate registration system.
Yuriy Ryzhenkov, CEO of Metinvest Group, highlighted the role of the educational platform in helping victims return to normal lives:
"After all, this knowledge base will make it possible to go through all stages of prosthetics and rehabilitation step by step, to understand the needs of people with amputations and to improve the quality of medical services. We are also developing other programs that help veterans integrate into society after returning from the war."
The development of this unique learning resource involved numerous professionals. Ruslan Batytskyi and Anna Borysova video production crew filmed and edited the lectures, while the team of Rolique.io developers ensured the resource was working properly and contained all necessary features. The Tabasco Agency designers created a user-friendly platform appearance
The platform, accessible at bazaznan.protezhub.com, is free to use, although registration is required. It provides valuable information not only for specialists but also for amputees and their families. Natalia Myla, a physical therapist and one of the lecturers, praised the platform as "extremely useful and timely," stating, "It addresses a lot of issues that many specialists currently face and also provides information to the amputees and their families."
"We joke that if a leg is amputated below the knee it doesn't count." Soldiers get advanced prosthetics in Ukraine
Tags: amputation, prosthetics, rehabilitation, Ukrainian soldiers, veterans