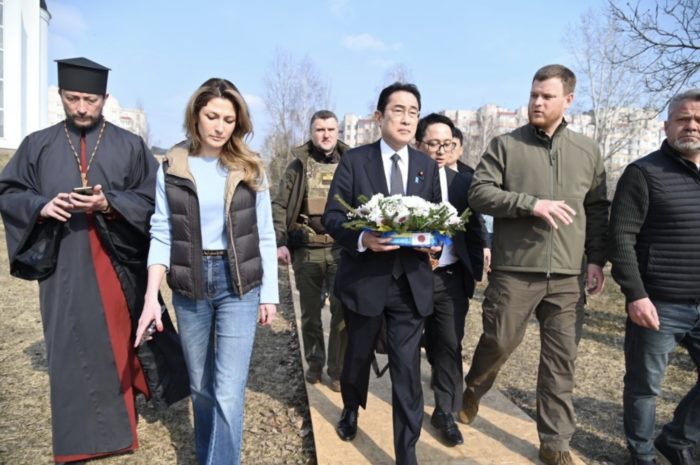 Japan's Prime Minister Fumio Kishida visits Bucha massacre site in Kyiv Oblast, Ukraine/ Source: Twitter, @Emine Dzheppar 
During his visit to Ukraine, Japanese Prime Minister Fumio Kishida, who presides over the Group of Seven (G7), visited the city of Bucha in Kyiv Oblast, which has become a symbol of the brutality of the Russian occupiers, as reported by the Japanese public media organization NHK.
"The world was astonished to see innocent civilians in Bucha killed one year ago. I really feel great anger at the atrocity upon visiting that very place here," stated Kishida.
Prime Minister Kishida laid a wreath in front of the local church before observing a moment of silence and bowing in remembrance of the victims.
"I would like to give condolence to the all victims and the wounded on behalf of the Japanese nationals. Japan will keep aiding Ukraine with the greatest effort to regain peace," said the Prime Minister Kishida.
It is important to note that Fumio Kishida's trip coincides with the state visit to Russia by Chinese President Xi Jinping. On Tuesday, the Russian defense ministry announced that two of its strategic bomber aircraft had flown over the Sea of Japan for more than seven hours, seemingly in response to Kishida's visit.
Japan will host a G7 summit in Hiroshima, Kishida's hometown, in May. Tokyo has expressed unwavering support for Ukraine and joined other G7 nations in extending sanctions against Russia.
Due to security concerns, his travel plans were kept secret until the last minute. It is uncommon for a Japanese leader to visit another country without prior notice.
Earlier, 21 March saw the arrival of Japanese Prime Minister Fumio Kishida in Kyiv for talks with Ukrainian President Volodymyr Zelenskyy.
The NHK aired footage of Kishida speaking with officials after his arrival in Kyiv by train from the Polish border town of Przemysl.
Read also:
Japan imposes more sanctions on Russia for annexation of Ukraine's regions
Tags: G7, Ukraine-Japan relations