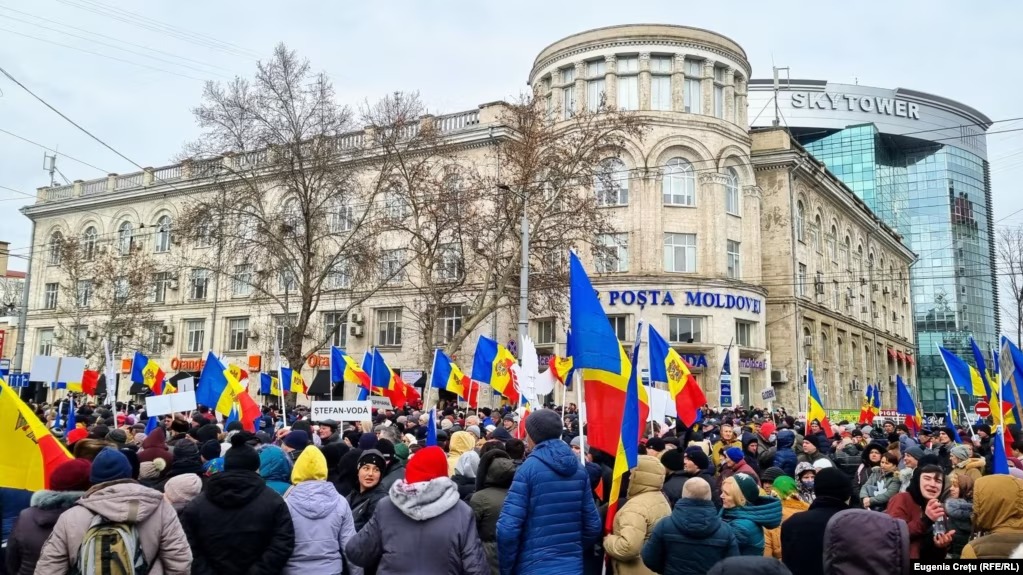 A rally organized by the Kremlin-friendly Shor Party on 28 February 2023 in Chișinău, the crowd called for the country's new pro-Western government "not to involve the country in war." Image: RFE/RL
 
A secret plan by Russia's security service, the FSB, lays out detailed options to destabilize Moldova – including preventing Moldova from joining NATO, supporting pro-Russian groups, utilizing the Orthodox Church, and threatening to cut off natural gas supplies, CNN reports. The document was obtained and first disclosed by a consortium of Europe-based media, and reviewed by CNN.
Asked about the document on 16 March, Kremlin spokesman Dmitry Peskov said: "We know nothing of the existence of such a plan. I do not rule out that this is another fake. Russia has always been and remains open to building good-neighborly, mutually beneficial relations, including with Moldova," according to CNN.
Russia planned to take control over Moldova by 2030 – investigation
Issued by FSB's Directorate for Cross-Border Cooperation in 2021, the five-page document is titled "Strategic objectives of the Russian Federation in the Republic of Moldova." It outlines Russia's 10-year strategy to thwart Moldova's tilt to the West and bring the country within Russia's sphere of influence by making Moldova dependent on Russian gas imports, stirring up social conflict, trying to block Moldova's efforts to regain control of its Russian-occupied region of Transnistria, where some 1,500 Russian soldiers are stationed since the 1990s.
Moldova no longer receiving Russian gas or enduring the "blackmail" imposed by Gazprom over difficulties in paying for supplies – 🇲🇩energy minister Parlicov

But [Russian-occupied] Transnistria, he said, has never paid Gazprom for the gas it receiveshttps://t.co/dllQVMqFmw

— Euromaidan Press (@EuromaidanPress) March 16, 2023
The plan lays out short-, medium- and long-term aims.
Immediate objectives include "support for Moldovan political forces advocating constructive relations with the Russian Federation," and "neutralization of the initiatives of the Republic of Moldova aimed at eliminating the Russian military presence in Transnistria."
Among the mid-term goals are "opposition to the expansionist policy of Romania in the Republic of Moldova" and "opposition to cooperation between the Republic of Moldova and NATO."
Long-term goals include "creating stable pro-Russian groups of influence in the Moldovan political and economic elites" and "forming a negative attitude towards NATO."
Read also: