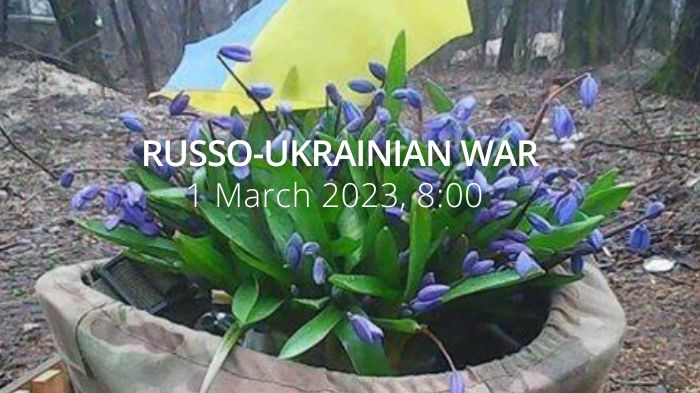 Russian runs a false flag information operation, accusing Ukraine of plans to invade Moldova. Russia makes tactical gains in northern Bakhmut. Ukraine warns of potential Russian offensive operations in Zaporizhzhia and Kherson oblasts.
A map of the approximate situation on the ground in Ukraine as of 00:00 UTC 01/03/23.

There have been no notable changes to control since the last update. pic.twitter.com/rjJKTOS4Ye

— War Mapper (@War_Mapper) March 1, 2023
Daily overview — Summary report, March 1
The General Staff's operational update regarding the Russian invasion as of 18.00 pm, February 29, 2023 is in the dropdown menu below:
Day 371 of the full-scale russian military aggression has begun.
Kupyansk, Lyman, Bakhmutsk, Avdiivka and Shakhtars'k axes: during the last day our defenders repelled more than 85x enemy attacks.
Over the past 24 hours, the russian invaders have launched 2x missile and 12x air strikes, including the use of 2x Shahed-136 UAVs. Our soldiers shot down these drones. Also, the enemy launched 68x attacks from MLRS. Civilians were injured.
The threat level of missile strikes by the invaders remains high throughout the territory of Ukraine.
Volyn', Polissya, Sivershchyna and Slobozhanshchyna axes: the operational situation has not changed significantly. The enemy keeps its units near the state border of Ukraine, but the formation of offensive groups has not been detected. During the day, the adversary carried out mortar and artillery attacks on Yeline, Baranivka and Tymonovichi settlements of Chernihiv Oblast; Rozhkovichi, Bachivsk, Starykovye, Girky, Atynske, Stukalyvka, Budky, Volfyne, Grabovske in Sumy Oblast and Gatishche, Veterinarne, Strelecha, Morokhovets, Lukyantsi, Ternova, Vovchansk, Potikhonov, Komisarov, Vilkhuvatka, Tykh, Ustinivka, and Aniskine of the Kharkiv Oblast.
Kupyansk and Lyman axes: the enemy carried out offensive actions in the areas of Makiivka, Nevske, Chervonpopivka, Shipylivka, and Bilogorivka settlements of the Luhansk Oblast, but had no success. They carried out artillery shelling of the areas of Dvorichna, Hryanikyvka, Zapadne, Liman Pershiy, Golubivka, Kurylivka, Pishchane, Kislivka, and Tabaivka settlements of the Kharkiv Oblast; Nevske, Chervonopivka, Dibrova, Belogorivka in the Luhansk Oblast and Spirne, Rozdolivka and Fedorivka in the Donetsk Oblast.
Bakhmut axis: the enemy continues to advance. They do not stop storming the city of Bakhmut. Our defenders repelled attacks in the areas of Orikhovo-Vasylivka, Dubovo-Vasylivka, Bohdanivka, Bakhmut, Chasovoy Yar and Bila Hora. Zaliznyanske, Orikhovo-Vasylivka, Dubovo-Vasylivka, Bakhmut, Ivanivske, Kurdyumivka, Ozaryanivka, Mayorsk and Zalizne of the Donetsk Oblast were under enemy fire.
Avdiivka and Shakhtars'k axes: the enemy continues to attack the positions of our troops. russians carried out unsuccessful offensive actions in the vicinities of the settlements of Kam'ianka, Avdiivka, Vodyane, Pervomaiske, Nevelske, Mar'yinka and Pobieda. The areas of the settlements of Vesele, Orlivka, Avdiivka, Vodyane, Netaylove, Pervomaiske, Nevelske, Krasnohorivka, Mar'yinka, Pobyeda, Vugledar, Prechistivka, Neskuchne and Velika Novosilka of the Donetsk Oblast were shelled.
Zaporizhzhia and Kherson axes: the enemy is defending, and in some areas is trying to create conditions for transition to the offensive. Conducts artillery shelling of the areas of Vremivka, Zelene Pole and Novopil' settlements of the Donetsk Oblast; Olgivske, Gulyaipole, Gulyaipilske, Zaliznychne, Charivne, Novodanilivka, Orihiv and Novoandriivka of the Zaporizhzhia Oblast; Illinka, Marganets and Nikopol' in the Dnipropetrovsk Oblast, as well as Zmiivka, Mykolaivka, Antonivka, Zelenivka, Komysany of the Kherson Oblast and the city of Kherson.
The evacuation of certain categories of citizens from the temporarily occupied Crimea is recorded again. Recently, servicemen of the russian occupation forces stationed in Perevalny have been sending their families to russia.
Over the past 24 hours, the Air Force of the Defense Forces has carried out 11x strikes on the concentration areas of the occupiers, and missile and artillery forces have hit 9x areas of concentration of manpower and the area of concentration of weapons and military equipment of the enemy, as well as 2x positions of anti-aircraft missile complexes, an anti-aircraft missile station and an ammunition depot.
Military Updates
https://twitter.com/EuromaidanPress/status/1630750200028618752
British @defencehq says Russia will likely seek a resupply of the Iranian-made Shahed-series drones as the decrease in attack tempo "likely indicates that Russia has run down its current stock."https://t.co/4Q7eIkcGHw

— Euromaidan Press (@EuromaidanPress) March 1, 2023
According to British Defence Intelligence, (last 48 hours): 
On 27 February 2023, the Ukrainian Ministry of Defence confirmed it had shot down 11 Shahed one-way attack uncrewed aerial vehicles (OWA UAVs) out of 14 launched overnight. Serhii Popko, head of Kyiv City Military Administration, reported nine of these were shot down in the vicinity of Kyiv airspace. Three additional Shahed UAVs were reportedly shot down in Chernhiv Oblast, northern Ukraine.
Prior to this 26 February 2023 attack, there have not been any reports of OWA UAVs being used in Ukraine since around 15 February 2023. This decrease in OWA UAV attack tempo likely indicates that Russia has run down its current stock: it will likely seek a resupply.
Due to the vector of the attack, these Shahed-UAVs were highly likely launched from the Bryansk Oblast, Russia. Previously, the only observed launch site since mid-December 2022 was from the Krasnodar region, across the Sea of Azov. A second launch site would give the Russians a different axis of attack, closer to Kyiv. This is likely to decrease time in the air over Ukraine and an attempt to further stretch Ukrainian air defences.
Losses of the Russian army 
Humanitarian 
Ukraine ceases to be a bilingual country, polls and speaking practice show
One year of Russia's war made Ukrainians believe in themselves: poll. A year after the full-scale Russo-Ukrainian war started, Ukrainians believe they will win as fiercely as in the first days of the invasion and believe in their country and its leaders. Support for Ukraine's EU and NATO integration reached a historical maximum of 87%, while Poland, Lithuania, UK, USA, and Canada were named the main allies. 60% of Ukrainians now speak only Ukrainian at home — a 14% jump from pre-war times — while 12% speak only Russian. Meanwhile, the war has taken a heavy toll on Ukrainians: 17% have experienced the death of one of their loved ones due to the war. These are the findings of the latest poll by sociological group Rating.
The War in Ukraine: Lives Forever Changed

Eight Ukrainians reflect on a tumultuous year since the Russian invasionhttps://t.co/R7oKMUgLvL pic.twitter.com/GHM4bedgre

— Euromaidan Press (@EuromaidanPress) March 1, 2023
Environmental
Ukraine urges UN and Türkiye to start talks to extend grain deal – Reuters. Ukraine has sent an appeal to the UN and Türkiye to start negotiations on extending a grain export deal, but there has been no response, a Ukrainian government source told Reuters on 28 February.
Legal 
Belarusian partisans destroy Russian war plane and other courageous acts obstructing Russia's war against Ukraine. Belarusian partisans have, seemingly, pulled off the biggest act of sabotage of Russia's war against Ukraine, with a Russian A-50 early warning and control aeroplane either destroyed or very severely damaged.  This operation on 26 February is the latest of many efforts by Belarusians to obstruct Russia's aggression against Ukraine, with those taking part doubtless aware that they face torture and sentences of two decades and more if caught.
Russian occupation 'court' passes long sentences against Ukrainian Jehovah's Witnesses for their faith. The Russian occupation 'Yalta municipal court' has convicted four Jehovah's Witnesses of preposterous charges based solely on the Ukrainians' faith, with three men sentenced to long terms of imprisonment.  Instead of complying with international law prohibiting an occupying state from applying its legislation on occupied territory, Russia's religious persecution in occupied Crimea is worse than that on Russian territory.  If in Russia, 'judges' do fairly often pass suspended sentences, virtually all 'trials' in occupied Crimea have ended in terms of imprisonment of between 6 and 7 years.
Support
In the past year, Netherlands residents raised over 183 million euros to Giro555 for aid to Ukraine after Russia's invasion. Dutch aid organizations have so far helped over 2.8 million Ukrainians with the "overwhelming campaign proceeds"https://t.co/OIVOgAnQWc

— Euromaidan Press (@EuromaidanPress) March 1, 2023
Rheinmetall starts supplying SurveilSPIRE automatic reconnaissance systems to Ukraine. The German automotive and arms manufacturer Rheinmetall AG says it has started supplies of automated reconnaissance systems to Ukraine at the behest of the German government, according to the company's press release published on 28 February.
Belgium freezes Russian assets worth over USD 61 bn. The Ministry of Finance of the Kingdom of Belgium has frozen Russian assets worth over $61 billion, Deputy Prime Minister Vincent Van Peteghem announced. Additionally, the ministry blocked Russian financial transactions worth $202 billion. In general, new measures affected 1,789 Russian entities and individuals who had been put on the EU's sanctions list in response to the Russian war against Ukraine.
Taiwan allocates USD 56 mn for the reconstruction of Ukraine. Tawain has allocated $56 million to rebuild hospitals, schools, churches, and infrastructure facilities in Ukraine damaged by Russian attacks, Caribbean News Global reported. "On 24 February 2022, Russia launched a full-scale invasion of Ukraine, triggering the largest armed conflict in Europe since World War II and displacing millions of Ukrainians.
US Secretary of Treasure announces USD 1.25 billion aid during visit to Kyiv. The US Secretary of the Treasure Janet Yellen has come to Ukraine today and met with Ukraine's President Volodymyr Zelenskyy and Prime Minister Denys Shmyhal.
Switzerland becomes stumbling block for Western military aid to Ukraine

The Alpine nation is a major arms exporter, but its reluctance to authorize transfers of ammunition to Kyiv is frustrating Ukraine's Western partnershttps://t.co/hkbfQ2s3o6

— Euromaidan Press (@EuromaidanPress) February 28, 2023
New Developments 
Once, the default language of Ukrainians was Russian. That is no more: Ukrainian has become the language of business, the share of those speaking Russian has seriously dropped, and they're not pretending, eitherhttps://t.co/PqQ25g3yD7

— Euromaidan Press (@EuromaidanPress) March 1, 2023
US State Secretary reiterates concerns China will provide lethal aid to Russia – CNN. On 28 February, US Secretary of State Antony Blinken reiterated the Biden administration's concern that China was considering providing lethal aid to Russia for its war in Ukraine and warned that Beijing would face the consequences for such a move, CNN reported.
108 Ukrainian officials died in Russia's all-out war.
More than 3,500 Ukrainian officials currently serve in the army, State Border Guard Service, and Security Service of Ukraine, Minister of the Cabinet of Ministers Oleh Nemchinov said. According to him, 108 officials died, 80 were injured, and 200 went missing as of the end of 2022.
A polarizing French philosopher chooses war zones over salons

In a new film, "Slava Ukraini," the writer and filmmaker Bernard Henri-Lévy warns of a heavy price if the West fails to defeat Putin in Ukraine.https://t.co/rI2MpKJUJ7

— Euromaidan Press (@EuromaidanPress) March 1, 2023
Assessment 
On the war. 
The Institute for the Study of War has made the following assessment as of  February 28, 2022:
Russian authorities appear to be escalating their promotion of false flag information operations to distract from their lack of tangible battlefield gains and slow down the provision of Western tanks and other aid in advance of expected Ukrainian counter-offensives. The Russian Ministry of Defense (MoD) accused the "US and its accomplices" on February 28 of planning to carry out a provocation in Ukraine using toxic chemicals.[1]  The Russian MoD relatedly claimed on February 19 that Ukrainian officials are planning false-flag attacks at hazardous radiation facilities in Ukraine to accuse Russian forces of indiscriminately striking such sites.[2] The apparent uptick in fallacious biochemical and nuclear false flag warnings accompanies a concerted Russian false flag information operation accusing Ukraine of preparing for an invasion of Russian-occupied Transnistria, Moldova.
The spectre of the FSB haunts Moldova, next target of Russia's hybrid war
[3] Russian President Vladimir Putin also notably re-introduced nuclear rhetoric into the Russian information space during his address to the Russian Federal Assembly on February 21 when he announced Russia's intent to suspend participation in START.[4] The recent resurgence of several standard Russian information operations in the form of false flag warnings and tired nuclear threats suggests that Russian officials are increasingly trying to mitigate the informational impacts of a continued lack of Russian battlefield successes as well as to slow down the provision of Western tanks and other equipment in advance of expected Ukrainian counter-offensives. ISW has previously reported on the correlation between Russian information operations and battlefield realities, particularly when Russian forces are failing to take significant ground in offensive operations in Ukraine.[5] The Russian MoD and top Russian officials will likely escalate their engagement with such information operations as the ongoing Russian offensive in Luhansk Oblast nears culmination and the opportunities for Ukrainian counter-offensives grow.
A top US defense official supported ISW's continued assessment that Russia is extraordinarily unlikely to use nuclear weapons in Ukraine. Undersecretary of Defense for Policy Colin Kahl stated that the US does not assess that Russia will use nuclear weapons during a House Armed Service Committee hearing on American military support for Ukraine on February 28.[6] ISW has assessed that Russian invocations of nuclear threats and nuclear doctrine are part of an information operation meant to discourage Ukraine and the West but do not represent any material Russian intent to employ nuclear weapons.[7]
Russian President Vladimir Putin addressed the Federal Security Service (FSB) board on February 28 and emphasized the role of the FSB in supporting the war in Ukraine in a law enforcement and counterterrorism capacity. Putin lauded the FSB for its direct participation in the war in "non-standard field tasks" such as protection of the Russian border and cracking down on terrorist activities, organized crime, corruption, and extremism.[8] Putin also emphasized that the FSB's primary purpose is to support the Russian Armed Forces and Rosgvardia in their efforts to accomplish the objectives of the "special military operation" and noted the FSB's role in preventing incursions of Ukrainian sabotage groups onto Russian territory.[9] Putin has frequently invoked mentions of domestic security, law enforcement, and counterterrorism efforts when speaking about the war in Ukraine in order to portray the war as a threat to Russian internal security and to bring the war closer to his domestic constituency as ISW has previously reported.[10] Putin's address to the FSB similarly aligns the FSB and its traditional domestic law enforcement and counterterrorism role with Russian military efforts in Ukraine in order to frame Russian victory in the war as necessary for Russia's domestic security.
The Kremlin is likely attempting to reintroduce a Russian information operation aimed at falsely portraying Russia as being open to negotiations while the collective West refuses to negotiate. Kremlin spokesperson Dmitry Peskov stated on February 28 that Russian officials are open to negotiations to end the war in Ukraine but that Ukraine and the West must recognize new "territorial realities" associated with Russia's illegal annexation of occupied territories in Ukraine.[11] Peskov added that Ukraine also needs to consider Russia's specific goals in the war in Ukraine to reach a negotiated settlement.[12] These goals include regime change of the Ukrainian government under the rubric of "denazification" and the elimination of Ukraine's ability to defend itself against future Russian attacks under the rubric of "demilitarization."[13] Peskov also stated that Russia made serious preparations for security talks before launching the invasion of Ukraine but accused the West of being unreceptive to such talks.[14] Russia's suggested pre-invasion security talks called for the West to acknowledge a list of "security guarantees" demanding a moratorium on NATO expansion, a ban on the deployment of Western strike weapons near Russia, and the de facto withdrawal of NATO forces to their 1997 posture.[15]
The Kremlin appears to be using Belarusian President Alexander Lukashenko as a conduit to reengage with this information operation, likely in pursuit of negotiations on favorable terms to Russia and further delays in the West's provision of critical weapons systems to Ukraine. Lukashenko stated during his official trip to China that Russia is ready to take steps towards a peaceful settlement and that there is a unique opportunity to end the war in Ukraine before Russia puts its economy on a stronger war footing.[16] Lukashenko also blamed the West and the US for coercing Ukrainian officials into rejecting negotiations with Russia.[17] The Kremlin and Lukashenko are likely seizing on China's release of a 12-point peace plan to reintroduce an existing Russian information operation that the Kremlin used in December 2022. That information campaign centering on Russia's openness to negotiations aimed to prompt Western officials to offer preemptive concessions and coerce Ukraine to negotiate on Russian terms and likely contributed to the delay in the provision of Western tanks and other equipment essential for the continuation of Ukrainian mechanized counteroffensives.[18] The Kremlin may be reintroducing the negotiations information operation to reduce the effectiveness of future Ukrainian counteroffensives by delaying the provision of essential Western aid and to seek to gain concessions before potential further setbacks in Ukraine.
Belarusian President Alexander Lukashenko may facilitate sanctions evasion schemes between Russia and China during his official trip to Beijing, China from February 28 – March 2. Deutsche Welle reported that Lukashenko will sign a large package of agreements on developing joint projects, trade, economic, investment, humanitarian cooperation, and political cooperation with China during his three-day visit.[19] Lukashenko previously stated that the Belarusian defense industry can produce weapons since Belarus has access to microelectronics, optics, and other component imports from other states.[20] Ukrainian intelligence officials stated that Belarus supplied Russia with artillery ammunition from Belarusian warehouses to support operations in Ukraine.[21] US Central Intelligence Agency (CIA) Director William Burns stated on February 25 that the CIA is confident that Chinese leadership is considering the provision of lethal equipment to Russia.[22] China may clandestinely transfer equipment to Russia via Belarus.
Key Takeaways
Russian authorities appear to be escalating their promotion of false flag information operations in an effort to distract from their lack of tangible battlefield gains and slow down the provision of Western tanks and other aid in advance of expected Ukrainian counter-offensives.
US Undersecretary of Defense for Policy Colin Kahl stated that the US has no indication that Russian forces will use nuclear weapons in Ukraine.
Russian President Vladimir Putin emphasized the role of the Russian Federal Security Service (FSB) in supporting the war in Ukraine during an address to the FSB board.
The Kremlin and Belarusian President Alexander Lukashenko are likely attempting to intensify efforts to falsely portray Russia as open to negotiations to end its war in Ukraine.
Lukashenko may facilitate Sino-Russian sanctions evasion schemes during his official trip to Beijing, China from February 28 to March 2.
Russian forces conducted limited ground attacks near Svatove and Kreminna and likely made limited advances north of  Kreminna.
Russian forces made tactical gains in northern Bakhmut and continued ground attacks around Bakhmut and in the Avdiivka-Donetsk City area.
Ukrainian officials continue to report potential Russian preparations for renewed offensive operations in Zaporizhzhia and Kherson oblasts, though ISW has not observed indicators that Russian forces plan to renew offensive operations in these directions.
Armenian authorities detained a Russian citizen in Yerevan for an act of protest against the war in Ukraine committed in Moscow in July 2022.
Ukrainian President Volodymyr Zelensky enacted a Ukrainian National Security and Defense Council decision to sanction 109 Russian citizens involved in the forced deportation of Ukrainian children.
Tags: Russian invasion