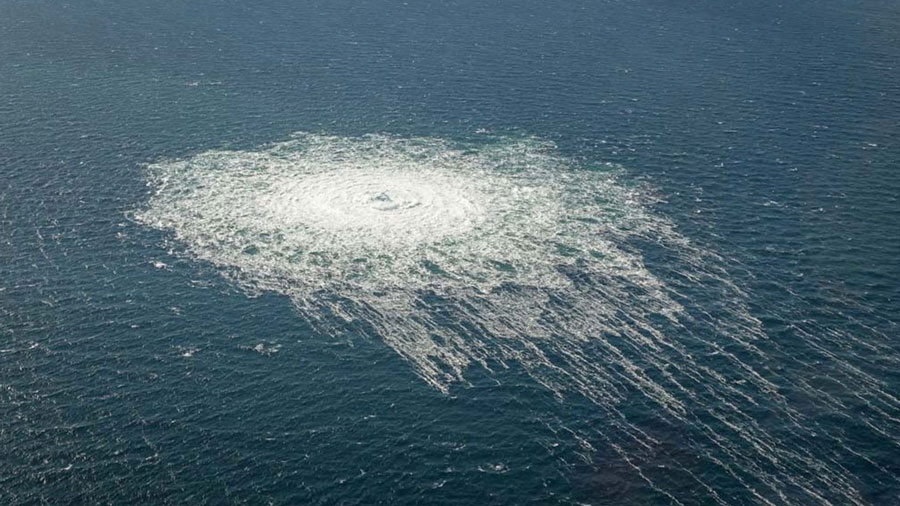 Gas bubbles from the Nord Stream 2 leak reaching surface of the Baltic Sea on 27 September 2022. Photo via news.sky.com
 
The Minerva Julie, a Greek-flagged tanker that headed from the Netherlands to Russia, may be connected to the destruction of the Nord Stream Pipelines in the autumn of 2022, according to the Danish OSINT analyst Oliver Alexander, Insider reported.
Oliver Alexander spent many months analyzing data from the maritime Automatic Identification System (AIS), from vessels that passed near the site of three out of the four pipeline ruptures shortly before the explosions took place. He noticed that the Minerva Julie was heading east from Rotterdam when, on 6 September 2022, it suddenly stopped in the middle of the Baltic Sea.
The Minerva Julie stayed there for almost a week without moving anywhere. The tanker had been idling and crossing a roughly 200-square-nautical-mile area above the two natural-gas pipelines from 6 September until 12 September 2022, Insider reported. After that, the Minerva Julie traveled on via Tallinn, Estonia, to  Saint Petersburg, Russia, where it anchored on 18 September 2022. Then, on September 26, the two Nord Stream pipelines burst.
Although the data uncovered by Oliver Alexander does not indicate that the vessel was involved in the sabotage that led to the destruction of the pipelines, it raises the question of what the crew might have witnessed, according to Insider.
In an emailed statement to Insider, a spox for Minerva Marine confirmed the Minerva Julie's location over the 7-day period claiming that the vessel had stopped "while awaiting her next voyage instructions." The statement did not mention whether Minerva Marine had been contacted by investigators, Insider reported.
According to the investigators, the Nord Stream breakage was caused by what they have estimated to be hundreds of kilograms of explosives attached to the pipelines at around 80 meters in depth.
Related:
Tags: Denmark, Germany, Nord Stream, Nord Stream 2 gas pipeline, Russia, Ukraine