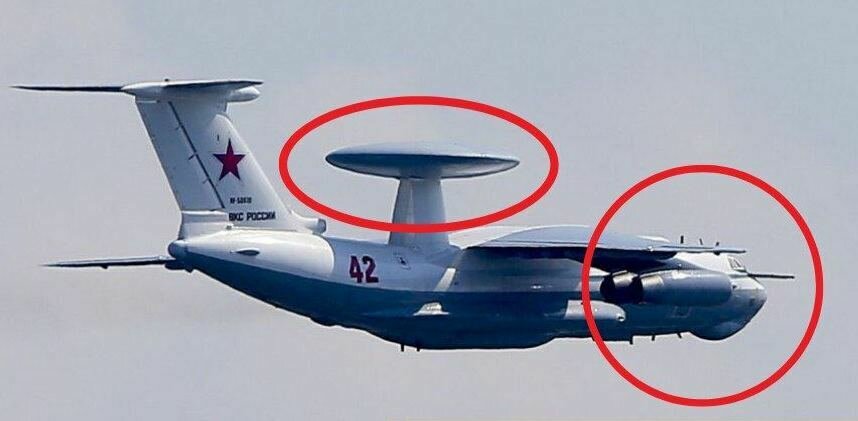 Belarusian partisans took responsibility for explosions that disabled a Russian A-50 jet at the Machulishchy airfield in Belarus on 26 February. The jet was damaged in two places. Photo: Bypol 
Belarusian partisans were behind the 26 February explosions that damaged a Russian jet at Machulishchy airfield in Belarus, BYPOL leader Aliaksandr Azarov told Belarusian media.
The leader of BYPOL, a Belarusian organization that former employees of law enforcement agencies created to counter the Belarusian authorities, told belsat.eu that the participants of the plan "Peramoha" ("Victory") used drones to attack a Russian A-50 long-range radar detection jet in an operation that took several months to prepare. They have now left Belarus while the jet, used for guiding Russian missiles to hit Ukrainian infrastructure objects, is disabled, Azarov informed.
Speaking to RFE/RL, Azarov said that after the Lukashenka regime intensified repressions against Belarusian railway partisans, who had damaged railways used to supply Russian military echelons in Belarus, BYPOL stopped the "rail war" but began to work in other directions. A series of trials in February 2023 has seen "railway partisans" sentenced to over 20 years in prisons.

"It takes three to four months to prepare a [sabotage] action. You have to do the reconnaissance, and find directions to approach. We had a lot of options. One action doesn't work, we take on another. And that's how our guerrillas found such an interesting object. Of course, we suggest options to the guerrillas, but they also, depending on their capabilities, offer objects. It's teamwork," Azarov described the preparation of the sabotage action.
The Belarusian opposition monitoring group Hajun confirmed that a A-50U Airborne Observation Aircraft of the Russian Air Force was damaged in two places, with the registration number RF-50608 (hull number "43 red", serial number 0093479377, serial number 60-05). The group said that the front and center sections of the aircraft, avionics, and radar antenna were damaged.
According to Hajun, the jet arrived in Belarus on 3 January 2023 and so far has been in Belarus for 54 days, making 12 sorties. Before that, the military jet was in Belarus on 24 February 2022, the day of Russia's full-scale invasion of Ukraine.
The aerospace forces of the Russian Federation have only nine such aircraft, and only six are upgraded (with the modification "U"); one such jet is serviced by 19 people (5 pilots, 11 radio, and 3 engineering personnel), and costs $330 million.
Lukashenka's siloviki found a bag containing the remote controls from the drones, Hajun wrote.
Neither Russia nor Belarus have commented on the explosions at Machulishchy airfield.
According to Ukrainian military expert Oleksandr Kovalenko, the damage to the jet in Machulishchy airfield constitutes "irreversible damage" for Russia. The A-50 is the primary type of jet that Russia uses to guide missile strikes on the territory of Ukraine, and now Moscow has no possibility to build another one due to sanctions.
Kovalenko claims that the jet is seriously damaged. On the night of 26-27 February, Shahed kamikaze drones were launched at Ukraine after a MiG-31K took off from the territory of Belarus. But this time, it was not accompanied by the A-50, meaning it was severely damaged.
"This A-50 can be replaced, but the question arises – who will guarantee that no incident will happen with that second A-50 on the territory of Belarus? It will impact the situation in the combat zone; now, they will have problems guiding airborne missiles and adjusting coordinates. 

 

Such jets supplemented the targeting data of weapons so that their guidance would be more accurate. So we can state that as of today, their effectiveness in using these weapons may decrease.

 

The second point is that they will have less information about [Ukrainian] troops' movement and [Ukrainian] aircraft's presence in [Ukrainian] airspace," Kovalenko stresses.
Related: