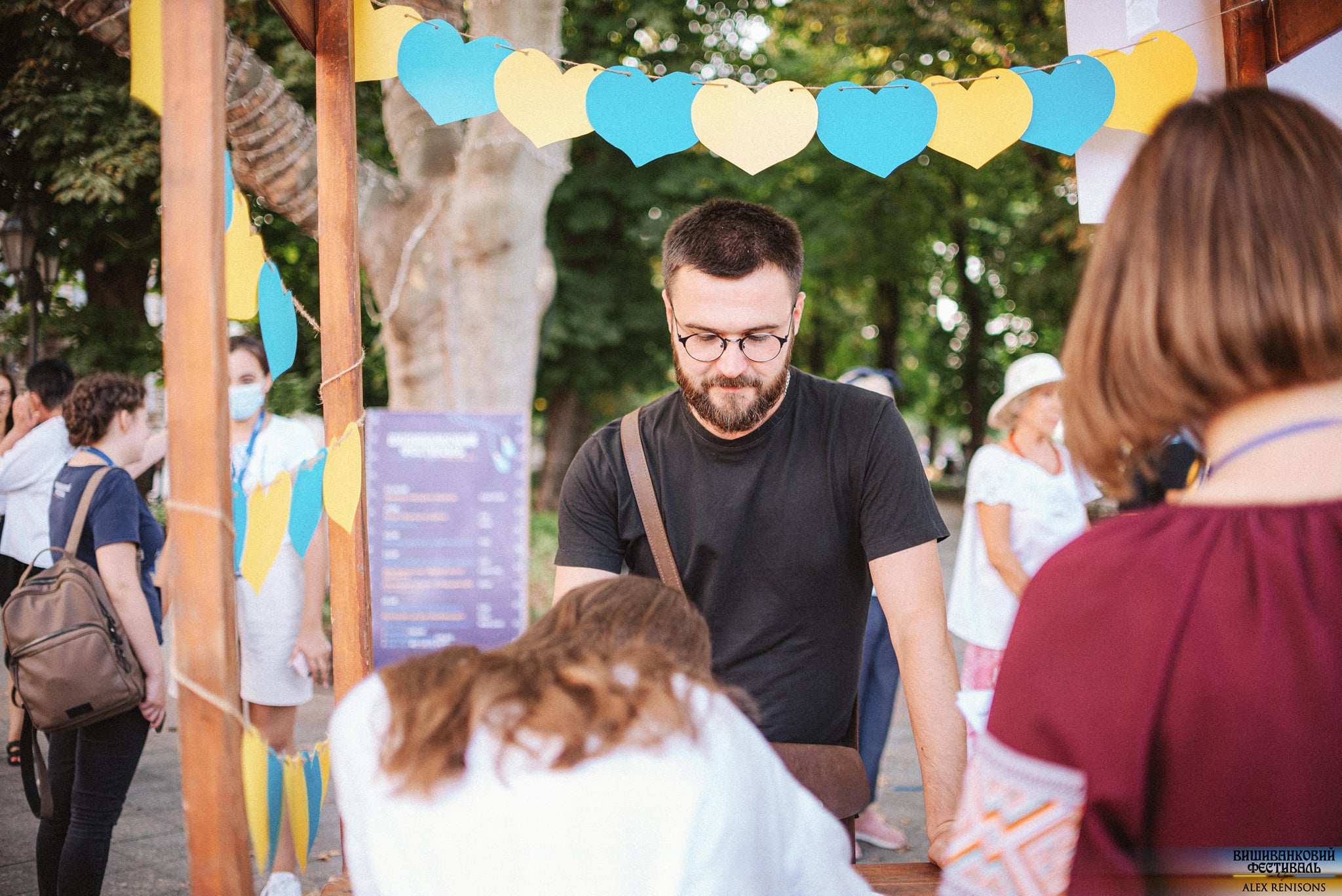 Andriy Khayetskyy. Source: Vyshyvankovyy Festival's Facebook page 
Editor's Note
Ukraine's successes are the outcome of people's extraordinary ability to help each other and unite for a bigger cause in times of danger, writer and activist Andriy Khayetskyy believes. Once his nephew, who now serves in Ukraine's armed forces, needed a car…
I sat facing the sea, looking at the clear horizon line, where in the spring you could see the outlines of enemy ships keeping the city in their crosshairs. These days, you can occasionally see dry cargo ships on the roadstead, heading to the port either with or without cargo. That evening, the horizon was empty. Only a quiet, balanced pre-autumn sea, with direct access to it, blocked by a warning red and white tape.
I can't remember when I first felt the need to go to the sea and stare into its deep waters for a while before taking any important steps in life. It wasn't so much to make an important decision as it was to fill myself with strength and the sea breeze of what had already been decided.
A few hours earlier, my older brother called me and said: "Autumn is coming, they need a proper car. There is a suitable option. Can we ask the people for help?"
My brother is in constant contact with his eldest son, who has gone off to fight in the war. During one of their brief conversations, my brother learned that their unit's car had almost no brakes and was in generally poor condition. A new car was found right away. The only question was how to get the money to pay for it.
As I sat facing the sea, I realized that the term "toloka," which means "common work," has always appealed to me in both its sound and meaning – particularly in the sense of collaborative effort to achieve a common goal. Since my childhood in a small village, I've watched how memorial dinners or festive meals were prepared and set up. Neighbors helped each other in difficult situations, even if they disagreed on minor issues. This superpower appears to be genetically ingrained in Ukrainians. That is why during the Revolution of Dignity, people gave everything they had to support the protest on the Maidan. That is why, during the first months of the war in 2014, Ukrainians literally rebuilt the army from the ground up.
That is why, since the first day of the full-scale invasion in February 2022, Ukrainians have banded together like bees, dividing aid tasks among themselves.
In this war, everyone has a specific role, place, and task. Stories from cities, towns, and villages show how residents literally stopped convoys of enemy vehicles with their bare hands. There are also stories about street battles in a southern village's central market between enemy soldiers and simple accountants and drivers from the Territorial Defense Units, as well as burning enemy equipment with homemade Molotov cocktails and removing batteries and draining fuel from stopped combat vehicles. When you hear these stories, you realize that our people are the salt of the earth. We are people who come together when it matters most.
I've always felt more at ease in the presence of those who help others. My grandmother, who grew up during the hard times of World War II, once told me that as a child, she promised herself she'd start working, earn enough money, and eat as much as she wanted. This eventually developed into a food cult in our family, with the primary goal of feeding everyone who entered our home. In my youth, I had a slightly different dream: to earn enough money to be able to help others.
Throughout my life, I've always tried to assist those who need it. And I do not consider my virtue to be unique. On the contrary, I am convinced that the only thing that will save us is mutual support and assistance.
At the same time, I was always embarrassed to ask for help from anyone. After my brother called, I sat on the seashore and tried to convince myself that in this case, we would not be asking for help for ourselves, but for our defenders.
My brother hasn't seen his son in over a year. Since February, our family's prayers have intensified. For us, our 20-year-old boy became the personification of the entire army. The car was out of our price range, so we began fundraising, not knowing how long it would take. We asked the seller to hold off for ten days just in case. But by the fourth day, I'd already transferred the necessary funds to my brother. And I sincerely thank everyone who contributed to the fundraising effort as well as everyone who runs such campaigns for the army's needs on a daily basis: this is the key to our stability.
Lviv Garrison Church chaplains help soldiers find God amid war. And a pair of good boots
My brother, an auto body painter by trade, fixed the car in a day and a half and declared emphatically, "I will drive it to the front myself." It was clear that this trip meant much more to him than simply caring for and assisting the defenders. "It's their home on wheels," he said when I asked him what this car meant to him. With tears in his eyes, he continued: "He simply took my hand in his and held it, telling me about something completely mundane to them. And all I wanted to do was touch him. That was the end of it. Now I'm at ease."
People showed him genuine respect and support on his journey to East Ukraine, he said. There were no delays at the roadblocks, other drivers gave him the right of way in traffic lanes, and at one gas station, very close to his destination, a woman from a parked car thanked him by making a heart shape with her fingers.
The final checkpoint had the longest document check. This was absolutely justified because the front-line zone is a place where there are almost no civilians. When asked: "Where are you going?", he replied: "To my son".
"Go ahead," was the response.
Meridian Czernowitz
's "State of War" is an online anthology of essays by Ukrainian intellectuals about the Russian invasion of Ukraine. One hundred Ukrainian authors will recount their own experiences, impressions, observations, and feelings in one hundred texts. The creation of the anthology takes place within the framework of the USAID-backed Deepening the internal cultural dialogue in Ukraine project. ©Meridian Czernowitz
Related:
Tags: Ukraine