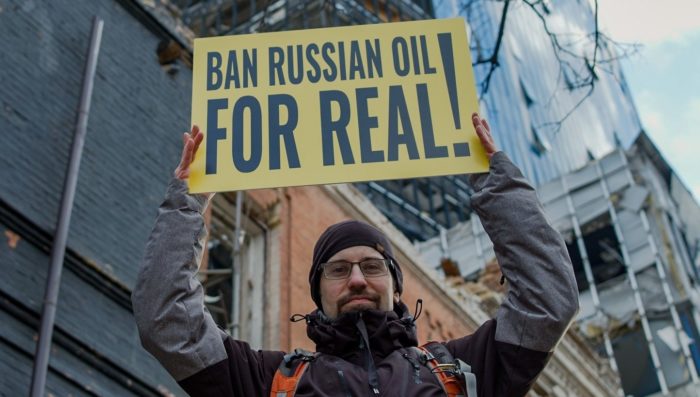 Credit: Oleg Savytskyi 
The oil cap for Russian oil is not working: compliance is not enforced, sanctions are violated, and Russia still earns approximately 560 million euros daily from fossil fuel exports, with the European shipping industry still being the primary source of this income. There is no other way to stop the war: a full embargo on Russian oil and gas is needed, now.
Last year, global sales of fossil fuels, especially to Europe at inflated prices, brought into Russia export revenues of up to $1.1 billion a day. These record revenues from fossil fuel exports, generated in the first months of the invasion, helped Russia to mitigate the economic effects of the sanctions and helped finance the prolonged grinding war. In the year since the start of the full-scale invasion, Russian revenues from fossil fuel exports have reached $294 billion.
The EU embargo and price cap on Russian oil, proposed by the US and supported by the G7, came into force in December 2022.
The price cap was supposed to prohibit Western companies from trading Russian oil if it was sold above $60 per barrel. However, in practice, this limitation does not work. In particular, in the Far East, American, British, and European companies sell, deliver and insure Russian oil cargoes of the ESPO brand, which are sold at higher prices, apparently in violation of sanctions.
Despite all the trade restrictions and sanctions imposed by the EU, USA, and G7 after the invasion, Russia received billions of euros in oil and gas exports weekly.
According to official data for 2022, Russian oil exports increased by 7.6% compared to 2021. European-controlled companies were responsible for over two-thirds of Russia's fossil fuel shipments last year and still transport Russian oil to India, China, and other countries.
The fact that companies registered in Europe are still trading Russian oil bypassing the embargo and are not held accountable for sanctions violations is doing great damage to all efforts to reduce the export revenues of Russian companies and the Kremlin's tax revenues, which are used to finance the brutal war against Ukraine.
Data on Russian fossil fuel exports collected by the Finnish analytical center CREA indicate that the oil embargo and price cap that came into force on December 5 had only a temporary effect. In February, sales volumes of Russian hydrocarbons recovered. Oil exports have reached record levels by volume, indicating the ineffectiveness of the current sanctions regime, with a declarative price cap and compliance that is not sufficiently monitored and enforced.
No Western company should get away with violations, i.e. trading at prices above the price cap and providing any services to vessels transporting Russian oil in breach of the embargo regime. A full embargo and its strict enforcement would significantly impact Russia's ability to generate profits from oil sales on the world market due to Europe's dominance in shipping and maritime insurance.
Russia's revenues from fossil fuel exports in January-February 2023 fell 50% below their March 2022 peak, and revenues from exports to the EU fell by almost 90%. However, Russia still earns approximately 560 million euros daily from fossil fuel exports.
Putin's aggression is the last call to end global fossil fuel addiction – opinion
Here are the five reasons why the US and the EU should strengthen sanctions against all Russian fossil fuels, including liquefied natural gas, revise the price cap mechanism on Russian oil, and tighten the embargo:
Forcing traders to comply with the rules is possible only through clear legal frameworks and severe punishments. The existing mechanism of the price cap provides too many opportunities for breaching it. Despite the restrictions on exporting Russian oil and oil products, private companies evade these sanctions in various ways. Enhancing the sanctions regime through stiff penalties will send a strong signal to traders that violations will not be tolerated and may help deter further attempts to circumvent the embargo and price cap.
Sanctions against Russian fossil fuel exports are critical to Ukraine's victory. The export of oil and gas is the primary source of income for the Russian Federation, constituting a significant part of the country's GDP. By targeting these exports, an oil embargo and other energy sanctions could significantly limit Russia's ability to finance its military-industrial complex and throw new forces into the invasion.
The US and the EU must keep their climate promises. Russian hydrocarbon exports are a significant source of global greenhouse gas emissions, and their production in Russia is associated with extreme environmental damage and catastrophic pollution. In particular, Russia's oil and gas industry produces record methane emissions. Limiting and reducing Russian fossil fuel exports will help mitigate climate change's effects directly through methane emissions cuts and indirectly by accelerating the global transition to renewable energy sources.
Sanctions are necessary to deconstruct the aggressive petrostate. For the Russian army to be defeated and the Kremlin junta to lose power, their economy must lose its key pillar – hydrocarbon exports. Strong energy sanctions and restrictions on Russian oil and gas exports should limit Russia's access to the technologies and investments needed to keep the economy afloat. Energy sanctions could also significantly weaken the value of the ruble, which could make it harder for Russia to import goods and services and could increase inflation.
Action is needed for protection of international law. Strong sanctions against Russian fossil fuel exports will signal to other countries that the EU and the US are committed to upholding international norms and principles, particularly regarding human rights, environmental protection, and armed conflict prevention. This can help strengthen the rules-based international order and prevent other petro-dictators from starting new wars.
The key source of Russia's fossil fuel export earnings, and therefore funding for the invasion, is the European shipping industry.
According to
CREA
, ships owned by Western companies or insured in the EU and the UK carry €310 million worth of Russian fossil fuels daily — 65% of the total value of Russian seaborne fossil fuel exports.
Photos courtesy of author. Get the printouts here 
Excessively high price caps on crude oil and oil products and gaps in sanctions control and enforcement allow the Kremlin to continue profiting from the export of fossil fuels transported and insured by the European shipping industry.
A complete embargo and severe sanctions in the energy sector, which is the foundation of today's Russian economy, as well as their careful control and punishment of violators, are key levers of influence on the economy of the "big gas station" country. To make it impossible to finance a war of aggression, the Kremlin's regime must be deprived of oil and gas revenues. Then, without the huge profits from fossil fuel exports, Russia's audacious assault on international law, security, and human rights will collapse.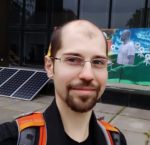 Oleg Savytskyi is a campaign manager of the NGO "Razom We Stand"
Related:
Tags: fossil fuel, oil embargo, Russian invasion