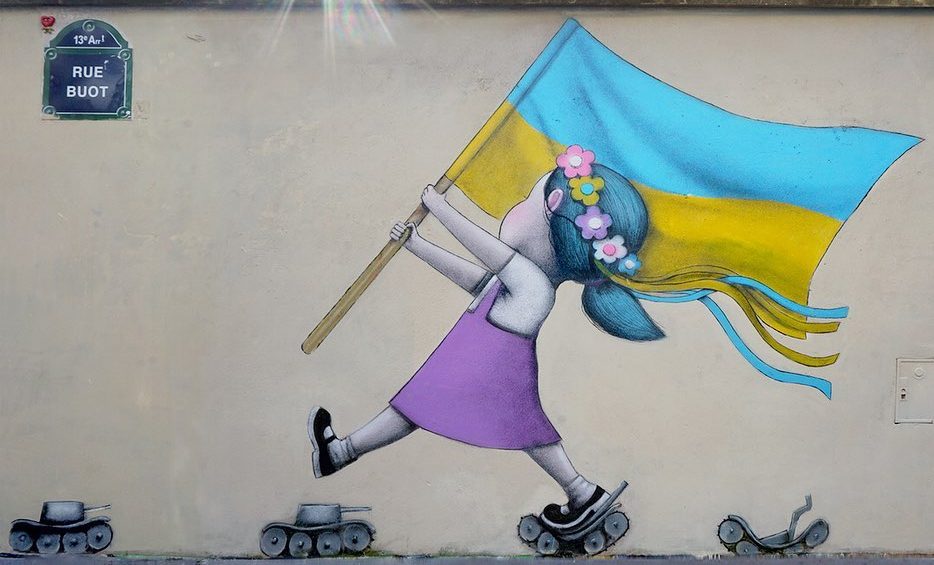 Photo: Instagram/ seth_globepainter 
Ukraine's resistance to the Russian invasion surprised the world and proved how little it knew about Ukraine. We reported from day one of the invasion, providing many on-the-ground reports, news, and analysis. Here are 12 stories that we selected to remember the year by.
Looking for an overview of the events? We made a chronological timeline for you, month by month: One year of Russia's war against Ukraine: as it happened 
The fury of war machines, pounding at the enemy night and day; the silence between artillery salvos and missiles whistling through the air; the beauty of the Ukrainian steppe in the rising or setting sun. Ukrainian soldiers report not only on the current military situation, but also note their feelings of pain, fear and joy, describe daily life in the trenches and the splendour of Ukrainian landscapes.
None of them wanted this life: the fury, silence, and "beauty" of war as recounted by Ukrainian soldiers
A now-deleted article on a Russian state news agency published after the start of Russia's invasion praised Vladimir Putin for "solving the Ukrainian question." It's no slip of the tongue; on the contrary, it is the key to understanding the senseless carnage Russia has unleashed on an innocent nation.
As Russian troops set their sights on Kyiv in the first month of the invasion, the northern city of Chernihiv was nearly entirely encircled and escape routes were sealed off. However, not the route to life, a secret path through the swamps and the forests by which volunteers clandestinely evacuated at least 75,000 civilians in a route that was visible from space. We talk to the volunteers who made that rescue happen.
"The route to life." How volunteers secretly rescued 75,000 from a city encircled by Russian troops
Ukrainian theology professor Yuriy Chornomorets gained sniper skills at a young age, and after Russia's invasion enrolled in the territorial defense with his own sniper rifle. Soon he found himself fighting off prevailing Russian forces in the northeast of Kyiv and in the Chornobyl exclusion zone. In an interview with Euromaidan Press, he tells why snipers are indispensable, where Protestant ethics intersect with canned stewed meat, how to spot a Russian commander, and how it is to fight alongside Trump fans from the Foreign Legion. Combating not only the Russian invasion but organizational fiasco of the Ukrainian Army, he now volunteers by procuring bullets and rifles for his sniper friends at the front.
Ukrainian theology professor turned sniper tells how to hunt for Russian invaders
As the Russian soldiers occupied villages of Chernihiv Oblast, they locked up nearly 400 people, including kids and infants, in a basement and fed them with dry galettes from their rations while eating the villagers' meat, cheese, pigs, and even dogs. They banned villagers from using phones, threatening to shoot every third local if they find one, abducted girls, killed 60 cows on a single farm, and beat the local villagers for living too well because they put chickens in a "house." Euromaidan Press reports from the site to expose Russian war crimes in Ukraine.
Kids starved as Russians devoured the villagers' chickens, pigs, and dogs: war crimes near Chernhiv
When Russia's war struck, top managers fleeing westward and a grassroots volunteering movement converged in a small mining town, creating a center that distributed humanitarian aid all over Ukraine in a miracle of a do-it-yourself organization that is so pertinent to Ukrainian society.
The Novovolynsk miracle: how Russia's invasion turned a Ukrainian mining town into an uber-volunteer hub
"I just lay there, thinking I'd never get out of this hell alive. This will be my grave. I had lost hope. I could neither pray nor hope." This is the first-hand account of 17-y.o. Mariya from Mariupol, who survived Russian occupation and a filtration camp and now tells her story from safety.
Russians wanted to capture Kyiv in three days. However, they were in for a surprise: tens of thousands of ordinary Kyivans picked up arms, joining the territorial defense, to save the capital. Some had no military experience, others had prepared for the invasion since 2014. Many told us they said goodbye to life, after which it was easy to fight. We talk to Kyiv's territorial defense about how Ukraine won the battle for Kyiv.
Created in three days, Ukraine's territorial defense ruined Russian plans to capture Kyiv
The Azov Regiment has been combating Russia's genocidal invasion of Ukraine, heroically resisting the siege of Mariupol, where Russia murdered at least 5,000 civilians, with incredible stamina. Yet, they are woefully underarmed in their epic struggle against a superior invading force: because of the Kremlin-abetted Western obsession with the "Neo-Nazi threat" of Azov, the defenders of Mariupol are armed with neither Javelins nor Bayraktars. As Azov continues to resist the brutal slaughter of Ukrainians in Mariupol, political scientist Anton Shekhovtsov invites Western commentators to contemplate their own moral procrastination that enabled a true genocide to unfold before their eyes.
How the West enabled genocide in Mariupol with its misguided Azov obsession
7.8 million Ukrainian refugees in Europe are routinely asked if they have tasted Coca-Cola, if they had any primary education, and offered jobs exclusively as cleaners. They shock their hosts by knowledge of operating microwaves and attending to manicures. We investigated widespread stereotypes about Ukrainian refugees in Europe and found that, after getting to know Ukrainians better, EU citizens often say "you are just like us."
They thought we are cave people: stereotypes Ukrainian refugees face in Europe
Popular American writer Jonathan Franzen recently gave an interview to Russia's Meduza where he expressed regret that "unfortunate Ukraine" became a "pawn" in a "geopolitical battle." His now-former fan, who since February 2022 defends Ukraine from the Russian invasion, sets him straight, from the trenches, where he dreams of an M777.
I'm done believing we're the stupid ones, Ukrainian soldier tells Jonathan Franzen
In the witchhunt for fascism among fringe groups in Ukraine and especially in the campaign to find Nazis among the Azov Regiment, commentators have overlooked the emergence of genuine state fascism in Russia. This happened because Russian propaganda abuses political illiteracy to justify its military intervention into Ukraine since 2014. Its goal is to plant the seeds of distrust in Ukraine as broadly as possible. It was this message that was bought all over the world when exposing Ukrainian fringe groups with no actual influence or public support. But in fact, it is Russia that embraced the main principles of fascism and incorporated them into its official ideology.
Hunting fascism in Ukraine, you overlooked fascism in Russia
Tags: Russian invasion