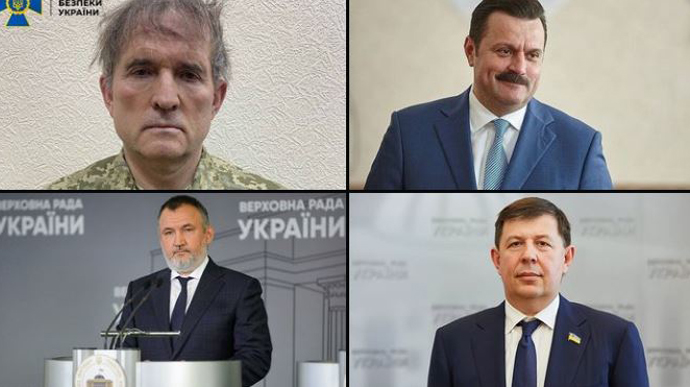 Speaking in his evening address, Ukrainian President Zelenskyy informed that he stripped four Ukrainian collaborators charged with state treason of their Ukrainian citizenship.
They are: Viktor Medvedchuk, Andrii Derkach, Taras Kozak, and Renat Kuzmin.
Ukraine's National Security and Defense Council imposed sanctions against Viktor Medvedchuk, Taras Kozak, and Andrii Derkach in 2021.
In May 2021, Medvedchuk, a lawmaker from the pro-Russian Opposition Platform for Life (OPFL) known as "Putin's point man" was accused of treason and placed under house arrest.
In April 2022, Ukraine's Security Service (SBU) detained Medvedchuk after he escaped from house arrest at the beginning of the full-scale invasion of Russia on February 24.
⚡Ukraine's Security service has detained pro-Russian politician Victor Medvedchuk, whose daughter's godfather is Putin

SBU promises that the same fate awaits all pro-Russian figures and agents of Russian secret services in Ukraine pic.twitter.com/ulLwHJHEGr

— Euromaidan Press (@EuromaidanPress) April 12, 2022
He is charged with high treason, aiding terrorism and attempted plunder of national resources in the temporarily occupied territory of Crimea.
As well, he's charged with illegally seizing a section of a Ukrainian state oil pipeline.
In September 2022, Viktor Medvedchuk was exchanged for 200 Ukrainian soldiers captured by Russians.
He has long been under US sanctions for undermining Ukrainian sovereignty in 2014.
Zelenskyy's Office Head Yermak also told that the five commanders were exchanged for 55 Russian POWs, 200 POWs were exchanged for "Putin's man in Ukraine," pro-Russian politician Viktor Medvedchuk. The remaining 10 are foreigners who fought on Ukraine's side

— Euromaidan Press (@EuromaidanPress) September 21, 2022
Like Medvedchuk, Taras Kozak, who fled Ukraine, is accused of treason since May 2021. He is also accused of attempted looting of national resources in Crimea. The SBU has had permission to detain Kozak since May 2021. He is under US sanctions since January 2022.
In June 2022, the SBU accused Andrii Derkach of high treason. He is suspected of creating a network of security firms that were to facilitate the Russian takeover of Ukraine.
"The MP, in particular, received funds from the General Directorate of the General Staff of the Russian Federation to create private security structures that the enemy planned to use to capture Ukraine. To implement their plans, the GRU allocated 3-4 million dollars every few months. According to the investigation materials, a significant part of these funds settled in Derkach's pockets," the SBU said at the time.
In September 2022, Ukraine's National Anti-Corruption Bureau and the Specialized Anti-Corruption Prosecutor's Office (SAPO) reported that Derkach received at least $567,000 from Russian intelligence and law enforcement agencies in 2019-2022.
"He worked off the money by committing various actions, including in the public sphere, aimed at discrediting Ukraine's image in the international arena, deteriorating diplomatic relations between the United States and Ukraine, as well as complicating Ukraine's integration into the European Union and NATO," the SAPO reported.
Andrii Derkach was suspected in absentia of treason and illicit enrichment and put on the wanted list.
Earlier, in January 2021, the United States imposed sanctions on Derkach.
Derkach's seven: the Russian-linked Ukrainians sanctioned by US over election interference
In October 2022, the State Bureau of Investigation notified Renat Kuzmin that he is suspected of treason, namely — of spreading propaganda materials to the detriment of Ukraine on the eve and during the full-scale Russian invasion.
Putin's Ukrainian top-ally Medvedchuk charged with high treason, placed under house arrest. Here are the accusations
US sanctions four Ukrainians for destabilizing Ukraine on behalf of Russian government
Tags: Derkach, Kozak, Kuzmin, Viktor Medvedchuk