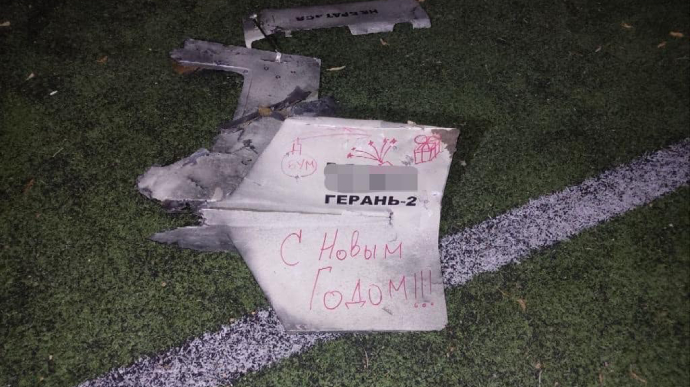 Ukrainians had a restless New Year: in the day of New Year's Eve, Russia launched a massive missile attack on Ukrainian civilian objects, killing one person and injuring over 20, and in the night, Russia continued the war on civilians with dozens of Iranian-made Shahed-136 kamikaze drones.
Ukraine's air defense downed 45 of them – 13 in 2022 and 32 in 2023.
32 drones were shot down above Kyiv, according to the city administration.
Update: speaking on air of the national telethon, spokesman of Ukraine's Air Force Yuriy Ihnat confirmed that Ukraine managed to destroy all Russian UAVs on New Year's night snd said that this was done with the NASAMs air defense complex.
"We see that the sky was really under reliable protection. I would also like to note the help of our partners. This should a symbolic sign for them, because our servicemen barely had time to reload NASAMS. They shelled with them like with artillery.

Apparently, no one has such experience of using this SAM: reloading the system and destroying air targets during combat. This suggests that we simply do not have enough of them… we have missiles, but we need more surface-to-air missile systems.

This is another signal to our partners, about how skillfully and effectively in such combat conditions our specialists, who were trained only a few weeks ago, can use foreign-made military equipment."
Ukraine received the Norwegian-developed and US-produced NASAMS system in November.
The NASAMS delivery came as part of the USA's its largest-ever military aid package to Ukraine at a value of nearly $3bn dollars, announced 24 August. In total, the US will send eight NASAMS to Ukraine.
Jointly developed and produced by RMD and Norway's Kongsberg Defence & Aerospace, NASAMS consists of the Sentinel radar, Advanced Medium Range Air-to-Air Missile, and KDA's Fire Distribution Center.
NASAMS and Aspide air defense systems already in Ukraine – UPDATED
Ukraine has a strong air defense school, which is why it intercepts a high proportion of Russian missiles and drones, but not enough air defense complexes. This is why it is currently appealing to its partners to help close the sky above Ukraine by providing air defense systems.
Researcher: Ukraine will build its own long-range missiles. If the West allows.
Russia's use of Iranian-made Shahed drones presents a particular
Tags: air defense, NASAMS, Shahed-136