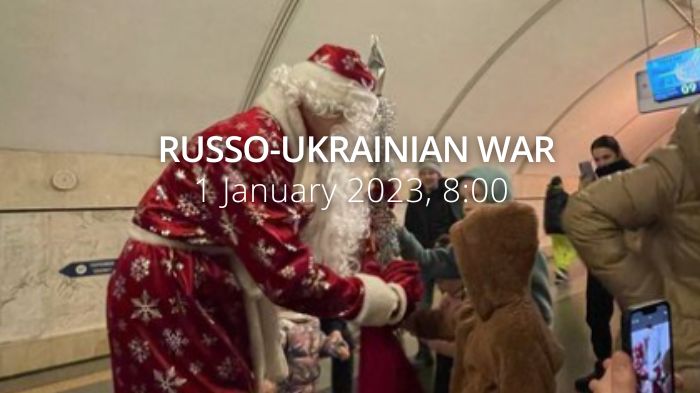 Russia fires over 20 missiles at Ukraine,  attacks Kyiv, other cities. Air defense destroys 12. Ukraine's energy system remains stable despite the recent attack. Ukraine brings back another 140 prisoners of war.
Daily overview — Summary report, January 1, 2023
A map of the approximate situation on the ground in Ukraine as of 00:00 UTC 01/01/23. pic.twitter.com/qncThomnNO

— War Mapper (@War_Mapper) January 1, 2023
Very powerful video. Ukrainians from different buildings sing the national anthem together as Russia bombs all across Kyiv, Ukraine.

Facebook/ Iryna Soloshenko pic.twitter.com/Lcw5TBff6l

— Maria Romanenko (@rommari) January 1, 2023
The General Staff's operational update regarding the Russian invasion as of 18.00 pm, January 1, 2022 is in the dropdown menu below:
[In the period from 12:40 to 14:30, the enemy launched a massive missile attack. According to preliminary data, a total of about 20 rocket launches were carried out. Several of them did not reach Ukraine and fell on the territory of the russian federation (information is being clarified). The forces and means of air defense of the Air Force destroyed 12 cruise missiles in Kyiv, Zhytomyr and Khmelnytskyi oblasts. Also, in the Kyiv oblast, an enemy UAV "Orlan-10" was shot down, which was conducting aerial reconnaissance during a missile attack and was trying to identify the positions of our air defense.]
In addition, the occupiers conducted 12 MLRS attacks, in particular, on the infrastructure of settlements in Donetsk and Kherson oblasts.
The threat of enemy air and missile strikes remains on the entire territory of Ukraine. Don't ignore air raid signals, even on holidays.
The enemy does not stop offensive actions in the Lyman and Bakhmut areas and makes attempts to improve the tactical position in the Kupyansk and Avdiivka directions.
No signs of the formation of offensive groups of the enemy were detected in the Volyn, Polissya, Siverskyi and Slobozhanskyi directions.
On the Siverskyi and Slobozhanskyi directions, areas of the settlements of Khodyne, Atynske, Velyka Rybytsia, Zapsillia and Ryasne of the Sumy oblast and Uda, Strilecha, Alisivka, Krasne, Staritsya, Gatyshche, Vovchansk, Ternova and Katerynivka in the Kharkiv oblast were subjected to artillery and mortar shelling.
In the Kupyansk direction, the enemy shelled the areas of the settlements of Lozova Persha, Zapadne, Masyutivka, Tokarivka, Kupyansk and Orlyanske in the Kharkiv oblast and Novoselivske, Stelmakhivka and Andriivka in the Luhansk oblast.
In the Lyman direction, Ploshanka, Makiivka, Nevske, and Dibrova in the Luhansk oblast, as well as Chervonopopivka, Terny, and Torske in the Donetsk oblast came under the influence of fire.
In the Bakhmut direction, enemy shelling was recorded in the areas of more than 20 settlements. Among them are Spirne, Soledar, Bakhmutske, Bakhmut, Kostyantynivka, Kurdyumivka, Mayorsk and New York of the Donetsk oblast.
Vesele, Avdiivka, Nevelske, Maryinka, Krasnohorivka, and Novomykhailivka in Donetsk oblast were shelled in the Avdiivka direction.
Vremivka, Velyka Novosilka, Prechystivka, Vuhledar, and Mykilske of the Donetsk oblast came under enemy fire in the Novopavlivsk direction.
In the Zaporizhzhia direction, the enemy fired tanks, mortars and barrel artillery in the areas of more than 15 settlements. Among them are Olhivske, Hulyaipole, Stepove, Charivne and Dorozhnyanka of the Zaporizhzhia oblast.
In the Kherson direction, the civilian infrastructure of the settlements of Antonivka, Tokarivka, Mykolaivka, and Kherson suffered from shelling.
[The russian occupying forces strengthened the administrative and police regime for the period of the New Year holidays in some settlements of the temporarily occupied territory. So, from December 31, 2022 to January 6, 2023, the city of Henichesk in the Kherson oblast was closed to the public, and residents of the surrounding villages were also prohibited from leaving.]
[In order to install a system of engineering barriers in the temporarily occupied and occupied territories of Donetsk, Luhansk and Kherson oblasts, the occupiers are recruiting civilians from the territory of the russian federation.]
Ukrainian aviation struck 6 areas of concentration of the invaders and 1 strike at the positions of the enemy's anti-aircraft missile systems, and our units of missile troops and artillery struck 2 areas of concentration of manpower and military equipment and the control point of the invaders.
Military Updates
Russia fires over 20 missiles at Ukraine, air defence destroys 12, Ukrainska Pravda reports, citing Valerii Zaluzhnyi, Commander-in-Chief of the Armed Forces of Ukraine. "The terrorist state of the Russian Federation has launched another massive missile attack on civilian facilities of our country. Preliminarily, the invaders fired more than 20 air-launched cruise missiles from the Caspian Sea and ground-based missile systems using Tu-95 strategic bombers.
 Zaluzhnyi states that forces and means of Air Defence of Ukraine destroyed 12 cruise missiles, 6 over Kyiv Oblast, 5 over Zhytomyr Oblast and 1 over Khmelnytskyi Oblast."
Several Russian missiles did not reach Ukraine and fell on Russian territory, Ukrainska Pravda reports, citing the press service of the command of the Air Force of the Armed Forces of Ukraine. "On 31 December, at around 13:00, the enemy attacked Ukraine from Tu-95MS strategic missile carriers from the Caspian Sea and Iskander-M ground-based operational-tactical systems.
Preliminary reports indicate that about 20 missiles were launched in total. Several of them did not reach Ukraine and fell on the territory of the Russian Federation (this information is being confirmed)."
Explosions reported in Crimea, Ukrainska Pravda reports, citing ChP/Crimea and Department of Strategic Communications of the Armed Forces of Ukraine. "Media and Telegram channels have reported on explosions in the cities of Dzhankoi and Yevpatoriia in occupied Crimea.
Telegram channels that monitor launches of missiles reported that Dzhankoi was hit by a high-precision weapon. The Department of Strategic Communications reported on explosions near the airport in the city of Dzhankoi."
According to British Defence Intelligence, (last 48 hours): 
On 29 December 2022, Russian forces launched another wave of long-range strikes across Ukraine, once again primarily targeting the power distribution network. Since October, Russia has sustained a general pattern of conducting an intensive wave of strikes every seven to ten days.
Russia is almost certainly following this approach in an attempt to overwhelm Ukrainian air defences. However, there is a realistic possibility that Russia will break this pattern to strike again in the coming days in an effort to undermine the morale of the Ukrainian population over the new year holiday period.
Losses of the Russian army 
As of Sunday 1 January, the approximate losses of weapons and military equipment of the Russian Armed Forces from the beginning of the invasion to the present day:
Personnel – about 105960 (+710),
Tanks – 3029 (+3),
Armoured combat vehicles – 6075 (+16),
Artillery systems – 2016 (+6),
Multiple rocket launchers –MLRS – 423 (+0),
Air defence means – 213 (+1),
Aircraft – 283 (+0),
Helicopters – 269 (+1),
Automotive technology and fuel tanks – 4707 (+24),
Vessels/boats – 16 (+0),
UAV operational and tactical level – 1746 (+6),
Special equipment – 180 (+0),
Mobile SRBM system – 4 (+0),
Cruise missiles – 711 (+0)
"You only have one week left": Reznikov warns Russians about Putin's plans, Ukrainska Pravda reports. "Oleksii Reznikov, the Minister of Defence of Ukraine, has warned the Russians that their leadership is preparing for a new "wave" of mobilisation and planning to close the borders within a week.
In early January, the Russian authorities will close the borders for men, then declare martial law and begin another wave of mobilisation. The borders will also be closed in Belarus."
According to the head of Ukrainian Defence Intelligence, the Russian leadership has decided to start a new wave of mobilisation from 5 January 2023, due to the lack of manpower.
According to Russian President Vladimir Putin, during the "first wave" of mobilisation, at least 300,000 people joined the Armed Forces of the Russian Federation, and 150,000 of those mobilised are said to be in Ukraine.
At the end of October, Putin declared that the "partial mobilisation" was over. However, the General Staff of the Armed Forces of Ukraine says that Russia has continued mobilisation in a covert mode, despite official statements about its completion."
Humanitarian 
Ballerinas fight culture war against Russia

"Dressed in the colours of Ukraine, a ballet dancer moves delicately across the stage of Rotterdam's medieval St Lawrence Church…"https://t.co/IYphtc2T7e

— Euromaidan Press (@EuromaidanPress) January 1, 2023
Ukraine brings back another 140 prisoners of war, Ukrainska Pravda reports, citing Andrii Yermak, Head of the Office of the President of Ukraine. "Ukraine and the Russian Federation conducted another exchange of prisoners of war. Ukraine brought back 140 people on Saturday, 31 December. Among them are wounded, as well as the defenders of Mariupol, Zmiinyi (Snake) Island, volunteers of Territorial Defence Forces from Slavutych, and fathers and sons who were in captivity together, as well as ours [defenders] from the Bakhmut front.
Eighty two fighters from the Armed Forces of Ukraine, 15 from the Territorial Defence Forces, 22 from the National Guard, 11 from the Navy and 10 from the State Border Guard Service. One hundred thirty two men and 8 women, 22 officers and 118 sergeants and soldiers."
Ukraine's energy system remains stable despite recent attack, Ukrinform reports, citing Ukrainian Prime Minister Denys Shmyhal. "[Enemy] attacks on civil infrastructure across different regions of our country. Residential houses, hotel, shop, event centre damaged. Casualties reported, Shmyhal wrote.
According to Shmyhal, Russians want to intimidate Ukrainians, leave them in darkness on the New Year's eve, cause as much damage to civil infrastructure as possible."
Environmental
Russia cause damage of over US$40 billion to Ukrainian environment since 24 February, Ukrainska Pravda reports, citing the press service of the State Environmental Inspectorate. "The total amount of losses recorded by the State Environmental Inspectorate of Ukraine is more than UAH 1.5 trillion [US$40.8 billion].
Thus, the Unified Register of Damages included 1,042 facts of events that occurred on the territory of our country as a result of the military intervention of the Russian Federation and caused damage to the environment.
In particular, specialists of the State Environmental Inspectorate took 854 soil samples and 1,138 water samples. As a result of control measures, the damage to the environment was calculated, so the total amount of damage caused to atmospheric air, land and water resources is more than UAH 1.5 trillion [US$40.8 billion], said Dmytro Zaruba, First Deputy Chairman of the State Environmental Inspectorate."
Legal 
Casualties reported in Mykolaiv and Khmelnytskyi Oblast due to Russian attack, Ukrainska Pravda reports. "Six people in the city of Mykolaiv and seven in Khmelnytskyi Oblast were wounded as a result of a missile attack by the Russian Federation on Saturday, 31 December."
Kyiv City Military administration says that 7 air target shot down over Kyiv, 1 civilian was killed, 13 injured; hotels Adler, Alfavito were damaged and some other buildingshttps://t.co/BUWfrjHIc6

— Euromaidan Press (@EuromaidanPress) December 31, 2022
Missile attack: one person dies in Kyiv, 20 injured, buildings damaged, Ukrainska Pravda reports. "An elderly man died in Kyiv, the number of injured increased to 20 people, including a journalist from Japan, reports Klitschko."
Support
https://twitter.com/EuromaidanPress/status/1609353965191270401
Ukrainian border guards receive Canadian Roshels, Ukrainska Pravda reports, citing "Suspilne". "Chernihiv border guards received Canadian armoured combat vehicles of the Roshel brand. Such vehicles are supplied to Ukraine with assistance from international partners. As of the beginning of December, hundreds of such vehicles have already been handed out to Ukrainian defenders.
New Developments 
Assessment
On the war. 
The Institute for the Study of War has made the following assessment as of  December 31, 2022:
"Ukrainian Counteroffensives Eastern Ukraine: (Eastern Kharkiv Oblast-Western Luhansk Oblast)
Russian forces continued limited counterattacks to regain lost positions along the Svatove-Kreminna line on December 30. The Ukrainian General Staff reported that Ukrainian troops repelled a Russian attack on Stelmakhivka, 15km west of Svatove. Russian milbloggers also reported that Russian troops conducted attacks near Stelmakhivka and Dzherelne (10km west of Svatove). A Russian milblogger also claimed that elements of the 76th Airborne Division (VDV) and elements of the 74th Motorized Rifle Brigade of the 41st Combined Arms Army of the Central Military District advanced northwest of Kreminna from Ploshchanka (16km northwest of Kreminna) towards Makiivka (22km northwest of Kreminna). Geolocated footage posted on December 29 additionally shows Russian soldiers on tactically significant heights near Bilohorivka (10km south of Kreminna), where fighting is reportedly ongoing.
Ukrainian forces struck Russian concentration areas in occupied Luhansk Oblast on December 30. The Luhansk People's Republic (LNR) posted images of the aftermath of a reported Ukrainian HIMARS strike on Alchevsk, Kadiivka, and Bryanka, all settlements about 50km west of Luhansk City along the T0504 Luhansk City-Bakhmut highway. A Ukrainian military source confirmed that the strikes hit a Russian barracks in Alchevsk and equipment warehouses in Kadiivka and Bryanka. Ukrainian sources also reported that Ukrainian forces struck a Russian base in Hirske (about 40km southeast of Kreminna).
Russian forces targeted Kyiv using Iranian-made drones on the night of December 29 to 30, a continuation of an increased pace of drone attacks in Ukraine. TheUkrainian Air Force Command stated that Russian forces launched 16 Shahed-131 and -136 drones at targets in Ukraine on the night of December 29 to 30 and that Ukrainian air defenses shot down all of them. Ukrainian officials reported that Russian forces launched seven of the drones at targets in Kyiv and that Ukrainian air defenses shot down all of them, but one of the drones' munitions hit an administrative building. The Russian drone attacks follow a massive series of Russian missile and drone strikes against Ukrainian critical infrastructure on December 29 during which Russian forces launched 23 drones, the majority of which were Shaheds. The Russian military's use of 39 drones in the past two days, its use of 30 Shahed 131 and -136 drones on the night of December 18 and 19, and its use of 13 Shahed drones on December 14 represent a significant increase in its recent use of these systems in Ukraine. ISW assessed on December 10 that an increased pace of Russian drone attacks may indicate that Russian forces accumulated more Iranian-made drones after a three-week period (November 17 to December 7) of not using them or that Russia received or expected to receive a new shipment of drones from Iran. Russian forces have likely further increased their pace of drone attacks in an effort to sustain their campaign against Ukrainian critical infrastructure given their likely depleted stock of precision missiles. Ukrainian air defenses have recently proven to be highly effective at shooting down Shahed drones and the Russian military's use of these systems in attacks against civilian targets in rear areas is having diminishing impacts. The Russian military will likely continue to commit an increased number of these systems to attacks on civilian targets in Ukraine in its misguided attempt to break the Ukrainian will to fight.
Russian President Vladimir Putin opened the door for further institutionalized corruption through the manipulation of the Russian domestic legal sphere. Putin approved a decree on December 29 that exempts all Russian officials, including members of the military and law enforcement services, from the requirement to make income declarations public. The decree extends to military officials, employees of Russian internal affairs organs, those serving in Rosgvardia and law enforcement positions, employees of the Russian penitentiary system and Investigative System, and individuals seconded to positions in Luhansk, Donetsk, Kherson, and Zaporizhzhia oblasts. The decree also notably lifts the ban on military officials receiving "charitable" gifts in connection with their participation in hostilities in Ukraine. Russian independent newspaper The Insider noted that this decree could theoretically allow Russian officials involved in the war to seize the private property of Ukrainian residents of occupied areas because such property could be legally classed as "charitable gifts." ISW continues to report on Putin's manipulations of domestic law to quash domestic opposition to the war and enable those who support it.
Key Takeaways
Russian forces targeted Kyiv using Iranian-made drones on the night of December 29 to 30.
Russian President Vladimir Putin opened the door for further institutionalized corruption in the Russian Federation.
Russian forces continued to conduct counterattacks along the Svatove-Kreminna line.
Ukrainian forces struck Russian concentration areas in Luhansk Oblast.
Russian forces continued offensive operations in the Avdiivka area as well as in Bakhmut, where the pace of Russian offensive operations may have slowed compared to previous days.
A Russian source claimed that Russian forces conducted ground attacks in Zaporizhzhia Oblast.
Russian and Ukrainian sources continued to discuss whether and when an imminent second wave of mobilization in Russia will occur.
Russian officials continue to pursue the integration of occupied territories into the Russian Federation.
"Behind the frontline near Kreminna, a strategically located Russian-controlled city in eastern Ukraine, Kyiv's troops say they are facing a tough enemy" – @VOANews' reportage from Yampilhttps://t.co/fBxKgLQO47

— Euromaidan Press (@EuromaidanPress) January 1, 2023
Liberation of Kreminna will weaken Russian positions near Bakhmut, Ukrainska Pravda reports. "Serhii Haidai, the Head of Luhansk Oblast Military Administration, has explained that the liberation of Kreminna city (Luhansk Oblast) will open up two fronts for the Armed Forces of Ukraine and allow them to strike at the Russians who are attacking Bakhmut.
It is impossible to exaggerate the importance here because two fronts are opening [from Kreminna – ed.]. One is to Starobilsk, and it will be the de-occupied logistics centre of the Luhansk Oblast. And then, it will be very difficult for the enemy to transfer any reserves or equipment or personnel because all roads leading from Starobilsk can be taken under fire control.
Well, and the second direction is Rubizhne-Sievierodonetsk. This will help [us] break this grouping, which constantly attacks Bakhmut."
War might end by summer 2023, British historian predicts, Ukrinform reports, citing Süddeutsche Zeitung. "British historian Ian Kershaw believes that the Russian war of aggression on Ukraine will be over by the middle of next year. In the spring, we will see if the Ukrainians, with the support of the West, are ready for a new offensive that will repel the attackers. If this is so, then we may be on the way to one or another decision in the spring or summer… I assume that the war will end in half a year," Kershaw, 79, said in the interview, published in German.
He explains that the current level of attrition is difficult for both sides to sustain. What will be important is the condition of both armies at the end of this winter. This will be a very difficult winter for Ukraine, but, of course, for many Russians, too, the historian noted.
Kershaw emphasized that Putin is engulfed by big-power fantasies, and went on to compare him to Stalin. The Russian president, he said, found himself in a position he had never fathomed. Now there is a war going on that he cannot win and that is very costly and destructive. He emphasized that Russia is now isolated, at least in Europe, so in this sense the decision to invade Ukraine was "costly." It "will change Europe, but it is not yet possible to predict exactly how, Kershaw said. In his opinion, the war has already imposed a new energy policy on western nations and led to a recession."
2. Consequences and what to do?
Today's assessment will be published separately.
Tags: Russian invasion